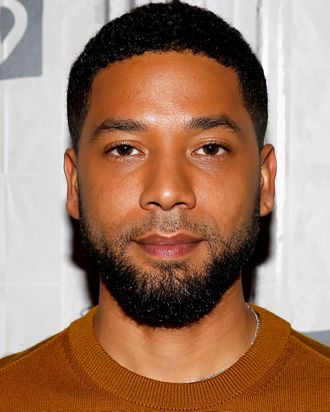 Jussie Smollett.
Photo: Dominik Bindl/Getty Images
The investigation into the assault on Empire actor Jussie Smollett took another twist on Saturday night. Chicago police apparently now believe Smollett paid two men to stage the attack, according to CNN. Reached for comment about the report, a Chicago police spokesman would only confirm that "the information received from the individuals questioned by police earlier in the Empire case has in fact shifted the trajectory of the investigation." He added that police have "reached out to the Empire cast member's attorney to request a follow-up interview."
On Friday, news broke that two brothers were arrested in connection with the attack, one of whom worked on Empire. Chicago's ABC7 had reported on Thursday that police believed Smollett staged his attack because he was being written off the show, but police later denied they were treating Smollett as a suspect, and 20th Century Fox denied that Smollett was being written off.
According to Deadline, the two men were released at 9 p.m. on Friday after being held for 48 hours. A law enforcement source also told the publication that "the new direction of the investigation is now based on the premise that Mr. Smollett was an active participant in the incident."
Police have also reportedly gotten a lead on where the brothers purchased the rope used as a makeshift noose around Smollett's neck:
Smollett went on Good Morning America Thursday, detailing the attack and expressing frustration that people did not believe his story. "At first, it was a thing of, like, 'Listen, if I tell the truth, then that's it. Because it's the truth,' " he said. "Then it became a thing of, like, 'Oh, it's not necessarily that you don't believe that this is the truth, you don't even want to see the truth.' " Smollett has hired three attorneys: Chicago criminal defense attorneys Victor P. Henderson and Todd Pugh, and Michael Monico — Michael Cohen's defense attorney. Monico confirmed his retention by Smollett on The Roe Conn Show, but would not say in what capacity.
Representatives for 20th Century Fox Television, which produces Empire, declined to comment, but Deadline obtained a statement from Smollett's lawyers. "As a victim of a hate crime who has cooperated with the police investigation, Jussie Smollett is angered and devastated by recent reports that the perpetrators are individuals he is familiar with," said Pugh and Henderson. "He has now been further victimized by claims attributed to these alleged perpetrators that Jussie played a role in his own attack. Nothing is further from the truth and anyone claiming otherwise is lying. The statement also confirmed that one of the men arrested Thursday was Smollett's personal trainer.
Update, February 19: CBS has obtained new details about Smollett's reported role in his own attack after speaking to the two brothers accused of helping him orchestrate the whole thing. The brothers reportedly told detectives that they and Smollett rehearsed the attack days prior to it happening and that Smollett paid them $3,500 to carry out the attack, plus an additional $500. According to a source, the rope used as a noose in the alleged attack was purchased at a local hardware store at Smollett's request and he paid for it. The brothers released a joint statement via their lawyer saying, "We are not racist. We are not homophobic and we are not anti-Trump. We were born and raised in Chicago and are American citizens." Their lawyer added, "In due course all the facts will reveal themselves, and at the end of the day, my clients are honest and credible."
According to CBS, Smollett faked the attack because he was upset at 20th Century Fox's lackluster response to a threatening letter containing white powder that he'd received a week prior to the alleged attack. "When the letter didn't get enough attention, he concocted the staged attack," the source said. A magazine potentially used to create the letter was seized from the brothers' home; that letter is currently being investigated by the FBI.