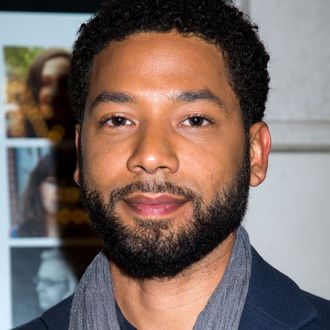 Jussie Smollett.
Photo: Broadway World/REX/Shutterstock
With Empire choosing to cut Jussie Smollett from the season's final two episodes in the midst of the news that he likely staged his hate-crime attack last month in Chicago, the fate of his character, Jamal Lyon, is looking even more questionable. According to TV Line, producers on the Fox drama are reportedly weighing a bunch of options on how to proceed with Smollett's character if Empire returns for season six, and one of the solutions currently in discussion is hiring a new actor to portray Jamal in a recast. Lee Daniels, the show's co-creator, is apparently "a strong proponent of the recast option."
On Friday, the creatives behind Empire confirmed Smollett will not be appearing in the rest of the season, in order to "avoid further disruption on set" after the "disturbing allegations" against him came to light. "The events of the past few weeks have been incredibly emotional for all of us," they said. "We are placing our trust in the legal system as the process plays out." Smollett was charged this week with making a false police report, which is a felony disorderly conduct charge that could bring jail time and/or monetary fines. Smollett was subsequently released on a $100,000 bond.