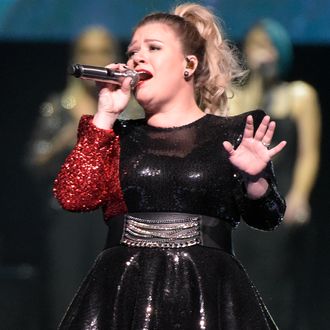 Kelly Clarkson.
Photo: Michael Tullberg/Getty Images
Goddess divine Kelly Clarkson, who at this point could easily be crowned Cover Woman of the Millennium if so demanded, took some time out of her Friday concert in Wisconsin to bless her hive with the No. 1 thing we crave: yet another new cover. And just before awards season campaigning ends, Academy voters! Explaining that she's a huge Lady Gaga fan and adored A Star Is Born, Clarkson tackled the film's power ballad, "Shallow," without the help of a pesky Jackson Maine stand-in to ruin her vibe. "It's cool just to know that someone that talented is also really nice," Clarkson gushed about Gaga. "I've been rooting for her for a while. This song! I just, I love it. It's from that movie that she's nominated for a billion awards for, and I hope she wins."
Sorry, Glenn Close. But you don't croon in The Wife!