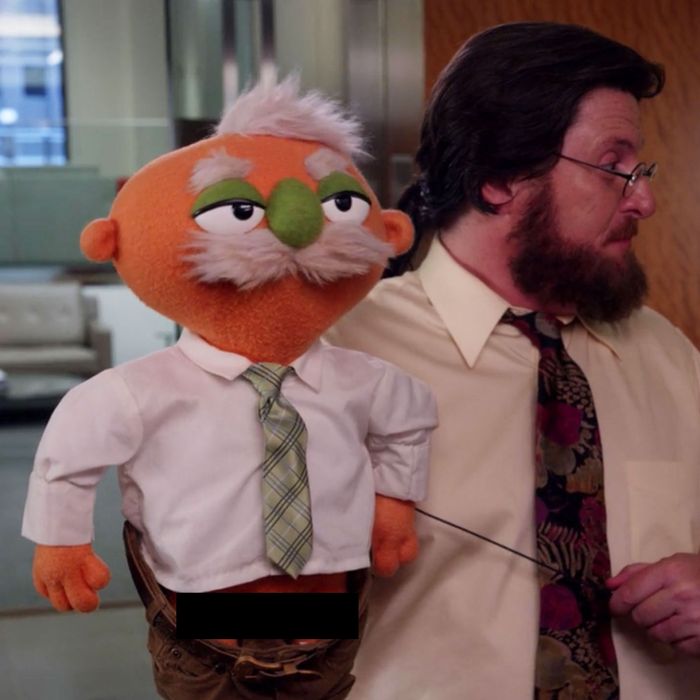 The (censored) moment when Mr. Frumpus exposes himself.
Photo: Netflix
When Unbreakable Kimmy Schmidt put Titus Andromedon on a Sesame Street casting couch back in spring 2017, the writers couldn't have predicted how the real-life horrors exposed by #MeToo would soon join their Muppet predator's absurd harassment. That's why, for the fourth and final season of the Netflix comedy, showrunners Tina Fey and Robert Carlock decided to return to the Mr. Frumpus story line, giving Titus a chance to expose his abuser to investigative reporter Ronan Farrow (guest-starring as himself). To add to the impact, the episode "Kimmy Is in a Love Square!" also contains a scene in which the puppet exposes, ahem, himself.
As Carlock recalls, the initial pitch for the Mr. Frumpus story line wasn't connected to any particular real-world event. In fact, prior to season four, the writers actively avoided involving the characters in current events. "When we conceived of the show, we never thought we would tell topical stories," Carlock told Vulture. The idea was to give wannabe star Titus (Tituss Burgess) his first real shot at a television role on Sesame Street, but have him refuse the puppet star's advances because he didn't want to jeopardize his relationship. "We felt like, Oh, that's a step forward for Titus," said Carlock. "This is our insane, silly take on this trope that you've certainly heard about a million times."
To play the dual role of the fictional Sesame Street cast member Mr. Frumpus and human producer Lonny Dufrene — who, for the record, considers himself an innocent bystander to his own right hand — producers called on Bill Barretta, a Sesame veteran and longtime Muppets performer who plays Pepe the King Prawn and Elmo's dad. Barretta did have a moment's hesitation about spoofing his public-television alma mater. "But I thought, [Kimmy Schmidt] is so farcical in nature and silly and fun," he said. "I felt like it was so far-fetched that I'd just go for it." But far-fetched or not, he made an effort to create an old-man character who could realistically appear on Sesame Street, and modified his voice to play the ponytailed Dufrene in a similar raspy register.
When it came time to shoot the attempted seduction scene with the mustachioed puppet, Barretta says he was delighted by Burgess's horrified reactions. "When they were shooting my side of it, his expression was so frightened! He was so creeped out that I kept breaking up," said Barretta with a laugh. "Maybe he was just acting, but I don't think they were shooting him at the same time! So I just got a kick out of him being freaked out, which was perfect. It was so creepy and weird. We did laugh a lot." And after Titus ran out of the room in horror, Barretta assumed that Mr. Frumpus would be retired from Kimmy Schmidt.
So did Carlock. But when the #MeToo movement caught fire, its relevance to Kimmy Schmidt's main theme — the title character survives a cult leader's abuse, and refuses to let her trauma blunt her optimism — couldn't be denied. "As journalists started to do all the hard work and a lot of other people came forward with a lot of courage, we realized, well, that's the premise of the show," said Carlock, "and it would be strange not to start telling those stories."
The writers discussed in earnest whether Kimmy should be the victim who heroically exposes a Weinstein-type abuser. But after writing a different, harassment-related story line for Kimmy in which a co-worker accuses of her inappropriate behavior, they decided to go back to Titus's orange-felt-induced trauma.  "We thought, This is what we built, and it does happen to men, and Titus is the person who wouldn't know what to do," said Carlock. "Kimmy, of course, would do the right thing immediately."
In the episode, Titus receives a call from Farrow, asking him to go on the record for a New Yorker story about Mr. Frumpus's abuses of power. Titus is initially reluctant, in part because he blames himself; we learn in a flashback that the puppet pulled down his pants and convinced Titus to touch his penis as Titus was trying to leave. Were the writers, perhaps, hoping that the sight of elderly-puppet genitals would traumatize viewers in the same way that Titus was traumatized?
"A little bit, yeah!" said Carlock. "I mean, it's shocking, right? Even though it can't possibly be as shocking as turning around, and there's Les Moonves with his erection out. I know we can all imagine that and understand how horrible that is, but this is our version of: That's what humans have done to people. It's ridiculous. This is a puppet, but people do this. How do you get to a place where your brain thinks that this is okay? Hopefully, you have all of those emotions at once when you when you look at that little orange tube."
Farrow, a Pulitzer Prize-winning journalist who broke major stories on the abuses of Weinstein and Moonves, understood immediately what Kimmy Schmidt was trying to do with Mr. Frumpus. "He got the joke so quickly," said Carlock. "As he tweeted recently, he really appreciated that we were telling a story that celebrates the victims who've come forward, and the idea of agreeing to be a source on the record. That's very important to him."
Given Fey and Carlock's record of biting the hand that puts them on the air (most notably with 30 Rock's General Electric jokes), it's a little surprising that the episode made no digs at disgraced NBC anchor Matt Lauer, who interviewed Kimmy and the "mole women" as himself in the pilot. (His best and most prescient line: "I'm always amazed at what women will do because they're afraid of being rude.") "We did, in various drafts, have jokes referencing him," said Carlock. "Ultimately, I think we felt like, separate from whatever issues he had professionally, he had done us a favor back in the day." Given that Lauer's career was already toast, said Carlock, "It felt like bad manners for us to jump on the pile."
At the conclusion of the episode, Titus decides to come forward, helping to legitimize the plight of Mr. Frumpus's other victims. In the series finale, there is a passing reference to Mr. Frumpus's death. But this kind of abuse, in real life, is systemic — and Carlock noted that there's a larger message, delivered in absurdist Kimmy Schmidt fashion, in the fact that Lonny Dufrene isn't ever implicated.
"Part of the joke is the fact that the puppeteer never seem to get in trouble at all," said Carlock, laughing. "The puppet takes all the blame! So we thought that was kind of a fun way to look at the insidiousness of how this works. Like, wait: Why are we only talking about the puppet?"