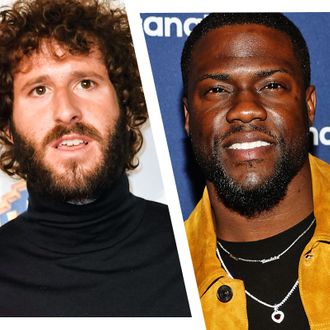 Lil Dicky and Kevin Hart.
Photo: Shutterstock and Getty Images
Rapper-comedian Dave Burd, a.k.a. Lil Dicky, is heading to FX to star in his very own comedy series. The network announced today that it's picked up an untitled half-hour show based on Lil Dicky's life, which he co-created with Curb Your Enthusiasm executive producer and The League co-creator Jeff Schaffer. The series, which currently goes by the working titled Untitled Lil Dicky, follows "a suburban neurotic man in his late twenties who has convinced himself that he's destined to be one of the best rappers of all time. Now he must convince his closest friends, because with their help, he might actually convince the world."
"I'm so thankful for everyone who made this possible; it really is what I've been dreaming about since I was a kid," Burd said on the project. "I love making people laugh; it's my favorite thing ever. And even though I'm still fully in love with and committed to my career as a rapper, I'm excited to write jokes that don't need to rhyme every time. Ugh, that rhymed."
In addition to Burd and Schaffer, the series is executive produced by Kevin Hart, The Last O.G. showrunner Saladin Patterson, Adventureland and Superbad director Greg Mottola, and manager Scooter Braun.