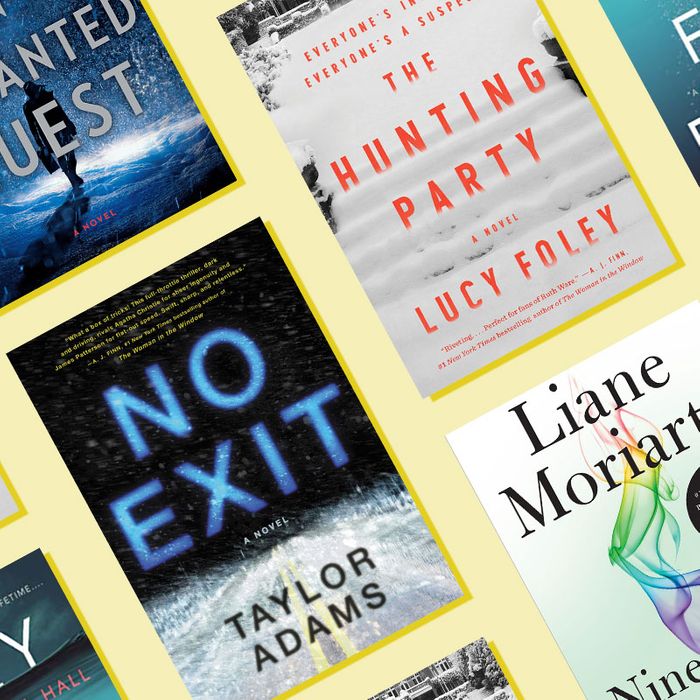 For New Year's, I met up with a group of friends at a stunning (and very isolated) estate in the Scottish highlands. From the moment we arrived, Miranda was being herself — that is, too much. Emma, neurotic. Katie, elusive. I could have murdered them for ruining my vacation. And then, the blizzard arrived. We were sealed off from the outside world. Cozy? More like stifling. There's nothing like old friends to remind you why you're always looking for new friends. Two days later, Doug says he's found a body. Shocking, yes, but part of me is excited by the diversion. It's a wonder we haven't already killed each other out of boredom. I know I said I could've murdered them, but obviously it wasn't me. So who was it? Katie has been acting kind of weird …
Okay, so the story of Lucy Foley's The Hunting Party, out this week, didn't really happen. But it happened to me; reading it, I had become just another player in the game. I had been lured into a locked-room mystery — a puzzle-box subgenre of thrillers, perfected by Agatha Christie, that seems to be enjoying something of a renaissance in recent months. Think of Liane Moriarty's New York Times–best-selling Nine Perfect Strangers and its not-as-advertised luxury health resort; Shari Lapena's An Unwanted Guest, another Times best seller, in which a group of travelers is stranded at a snowbound mountain lodge; Taylor Adams's recently published No Exit (five strangers, highway rest stop, also blizzard); and Rachel Howzell Hall's forthcoming They All Fall Down (seven sinners, a private island, a "reckoning").
The cultural anxiety that permeates our existence in 2019 lends itself well to the resurgence of the locked-room subgenre (alongside perennial shelf-mates like the procedural, the noir, and the psychological thriller). The era of "fake news," real conspiracies, and policy whiplash makes an ordered plot that much more appealing. "In a world where things feel increasingly unstructured and uncertain," says Lucy Foley, "there's a particular satisfaction in the rigid structure of a locked-room mystery." Rachel Howzell Hall puts it another way: "This country, right now, is a locked room. So many bad things are happening, and it's not because of outside forces. The bad guy is in the house with us!" Sad!
The subgenre used to be synonymous with the "impossible crime," in which a victim is found dead under what appear to be impossible circumstances (e.g., alone in a room that is locked from the inside). Edgar Allan Poe is credited with the form's invention in 1841 with "The Murders in the Rue Morgue," but many would crown John Dickson Carr as the seminal master, with 1935's The Hollow Man. Abby Endler, founder of crime fiction blog Crime by the Book, attributes the current trend to Ruth Ware's 2016 debut, In a Dark, Dark Wood. "It's not a new invention, but Ware made it fresh, buzzy, and accessible for today's crop of writers," says Endler.
Later in 2016, the election of a perpetual chaos machine might have made the puzzle box that much more alluring. Because unlike the bad guy we're trapped with right now, locked-room mysteries don't cheat. "The story must show you everything you need to solve the central question upfront," says Taylor Adams. "A single setting, a few characters, a handful of props, all established early, so you feel the author is playing fair. No new locations, scene changes, or unreliable narrators. Instead of zooming out and broadening in scale and action, as many stories do, a locked-room mystery zooms in and reveals new intricacies of what has already been introduced."
We don't get the thriller we want; we get the thriller we need. And it's fair to say there was a point (we miss you, Barack) when we couldn't get enough of the psychological thriller and its defining feature, the unreliable narrator. You know the type: she's pretty and wow, she's so complex, too. What's going on in that head of hers? She's a Gone Girl, The Girl on the Train, The Good Girl, or just another one of the Pretty Girls. We love her, and she still does very well for herself, but she's getting a little old. (She's also got some PR problems lately.) The psychological thriller's premise that absolutely anything could happen hits a little too close to home. It was fun while it lasted, but now we just want some clarity.
"I love unreliable narrators as much as the next reader," says Adams, "but there's a certain old-fashioned appeal to being fooled by simple storytelling sleight of hand, as opposed to being fooled because you've been lied to. It's more inviting to jump in and flex your own investigative muscles in a story if you know from the get-go that it's being told stylistically straight."
Yet the locked-room mystery is still like its troubled sister in one respect: It's concerned with psychology — that of its characters and its readers. We are at the mercy of the writer's tricks and reveals, but this subgenre plays more on curiosity than fear. "The solution is right there," says Howzell Hall, "but you missed it, and now you have to go back to try and detect that sleight of hand." What's cathartic is not the violence, or even the surprise, but the resolution itself. Sometimes the best twist is no twist at all.
That reflects our own yearning these days: confronted with a set of actors we don't really want to be around, we are forced to interpret their actions, the better to escape. How do things look when we're forced to spend more time than we'd choose to with others, to see them more clearly than we ever have before? "A locked room mystery thrusts its characters together in a way that is claustrophobically uncomfortable," says Foley, "perhaps particularly so for a modern readership."
What's also uncomfortable for modern readers — though maybe also refreshingly anachronistic — is the locked-room mystery plot's reliance on a lack of communications technology. Either severe weather (yeah, lots of snowstorms) knocks out the electricity, or an isolated lodge lacks cell service, or a health resort bans external communication — or a computer or battery dies. Without modern technology to distract or deceive, the characters are forced to reveal the truth about themselves, something we may not be used to — I know I prefer my Instagram self — but could learn from. It's character development for readers, too.
A locked-room mystery can be just as primal as the bloodiest tale of psychopathic revenge — even more so because these characters aren't psychopaths; they could potentially be your oldest friends. "I am constantly reminded, reading the news, that the veneer of civilization is very thin," says Lapena. "We only have to look at history to know that people — large numbers of people, not just isolated individuals — are capable of terrible acts."
Shared human experience tell us to be wary of, well, everyone. And while the psychological thriller plays tricks to lure you into a false sense of security only to pull the rug out later, the locked-room mystery tells it like it is: look around, there's danger here. So you feel the same fear the characters do when they're stranded at a rest stop or frantic to find cell service to dial 911.
It's scary and heart-pumping because it's real life. But that same pumping heart, deep down, senses that it'll work out. Not necessarily for the characters, to be fair — but for you.
At least, that's what we hope for: That the terrifying thrill ride will eventually end with its promised satisfactory resolution and a new chapter. One resolution I'm particularly looking forward to is being puzzled out right now, with all the clues laid being out in front of us, indictment by indictment, until Inspector Mueller finally delivers his report.