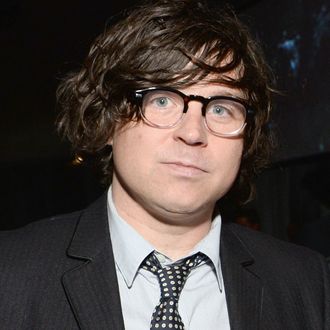 Ryan Adams.
Photo: Michael Kovac/Getty Images
Mandy Moore, Phoebe Bridgers, and at least a dozen women and associates have accused Ryan Adams of varying degrees of abuse, from psychological to sexual, including at least one account of sexual misconduct involving an underage girl. Per a New York Times investigation, Adams allegedly exchanged thousands of sexually explicit messages with a girl (identified only as Ava), whom he messaged on Twitter in 2013 when she was 14 and he was nearly 40. According to the texts, viewed by the Times, Adams repeatedly asked the girl her age and would coerce her into telling him she was 18 when he was unconvinced she was a minor and asked that she keep their messages private. "If people knew they would say I was like R Kelley [sic] lol," he said in one message.
Texts from around the time she turned 16 show Adams appearing to ask for sexually suggestive photos of her. "I never see pics of you anymore. You were blowing m my mind," he wrote. (In Ohio, where the girl lived, and in New York, where Adams was at the time, it is a federal offense to "solicit, exchange, or possess" nude photos of a minor under the age of 18.) The girl says that the first time they Skyped, Adams was naked when he answered. "It was just sexual power," she says. Adams, via his lawyer, denies her claims, saying he "unequivocally denies that he ever engaged in inappropriate online sexual communications with someone he knew was underage." The statement continues, "If, in fact, this woman was underage, Mr. Adams was unaware." According to the Times, Adams's lawyer "pointed to her performances in clubs and provided photos of Ava from that time, saying she looked 'approximately 20.'"
Moore, who was married to Adams from 2009 to 2016, describes Adams's behavior during their relationship as "psychologically abusive." She claims he made promises to assist her music career but never followed through, blackballed her in the music industry, and belittled her talent. "He would always tell me, 'You're not a real musician, because you don't play an instrument,'" she says. "His controlling behavior essentially did block my ability to make new connections in the industry during a very pivotal and potentially lucrative time — my entire mid-to-late 20s." She adds, "I want to make music. I'm not going to let Ryan stop me." Adams disputes Moore's statement, telling the Times that her account is "completely inconsistent with his view of the relationship" and that he was nothing but supportive of her "well-deserved professional success." He says he did not block her from working with other people.
Several female musicians who spoke on the record to the Times characterize Adams's behavior as manipulative, saying he used his position in the industry to sexually proposition women in exchange for false promises of career guidance. Singer-songwriter Phoebe Bridgers, who had a brief romantic relationship with Adams, says he began sending her "flirty" texts not long into their professional relationship when he said he wanted to record with her. After "insisting" that she open for him on a European tour, Bridgers says Adams became "obsessive and emotionally abusive" and harassed her over text, telling her to "prove her whereabouts, or leave social situations to have phone sex, and threatening suicide if she didn't reply immediately." When she ended the relationship and declined the touring offer, she says he became "elusive" about releasing the music they'd recorded together but continued to pursue her. When she agreed to open for him in 2017 at the advice of a manager, Bridgers says that, on the first day of the tour, he requested she come to his hotel room where he was allegedly "completely nude." Adams denies Bridgers claims, as well as all other accusations of misconduct made in the Times piece.
Shortly after the Times piece was published, Adams tweeted an apology to "anyone I have ever hurt, however unintentionally." He also calls the Times story "upsettingly inaccurate" and again denies the underage girl's claims.