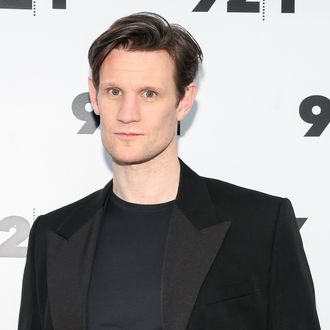 Matt Smith.
Photo: Andrea Klerides / Michael Priest Photography
Eliza Dushku and Matt Smith spent their Valentine's Day evening at the 92nd Street Y in New York discussing their new biopic Mapplethorpe, which tells the life story of photographer Robert Mapplethorpe (played by Smith), in front of a room full of fans.
Asked by Dushku, a producer on the film, whether Mapplethorpe, who was gay, should have been played by a gay actor, Smith said, "I think your sexual orientation, or your sex and your choices outside of work, shouldn't influence — in either way, positive or negative — what happens. So, to me, it doesn't matter if you're gay or straight. That has no bearing on whether you should get the part."
Smith is not the first straight actor to portray a gay historical figure in film. Just last year, we had Rami Malek's Freddie Mercury in Bohemian Rhapsody, Keira Knightley's Gabrielle Colette in Colette, and Olivia Colman's Queen Anne in The Favourite. Darren Criss made headlines recently after announcing that he would no longer play gay characters, sparking a conversation about the ethics of such portrayals.
But, as Smith pointed out to Dushku, acting is meant to be a transformation into someone different. "Where does it stop?" he said. "Like, do we then say, do we apply that logic to going, "Okay, I've got a part, and it's playing a brother, and he's addicted to heroin." Do we then go to people that have only taken heroin?"
"It's an important discussion," Dushku responded. Smith agreed, saying "It's good that it's being had."
Both Dushku and Smith recently found themselves at the center of controversies related to representation in Hollywood. In 2018, it was revealed at a panel discussion that Smith was being paid more for his role as Prince Philip on The Crown than his co-star, Claire Foy, was for her crowning role as Queen Elizabeth. Dushku recently published an op-ed about the treatment she endured on set of CBS's The Bull, from which she was fired in retaliation for speaking up against sexual harassment from her co-star, Michael Weatherly.