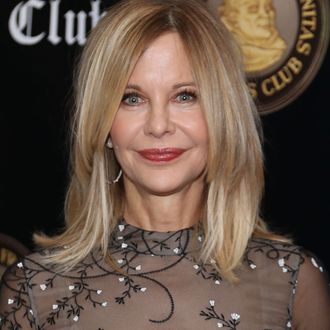 Meg Ryan.
Photo: Manny Carabel/Getty Images
The queen of charming, witty romantic comedies is writing (and possibly directing) a charming, witty romantic comedy. In an interview with Vulture alum David Marchese at The New York Times Magazine, Meg Ryan said that she's developing one herself. "It's at Working Title Films. I'll just leave it at that. Getting the green light, David. My God. You feel like you're jinxing it if you're talking about it," she said. "Hopefully it's for me to direct. I'm aware now that romantic comedies are confections, but they have construction. There's architecture. It's not something I was aware of back then," she said, referring to the string of hits she made with Nora Ephron.
In this age of Spider-Verses and Infinity Wars, could a movie like When Harry Met Sally … be made today? (Rob Reiner doesn't think so.) "As soon as they make money, they have value," Ryan told the Times. "But I don't think that because things are tragic they're deeper. Think about Nora Ephron. Her observation about romantic comedies is that they were commenting on their time in an intelligent way, but with the intention to delight."
Unrelated to the movie, Ryan is also at work on a TV series with Lorne Michaels, for NBC: "It's not really a sitcom," Ryan said. "I can't believe NBC might do it, because it's so odd. Right now I'd be producing. Maybe I'll act in it. I don't know. It's a limited series, three seasons. A murder mystery. A comedy. A murder-mystery comedy." The secret sauce is the intention to delight.