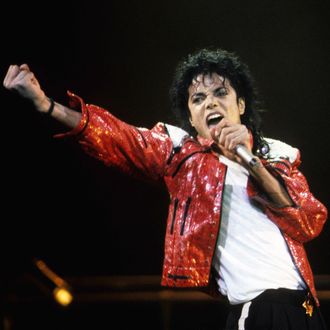 Michael Jackson.
Photo: KMazur/WireImage
Now may not be the right time for a Michael Jackson musical. Don't Stop 'Til You Get Enough, a Broadway-bound production based on Jackson's life and music, has suddenly canceled plans for an out-of-town tryout run in Chicago this fall. In a release, the show's producers, the Michael Jackson Estate and Columbia Live Stage, placed the blame for the cancellation on "scheduling difficulties brought about by the recent Actors Equity strike," and said that the musical will premiere directly on Broadway in the summer of next year. The five-week strike, resolved February 8 in the actors' favor, centered on giving performers who work in labs and workshops on commercial productions a share of the profits from an eventual Broadway run, and asked actors not to do developmental work until then. Don't Stop 'Til You Get Enough was one of the musicals affected by the strike, as it had scheduled a lab during that period.
In a statement of their own, Equity struck back against the Michael Jackson musical's producers, writing, "It's incredibly disappointing that the actors and stage managers who are currently working to develop this project were not informed about a major production change before a public media announcement was made." In addition, "the developmental lab that was scheduled for this production was delayed by 12 working days during the strike," the statement continues. "It is difficult to understand how a modest delay in February would impact a run that was scheduled for late October."
While the Equity strike may have been a factor, it seems likely that Columbia and the Jackson Estate's decision was also affected by the premiere of the documentary Leaving Neverland at Sundance a few weeks ago. Leaving Neverland contains interviews with Wade Robson and James Safechuck, two men who claim they were sexually abused by Jackson when they were children and who give an in-depth account of their experiences over the course of the four-hour film. The Jackson Estate has denounced the documentary and called the subjects "liars," but Leaving Neverland remains scheduled to air on HBO March 3 and 4.