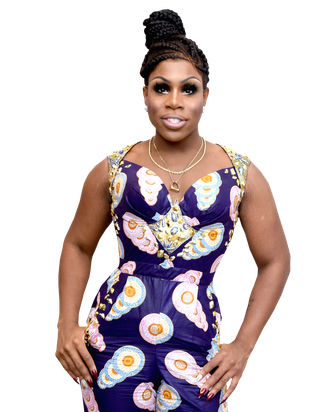 Photo: Gary Gershoff/WireImage/Getty Images
For weeks, fans said Manila Luzon couldn't lose this season of RuPaul's Drag Race: All Stars. When she was eliminated, frontrunner status shifted to Trinity The Tuck. But by the end of the competition, no one could deny that Monét X Change had earned her spot in the finale with elevated looks, an aspirational work ethic, and a winning personality. Crowned the victor of season 10 (alongside Trinity, another winner), Monét became the first queen of color in the Drag Race Hall of Fame. We talked to her about how that feels, the advice she took from a former Drag Race winner, that intense final music video challenge, and who we should be looking for to dominate All Stars 5.
This wasn't the expected outcome, but here we are! What does it feel like to win and, to be really real, did you expect to win? Everyone talks a big game but what were your actual expectations?
You know, honestly, if Bob The Drag Queen, my best friend in the world, has taught me anything, it's that if you have the self confidence of Monique Heart and Valentina then you will be okay. And that's what I had. I channeled those two delusional hos and I was like, "I have won the show." I was like, "no matter what happens, I know I'm fucking funny, I know I'm talented and I have won RuPaul's Drag Race: All Stars 4." And you know what? Walking away with the crown is life changing to me. And to be the first queen of color, the first chocolate All Stars winner? I cannot express how freaking happy I am.
It would have been really cool to see you and Monique in the top two. Did you expect all season long that Trinity would be there?
Oh, yeah. You just can't deny that Trinity played a great game this season. And she had great runways, performed well in challenges. You can't deny that. As Monique would say, "facts are facts." So, I'm not surprised. And also she was a fierce competitor in season nine. I would have loved for it to have been me and Monique. Me and Monique lip syncing to [Christina Aguilera's] "Fighter" together would have been incredible.
To what do you attribute your growth in the short time in between season 10 and All Stars 4?
A lot of it is me just watching myself on TV and realizing all the things I would have done differently. Working in New York City for eight years, six days a week, and working at nine different bars in a five-day workweek was really hard, and I definitely came to Drag Race to show I was a really hard worker. I think that my runways held me back in season 10. I knew that was an area that I could fix and change quickly. Because you can buy new clothes and you can get a bigger budget, but you can't teach someone how to be funny. You can't teach someone how to be a good actor. You can't teach someone to have the charisma and the nerve that it takes to be a superstar.
Obviously, everyone wants validation from Ru and Michelle Visage. What did it feel like to hear them say they were huge fans of you, that they love you and that they think you're amazing at what you do?
It feels amazing. When I got on season 10, I was like, I just want RuPaul to know my name. Just to hear RuPaul utter the words "Monét X Change" and correlate that with me and not getting rid of the Euros in his pocket? That was my goal on season 10. On All Stars, to realize that RuPaul sees me as a fierce, amazing queen and performer and someone who he is confident and comfortable with carrying on the legacy of his brand? It makes me feel untouchable. It makes me feel invincible. I'm really happy and proud of it.
You were unreal in the "Super Queen" music video.
It is so hard to do! We knew we had to have a Super Queen costume. Obviously, we don't know what it's for. And in all my looks I have, like, a corset that makes me look like I am fucking Naomi Smalls. Smallest god damn waist that ever existed. I didn't envision doing full on choreography in this god damn corset!
Now we have your visual EP Unapologetically coming out. What can people expect from Monét as a musical artist, and who are your influences?
Last season, I released "Soak It Up" and it was very heavily influenced by drag music. I wanted to move in a different direction for me and make an album that really speaks to the different makeups in my music library. I wanted to make music that you'd play if you're having a cute boy coming over, or music you'd play if you're falling asleep, or music you'd play if you're driving to the beach. I even have a full on classical piece. These are the things I listen to that inspire me. So I wanted to make music that people would love that's a little bit outside the realm of just "drag music".
How are things with your family now? From season 10, when many of them were not aware you performed as a drag queen, to now where you're one of the most recognizable drag queens in the country.
My family is obsessed with it. I actually sent my mom. who lives in St. Lucia, the Pepsi commercial literally two hours ago. And she loves it. Had I never gone on RuPaul's Drag Race I don't think I would ever share this part of my life with them. So it's amazing to be able to share this with my family.
If you could pick one queen, who are you looking for in the future to slay All Stars 5?
Oh my God, Miz Cracker. The house down. Miz Cracker, Miz Cracker, Miz Cracker, Miz Cracker, Miz Cracker. Miz Cracker. That's my good Judy. My sister. And I think she would come back and fucking turn it on All Stars.
I was surprised to not see her on this season!
She knew I would be there. She was afraid.