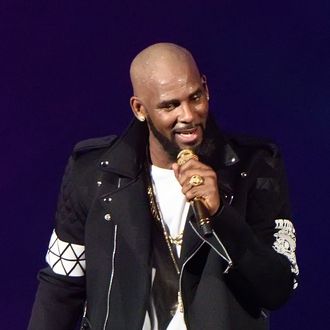 Photo: Daniel Boczarski/Getty Images
R. Kelly is now the subject of multiple investigations, on both the federal and state level. According to The New Yorker, grand juries have been convened in New York and Illinois, and an investigation in Georgia has been reopened. And the Department of Homeland Security has formed a squad to investigate, among other things, whether Kelly has violated the Mann Act.
The Mann Act, also known as the White-Slave Act of 1910, outlaws transporting underage girls across state lines "for immoral purposes." Homeland Security is looking at two girls who met Kelly in Florida and Georgia who now live with him in Chicago. The families of these two women, now of legal age, have expressed frustration that it has taken so long for charges to be brought against Kelly. This DHS squad is the first step to bringing charges against him, and there is no knowledge of how long the investigation will take.
Witnesses were called over the weekend to testify before a grand jury in Chicago, on charges related to the tape of Kelly allegedly with an underage girl, given to police by Michael Avenatti. A grand jury in the Southern District of New York has been based on investigations by the FBI and IRS. That grand jury has subpoenaed Kelly's former accountant, Derrel McDavid.