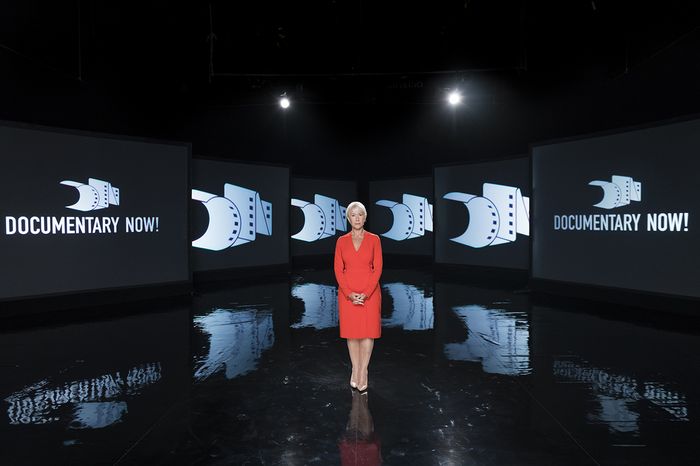 In 2019, the hottest film festival won't be in the south of France, or in Aspen, or even aboard the secret airship that hovers above Mount Pinatubo. No, it'll be Documentary Now! on IFC. Starting February 20, this celebration of the moving image will air some of the greatest documentaries of our time, ones that capture the beautiful, the sacrosanct, and the potentially worthy of a restraining order. Plus, famed performance artist Izabella Barta will do something batsh*t insane. On that note, here's a rundown of our must-watch films from the festival.
Batsh*t Valley 1 and 2
Premiering February 20
The fest's opening films, playing as a double feature, take us back to 1982 when a group of devotees to the spiritual leader Father Ra-Shawbard (played by Owen Wilson) move into a compound outside the sleepy village of Chinook, Oregon. It begins peacefully at first, with the typical cult summer camp activities: praying, dancing, speaking to vegetables, hitting each other with pool noodles, recording their orgasms into mason jars during nightly orgies. But it's all doomed to fail. One juice bar in a muffler shop, one failed pumpkin carving contest, and it becomes war. When the FBI (including "agent" Michael Keaton) comes with guns drawn, secrets are revealed. What secrets? Just send in $40, plus shipping and handling, and Father Ra-Shawbard will send you a VHS tape with all the answers revealed.
Original Cast Album: Co-op
Premiering February 27
In 1970, the Broadway musical Co-op — about the characters living in, working in, or wanting to do either of those things in a co-op — was the talk of the town. Then, it closed down. But not before indie documentarian R.C. Baumgartner captured the magic of the cast (Richard Kind, Paula Pell, Renee Elise Goldsberry), producers (John Mulaney, Taran Killam) and orchestra recording the show's original cast album, laid down in one grueling night. It's all here: every breathy note, every mispronounced word, every missed eye doctor appointment, and every song about cocaine or a doorman's infidelities or brown and beige walls with Danish wingback chairs upholstered in velour.
Waiting for the Artist
Premiering March 6
Whether jumping onto canvas covered in blue paint, screaming "I AM HUMAN" while eating off the floor, or writhing blindly across broken glass and barbed wire with a bucket on her head, Izabella Barta (Cate Blanchett) is the most acclaimed performance artist of our generation. Now, on the eve of a career retrospective, she faces her greatest challenge: a signature performance worthy of her storied career. With weeks to go before opening, a provocative figure in her life returns to complicate things: her former collaborator and lover Dimo (Fred Armisen), the so-called "prankster of the art world."
Searching for Mr. Larson: A Love Letter From the Far Side
Premiering March 13
Ever since he was a child, Brad Adams (Armisen) has been obsessed with the chuckle-worthy cubicle staple comic The Far Side. So to fulfill his lingering childhood obsession, he leaves behind his mortgage, his ailing wife, and his newborn child and sets out on the road trip of a lifetime: to track down its reclusive creator, Gary Larson, who retired in 1995 to pursue a life of quiet solitude, and ambush him for documentary legend. With just a camera and his father, Jim, filming him, watch as the journey takes him from the parking lot of a chain restaurant to Reno, Nevada, to, well, the side that is much farther away.
Long Gone
Premiering March 20
Long Gone follows enigmatic jazz guitar legend Rex Logan (Armisen), who in 1991 leaves behind his drug-addled life of friends and family (Natasha Lyonne), public vomiting and passing out in spaghetti, and decamps to the Eastern European republic of Sárdasovinia. There, his music proves so influential to the newly appointed dictatorship of President Csaba Mozsar that he honors Logan with the highest award a foreign national can receive in the republic: an appointment as the minister of culture. To this day, Logan maintains his innocence of all atrocities committed by the regime, whose perpetrator remains on trial at The Hague.
Any Given Saturday Afternoon
Premiering March 27
There was once a time when professional bowling was bigger than football, when the professional circuit was plied by stalwart journeymen with nicknames like "Dead Eye Dempsey" and "The Meat From Missouri." But times have changed. Professional Bowling League star Larry Hawburger (Bobby Moynihan) now lives in a cheap car in Reno, Nevada. Billy May Dempsey (Michael C. Hall) deals with his wife's obsession with a wisecracking alien creature from the '80s. But in 2003, the PBL returns to television and ignites the greatest bowling rivalry in American history, between Dempsey and Rick Kenmore (Tim Robinson), the bad boy of bowling — whose wraparound sunglasses, luxurious mustache, and signature catchphrase enthrall a nation.
Follow IFC's Documentary Now! festival, premiering on February 20 at 10 p.m. ET. Watch the trailer below for a sneak peek.
All images and video courtesy of IFC.
This is paid content produced for an advertiser by New York Stories. The editorial staff of Vulture did not play a role in its creation.