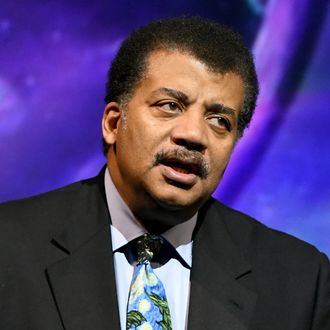 Neil deGrasse Tyson.
Photo: Craig Barritt/Getty Images for Onward18
Early last month, National Geographic and Fox decided to put Neil deGrasse Tyson's Star Talk on hiatus following allegations of sexual misconduct made by multiple women against the astrophysicist. Now, it seems Fox won't be premiering the second season of Tyson's Cosmos as scheduled next month, as the networks's joint investigation into the allegations is reportedly still ongoing.
According to TVLine, Fox's upcoming schedule contains no mention of Tyson's documentary series, which was intended to return March 3. Instead, Family Guy reruns will air on the network in its time slot. At least four women have accused the TV host of alleged misconduct, ranging from groping to sexual harassment in the workplace to date rape, all of which Tyson denied via a Facebook post in December. "I'm the accused, so why believe anything I say?," he said after offering a rebuttal to the numerous allegations against him. "Why believe me at all?"