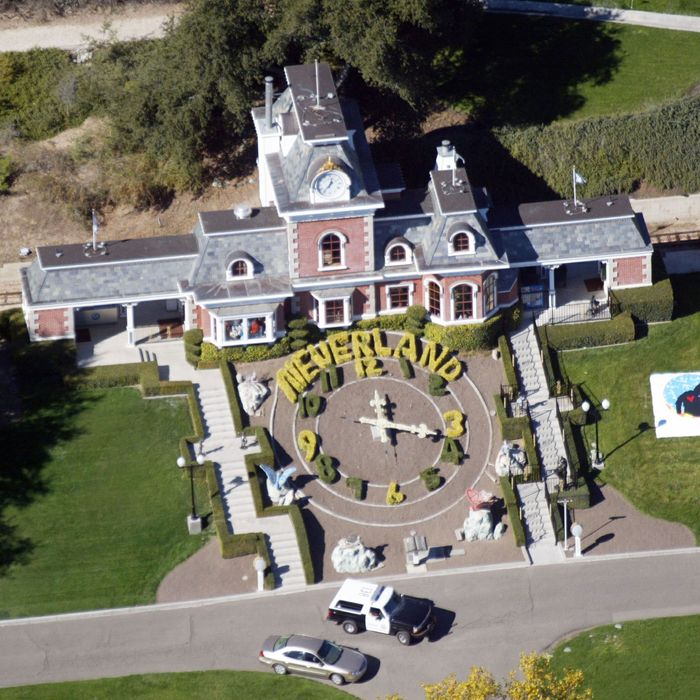 Photo: Frazer Harrison/Getty Images
As of this week, Michael Jackson's former home Neverland Ranch is once again on the market, this time for $31 million. That's down from the original asking price of $100 million in 2015, a sign that buyers are wary of picking up the late King of Pop's home, with all its peculiarities and baggage. The timing, according to Jackson's representatives and the realtors, has nothing at all to do with the premiere of the HBO documentary Leaving Neverland — and its stories alleging multiple instances of sexual abuse happening all over the ranch — on Sunday, March 3.
The 2,700-acre property in Los Olivos, California — now known as Sycamore Valley Ranch — is currently a joint venture between the Jackson estate and investment company Colony Capital, with real-estate firm Compass handling the sale. The listing features the 12,600-square-foot six-bedroom main house, as well as three guest houses, a pool and a lake, tennis and basketball courts, and a 50-seat movie theater with specially isolated viewing rooms. The ranch's large Neverland floral clock, firehouse, and train station remain, though the train itself was sold. The enclosures where Jackson kept his exotic animals are also still there, but all of the pets are gone. A previous listing also notes that the grounds are "well suited to provide high quality wine grapes."
"The timing is right for new stewardship," says Compass's Kyle Forsyth in a statement. "The ranch is well maintained and the approximately 2,700 acres are a naturalist's paradise." Adds Compass's Suzanne Perkins, "This truly is a once-in-a-lifetime opportunity to own one of the most pristine 2,700-acre ranches in Southern California with total privacy and wildlife galore."
Compass declined to comment further about the sale, outside of saying that the house is the same as when Jackson inhabited it. Speaking to The Wall Street Journal about the previous attempts at selling it, they said, "A price tag of $100 million is not chump change" and that wildfires and mudslides in the area hindered the greater real-estate market, not just Sycamore Valley.
The price drop is certainly due to many factors, but obviously the allegations against Jackson will be the biggest hurdle for any prospective buyer. When the ranch was raided in 2003 as part of the child-molestation case against Jackson, police discovered a closet in the master bedroom with three dead-bolt locks that contained memorabilia and photos of boys and young men (no charges of child pornography were ever filed).
The allegations in Leaving Neverland are far worse. They include at least ten places on the property where accusers Wade Robson and James Safechuck claim they were molested: the master bedroom, game room, attic, castle, pool, train station, zoo, and inside the aforementioned movie theater's isolation room. In the latter area, Safechuck says Jackson brought him in there for sexual purposes, locking the door behind them so Safechuck's mother wouldn't catch them.
Dr. Randall Bell, a real-estate appraisal expert who specializes in "stigmatized" listings — he's appraised the homes where Nicole Brown Simpson and JonBenét Ramsey were murdered, as well as the World Trade Center site and the Heaven's Gate cult mansion — is very skeptical that people would invest in the ranch.
"A lot of brokers say, 'Location, location, location,' but in my world, it's 'perception, perception, perception.' When you're talking about child molestation, you're talking about things that make you want to throw up," he says. "I can't say always, but the vast majority of the time, it's imprinted on the real estate."
"There's not a lot of question marks in a lot of minds, particularly of people that have the money to buy real estate like that, of his innocence," he adds. "At minimum, it's grave concerns. And, frankly, a lot of people are just convinced with he did it."
Even if prospective buyers — who have to submit written applications and a "verification of funds" letter from a financial adviser or CPA before even seeing the ranch — can ignore the possibility that kids were abused there, there are a lot of other factors that make Sycamore Valley a tough sell. With the amount of houses available in that price range, how many people are willing to pay the asking price to live somewhere that's designed to look like a child's Disney dream? Razing the houses and other structures would cost millions upon millions more for anyone looking to redo Sycamore Valley in their own image, and there are many other properties where this undertaking would be much cheaper and come without any baggage.
While Bell says perception matters more when it comes to homes like this, location is still a huge factor in this listing, for better or worse. If it is to be used as a private home, Sycamore Valley is located over three hours from Los Angeles and an hour from Santa Barbara. Los Olivos is also a town of just over 1,000 people, so the property is better suited for someone who favors seclusion over socializing.
"People who come here are looking for a place in a rural community where they can have peace and quiet and relax," area broker Wayne S. Natale told Bloomberg when the ranch went on the market in 2015. "They're not into the cocktail parties every Friday night. When Michael Jackson was up here, he didn't go around the community much. He had his own environment, his own kingdom out there."
Keeping the property intact and buying it with the intention of turning it into a Graceland or Paisley Park museum also comes with a number of issues. First off, again, is location. Unlike Elvis and Prince's mansions, which are near Memphis and Minneapolis, respectively, Sycamore Valley is likely too remote to become a viable tourist destination. The buyer would also have to contend with all the government hassles associated with starting a business, wrangling the kind of memorabilia and adding the pizzaz and production value to make it a true attraction, and contending with the likely opposition from neighbors in this town of, again, just over 1,000 people. That's if the family and Colony agreed to sell Sycamore Valley to someone with that intent. (Colony declined to comment for this article, and requests for comment from the Jackson estate lawyer, Howard Weitzman, and a realtor who previously had the listing, Joyce Rey, went unanswered.)
Either way, the declining price leaves Sycamore Valley up for grabs for anyone who fancies speculating on depressed homes seemingly undervalued for various circumstances. This is exactly how Neverland came to be owned by Colony's Tom Barrack in 2008, after all.
The billionaire learned Jackson was in danger of defaulting on $270 million in loans and just days from losing the property to foreclosure, so he agreed to help Jackson out by buying stake in Neverland and the singer's assets, including the music publishing rights of Sony/ATV (the one that owned much of the Beatles' catalogue). Barrack intended to eventually sell the home for a profit by restoring it from its state of disrepair after Jackson left it in 2005; Jackson himself never returned to it because of its association with the raid and 2003 trial.
Regardless of the reasons for the plummeting price, it's clear that whoever buys Sycamore Valley will get a steep discount. What remains to be seen is how much lower the price might plummet once more people hear more about what might have happened there with the release of Leaving Neverland. In many cases, time allows people to forget about a house's history, seeing it as just another home, but something as iconic as Neverland rules that out.
"The reality is — and I don't want to understate anyone's trauma or pain — that when you're talking about something like domestic violence, say where a husband shoots his wife then shoots himself, those cases last, in terms of the stigma, for maybe three to five years," says Bell. "Michael Jackson's not that. The more famous, the more problematic it's going to be. And, internationally, he certainly is at the top."