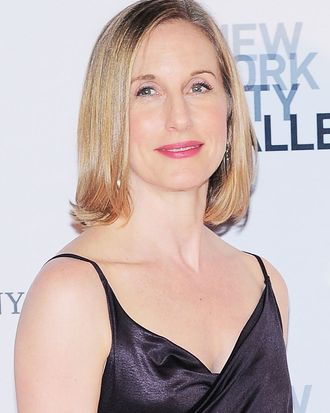 Former ballerina Wendy Whelan will take over as associate artistic director.
Photo: Owen Hoffmann/Patrick McMullan via Getty Image
After almost a year-and-a-half of turmoil, the City Ballet has picked its new leaders. The New York Times reported this morning that Jonathan Stafford and Wendy Whelan will be taking the reins at the prestigious ballet company. Stafford takes on the official role of artistic director, and Whelan's title is associate artistic director, but the two said they plan to work as a team.
The City Ballet went through a public reckoning with misconduct accusations and cultural issues last year. Peter Martins, the longtime director who served in the top role for nearly 30 years, retired in January 2018 after allegations that he verbally and physically bullied dancers, and gave preferential treatment to dancers who engaged in sexual activity with him.
After the allegations were made public in late 2017, an interim team of four leaders was appointed to head the company. Stafford was part of that team. Then, just before the 2018–2019 season opened last fall, three male principal dancers were forced out after they were accused of sharing explicit, nonconsensual photos of female dancers. Alexandra Waterbury, was one of the women in the shared photos, filed suit in the State Supreme Court over the incident. She formerly dated principal dancer Chase Finlay, who was one of the three forced out.
Despite widespread accusations of misconduct, the company later exonerated Martins after an investigation did not corroborate the accusations. Martins worked under acclaimed City Ballet founder George Balanchine, and the new leadership will be the first team to have not worked directly with Balanchine himself.
Whelan danced with the company for 30 years, including as a star ballerina, and both Stafford and Whelan trained at the City Ballet's School of American Ballet. Justin Peck, a choreographer who was on the interim team with Stafford, will assume the role of artistic adviser.
This post originally misstated that the number of male principal dancers forced out was 14. It has been corrected to three.