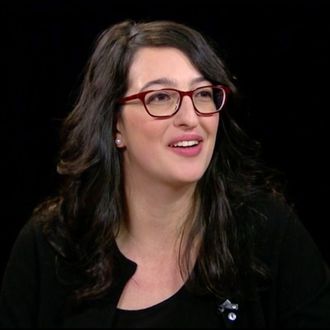 Emily Greenhouse, one of the new co-editors.
Photo: Charlie Rose
The New York Times reported today that the New York Review of Books, one of the world's foremost literary magazines, has named Emily Greenhouse and Gabriel Winslow-Yost its next co-editors. Daniel Mendelsohn, a longtime contributor and behind-the-scenes editorial consultant to the publication, will step into the new role of editor at large.
The announcement comes a little over five months after the ouster of Review editor Ian Buruma following his publication and subsequent defense of a #MeToo essay that gave a platform to a Canadian radio personality who had been accused of sexual assault. (The piece in question, by Jian Ghomeshi, is still online, albeit with a lengthy disclaimer at the top). At the time, there was also a backlash to the backlash, as the literary world was left reeling and deeply divided over Buruma's departure.
Greenhouse comes to the New York Review from her current role as the managing editor at The New Yorker, but she previously served as an editorial assistant to Review co-founder Robert Silvers. Winslow-Yost also started as an assistant to Silvers in 2009, and he's steadily climbed the editorial ranks at the magazine ever since. After Buruma's forced resignation, Review publisher Rea Hederman made a statement explaining that Buruma had lost the confidence of his staff after failing to share the Ghomeshi piece with other senior editors, as had been the tradition under Silvers. Winslow-Yost was one of those editors.
The new arrangement actually represents a path not taken when Buruma was hired two years ago. The Review had had to find its footing after the death of co-founder Barbara Epstein, who edited the magazine with Silvers until her death in 2006. Silvers continued to edit until his death in 2017, although many in the publishing world assumed that the younger editors, Winslow-Yost included, were running day-to-day operations under Silvers's stewardship and notoriously exacting editing. One agent suggested shortly after Silvers's death that the Review's owner and publisher, Rea Hederman, was considering having a pair of young editors steer the ship. Mendelsohn was also thought to be in line to succeed Silvers.
With Buruma gone, it looks like Hederman has found a way to take both paths, hiring two young editors to work under the guiding hand of an older hand working part-time — only this time it's not Silvers but Mendelsohn.
Although the announcement of hiring a man and a woman to co-helm the magazine's top position hearkens back to its origins, Winslow-Yost and Greenhouse will have to work hard to recreate the legendary editorial chemistry of Silvers and Epstein. At the very least, though, installing someone, anyone, in a seat that has sat officially vacant for months is a step toward getting the Review back on track.