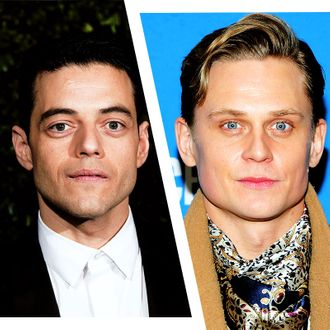 If another extremely sharp jawline is needed, might we recommend Manny Jacinto?
Photo: Getty Images
Whether it's really titled "Shatterhand" or not, the new James Bond movie needs some fresh blood. Per Variety, Bond 25 is looking to cast four key roles: a new female MI6 agent, a female secondary character (similar to Olga Kurylenko in Quantum of Solace), a villain, and an American CIA agent (similar to Jeffrey Wright in the previous Daniel Craig Bond movies). Sources tell Variety that Billy Magnussen is the top choice for the CIA agent (Magnussen previously worked with Bond 25 director Cary Joji Fukunaga on the Netflix series Maniac). Newly minted Oscar-winner Rami Malek is still being sought after to play the villain. Producers previously met with other actors for the villain role, when it seemed that Malek would be busy shooting the final season of Mr. Robot. "Insiders say while meetings with other talent have taken place, producers never wavered on trying to land the role for Malek and have worked hard for months to accommodate both shoots," Variety reports.
The two female roles are still not cast, though chemistry reads with Craig are being scheduled. Léa Seydoux, Ralph Fiennes, Naomie Harris — and, likely, your crush on Daniel Craig — will return for the newest Bond installment, due April 8, 2020.