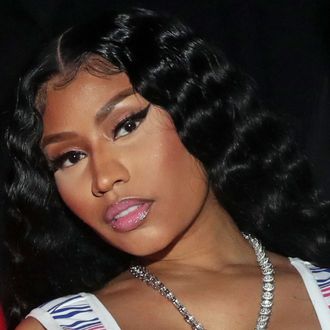 Nicki Minaj.
Photo: Johnny Nunez/Getty Images
Though Nicki Minaj and Cardi B drew up a peace treaty in their feud months ago, some people just can't leave it alone. Last night, BET dragged Nicki into Cardi B's history-making Best Rap Album win by tweeting "Nicki Minaj is being dragged by her lacefront" using a photo of Cardi and a post about her win. In response, Minaj has pulled the plug on BET. Though she was announced as a headliner for the network's annual festival, the BET Experience, Minaj says that performance is now canceled and she's taking all Young Money artists off the bill with her (which would include Lil Wayne). She also says that no Young Money artist will attend BET's award shows this year either, sharing with her announcement a collage of tweets from fans criticizing the BET tweet and coming to her defense.
Nicki and Cardi famously feuded for months after a physical altercation broke out between Cardi and Nicki's camp at a NYFW party last year, but the two eventually declared a truce. As it happens, Cardi is also a headliner at the BET Experience and in a since-deleted Instagram Story on Monday defending her win said "it's not my style for people to put other people down to uplift somebody else." Responding to a tweet arguing that a Grammy win for Minaj is long overdue (she's lost ten times), Minaj went on to suggest that she's been blackballed by Grammy producer Ken Ehrlich and "bullied" into saying silent about it. Ehrlich, you'll recall, recently got on Ariana Grande's bad side over her canceled performance at this year's show. Minaj says she'll tell her side of the story about Ken and the Grammys on a future episode of her Queen radio show on Apple Music.
Update, February 12: BET has issued a statement apologizing to Minaj and saying the network is conducting an "internal audit" so that posts like the one disparaging Minaj won't happen again.
BET loves Nicki Minaj. We have supported her from the very beginning of her career and will continue to do so moving forward. Nicki has paved the way for so many performers and has solidified her place as one of the most powerful figures in the music industry. Unfortunately the respect we have for Nicki was violated by this post that should never have been written. The post does not reflect how we feel about Nicki. And further does not reflect our company values.

We deeply apologize for the hurt, disappointment and confusion that this post has caused. We are committed to doing everything we can to address the situation. We are also conducting an internal audit to assure these types of posts are not published again. We have apologized to Nicki and her team. The post has been removed and we have taken additional appropriate action. We understand Nicki's position and look forward to continuing our dialogue with her. Finally, we apologize to all of her fans. This should have never happened.