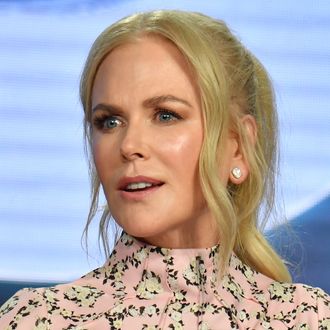 Nicole Kidman.
Photo: Jeff Kravitz/FilmMagic for HBO
Jennifer Salke, the new head of Amazon Studios, has very big plans for the company now that she's in charge. The major streamer has signed deals with A-listers, including Viola Davis, Jordan Peele, Jason Blum, and Nicole Kidman, and Kidman for one has very specific plans about what sorts of projects she'd like to see getting made around here. Specifically, she wants wants more "sexy date night" content. As Salke said in a new interview, "Nicole Kidman started this idea with me," she told Deadline. "One week into the job, I met her, and she was like, where are the movies like Basic Instinct and Cruel Intentions and No Way Out, those movies that you want to watch at home?" Salke added that she's calling the category "sexy date night," and that Kidman "and a few other producers are working with us on a slate of movies that will go direct-to-service in that genre." Now that we know at little too much about date night at Keith Urban and Nicole's house, look forward to building your romantic nights at home around the same kinds of movies she loves.
As far as what else you can expect from Amazon in the near future, the company just spent nearly $50 million at the Sundance Film Festival to acquire five films. That is a gargantuan figure for one company to drop at Sundance, but roughly equivalent to the change Amazon CEO Jeff Bezos might find in his couch. (The company past $12 billion in profits last year.) Salke also told The Hollywood Reporter in another interview that the studio is planning to release ten or so movies theatrically each year, in addition to 20 more films that will go straight to streaming. That's about 30 percent of the original output expected from Netflix. The Big Entertainment arms race continues.