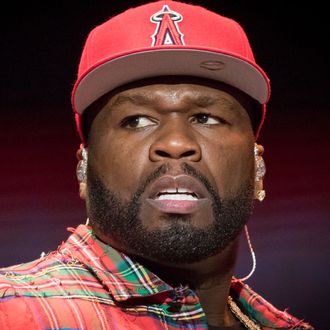 50 Cent.
Photo: Mark Horton/Getty Images
An NYPD commander at a Brooklyn precinct is currently being investigated after allegedly telling his group of officers to "shoot" 50 Cent "on sight" at a boxing match in the city last spring. Per People, deputy inspector Emmanuel Gonzalez made the alleged remarks to his staff at a roll call before the NYPD-sanctioned sporting event took place, which he tried to pass off as a joke in the moment. However, the rapper became aware of Gonzalez's comments on Sunday morning after The New York Daily News broke the story, and is considering legal action against the commander as a result. "Mr. Jackson takes this threat very seriously and is consulting with his legal counsel regarding his options going forward," his spokesman said in a statement. "He is concerned that he was not previously advised of this threat by the NYPD and even more concerned that Gonzalez continues to carry a badge and a gun."
"This is how I wake up this morning," 50 Cent added on Twitter. "This guy Emanuel Gonzales is a dirty cop abusing his power. The sad part is this man still has a badge and a gun. I take this threat very seriously and I'm consulting with my legal counsel regarding my options moving forward."
People notes that the duo previously crossed paths within the law. Gonzalez filed an aggravated harassment complaint against 50 Cent last spring, which stemmed from the rapper reportedly making threats against Gonzalez on social media after the commander shut down a popular Brooklyn strip club.