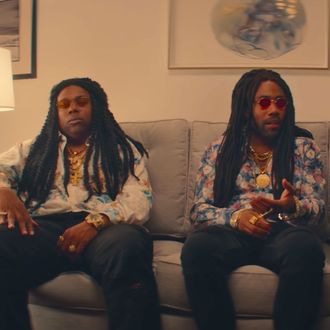 SNL'
s "Friendos" sketch.
Photo: NBC
Unless you're in the news for something negative, being portrayed in a sketch on Saturday Night Live is generally viewed as an honor. Unfortunately, that's not exactly how Migos views their time in the SNL parody spotlight from last year when Chris Redd, Kenan Thompson, and host Donald Glover starred in the "Friendos" sketch. In a new video for GQ, group member Offset fielded a fan's comment on YouTube under the sketch wondering what the group thinks of it, and, well, they're not fans.
"I'ma be honest, we didn't like that skit, cause it was like total opposite of the Migos, like we rock with each other. We ain't arguing," he said. "And then, I felt like it was interpreted like we was some dodo birds — like making us go against each other and like 'No, no!' I ain't really feeling that. We weren't feeling it." Check out the full clip below — the SNL response starts at 2:50:
It's clear from Chris Redd's October interview with Vulture, though, that "Friendos" was made with love. When asked at the time if he thinks hip-hop is experiencing a rise in popularity, Redd gave Migos a shout-out, saying, "With the likes of Kendrick Lamar, people that are making it cool. Kendrick is cool, but he's also saying very, very real things all the time. J. Cole and him, these are some of the biggest artists out and they're very conscious of what's going on in the streets, what's going on with the world, the government. They're talking about this stuff; they're not shying away from it. But then you have a whole subsection of music: of Migos and the Lil Yachtys, so many other people that don't talk about that at all. I think you need both things."
Despite what the Migos guys think, "Friendos" is really funny, and this is a good excuse to give it a rewatch.