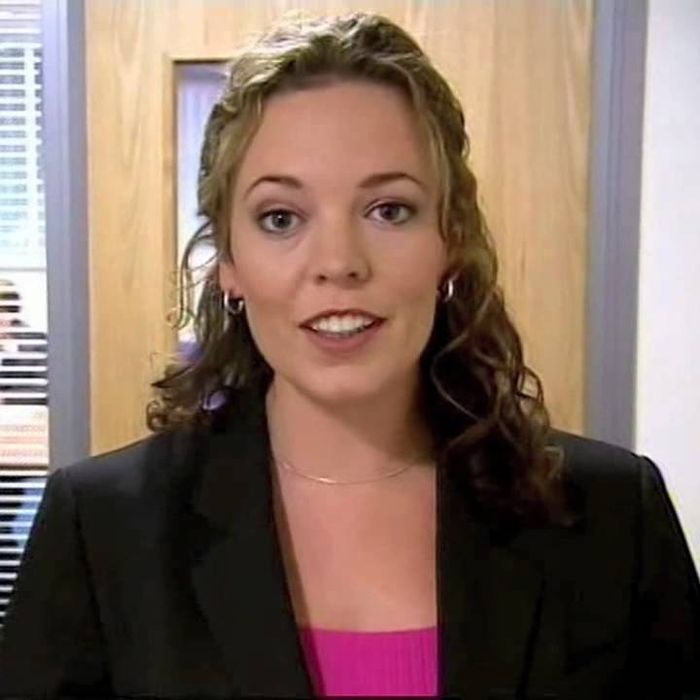 Queen Colman, slumming it as Sophie on
Peep Show
.
Photo: Channel Four
Between her extraordinarily horny Queen Anne portrayal in The Favourite and being cast as the new Queen Elizabeth in The Crown, there's a fair chance you hadn't heard much about Olivia Colman until her zenith moment finally arrived last year. But now Colman seems to be everywhere as she gloriously embraces being in awards-season campaign mode — that is, when she's not busy on a Netflix set, blessing us with new photos of the flinty Windsor clan.
Despite these big-budget royal dramas, though, Colman has mostly made her career out of appearing in popular British TV comedies over the past decade, all of which stand in juxtaposition to the refined palace elegance she's been exuding of late. With this Sunday's Oscars just around the corner — Colman boasts a Best Actress nomination thanks to to her excellent turn in The Favourite — it's time you got better acquainted with her pre-monarchy work. Here are all of her comedies currently available to stream.
Peep Show
David Mitchell and Robert Webb's long-running series is one of the most seminal British comedies of all time, thanks to its "peeping" point-of-view filming style and the chaotic, cringeworthy misadventures shared by our leading bros. However, Colman's delightfully unlikable supporting character was often the linchpin to the show's best moments, with the unusual ways she romances both men — one of whom she may actually end up loving. You'll enjoy watching her, but you definitely don't want to be working alongside her. Where to stream: Amazon Prime, Hulu
That Mitchell and Webb Look
Airing on British airwaves at the same time as Peep Show, this silly Mitchell and Webb sketch series frequently featured Colman, who thrived in a role that mirrored Carol Cleveland's prevalence in Monty Python's Flying Circus. The sketches she appeared in varied wildly in tone, but they were all steeped in the idea of parodying pop culture, whether that meant being a game-show contestant, sports commentator, or old-timey television broadcaster. That's Numberwang, baby! Where to stream: Netflix
Green Wing
A show set in a hospital but refusing to mention anything remotely related to medicine, Green Wing is a part-absurd, part-surrealist comedy that mostly cares about its employees' personal lives. (It could double as a soap opera at times, truly.) Colman is one of the beleaguered ladies working in the human resources department, but you'd barely know it, as 99.9 percent of the time she's complaining about her annoying children and dope of a husband — if she remembers their existence at all. Where to stream: Netflix, Amazon Prime
Rev.
After getting a promotion and moving away from a snoozy countryside parish, a priest (noted babe and sex thimble Tom Hollander) and his wife have to quickly adjust to their new life in a rowdy London neighborhood. Colman, despite being relegated to what could be a banal wife role, elevates it with great aplomb, mostly because her character doesn't really care about the whole "religion" thing — she loves and is a great support system to her husband, but she'd rather be burning the midnight oil at her law office than praying and eating communion crackers. Relatable much? Where to stream: Amazon Prime
Twenty-Twelve
Capitalizing on the lead-up to London hosting the 2012 Summer Olympics, Twenty-Twelve is an office mockumentary that manages to explore just about every potential PR nightmare the Olympics could've faced, absurdity be damned. Colman plays the endearingly incompetent, lovestruck assistant to the overworked head commissioner tasked with organizing the Games (Downton Abbey's Hugh Bonneville), who seems to enjoy her job despite her lack of, well, common sense. Go sports! Where to stream: Amazon Prime
Flowers
As the only black comedy on this list, Flowers follows a dysfunctional family — and despite sitcom clichés, there's not as much "fun" in this "dysfunction" as there is stress and anxiety — whose steady stream of Prozac barely masks their feelings of inadequacy and exasperation for each other. Colman, who portrays the fam's wine-guzzling matriarch, manages a daytime escape thanks to her job as a music teacher, but when she returns home, it's straight back to wondering why the hell her 25-year-old twins are still living with her. Where to stream: Netflix
Fleabag
Even if you're not a British comedy connoisseur, there's still a good chance you heard rumblings of Colman's name when the U.S. first caught wind of Fleabag two years ago. The superb series from Phoebe Waller-Bridge finds Colman playing the insufferable — and very well-dressed! — godmother to Waller-Bridge's character. We don't want to spoil the fun of what happens when she saunters into a scene, so just know that (1) she loves slapping people, and (2) she might come and steal your man. "You know when you're telling someone about a relative, and it's really hard to describe how quite vile they really are?" Colman told us about her role at the time. "And people are like, Oh c'mon, they're not that bad, it can't possibly be that bad. Oh, yes it is!" Where to stream: Amazon Prime