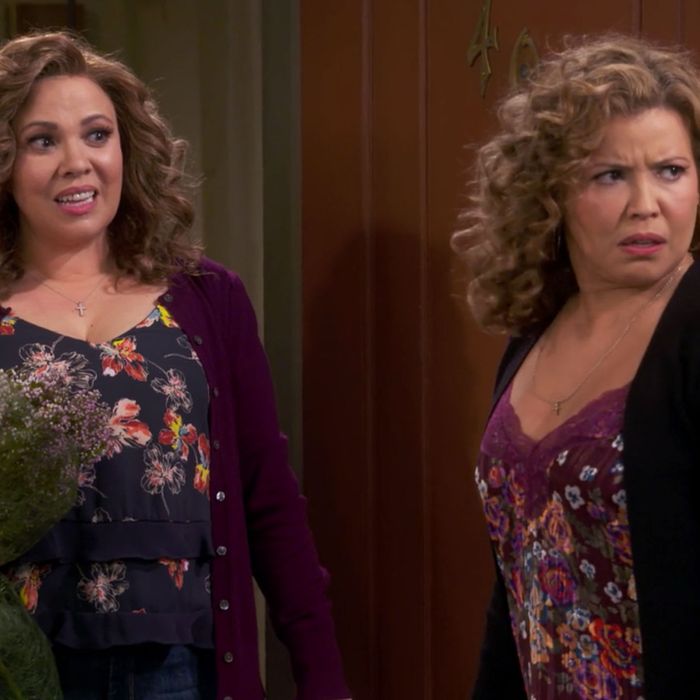 One Day at a Time sure knows how to set the stage for its home stretch. In "A Penny and a Nicole" one story arc begins, one ends — and the one that was introduced in the previous episode gains momentum just when it seemed it had been forgotten. With two episodes left in the season, life is hardly less stressful for the Alvarez family, but at least the story lines are more streamlined, so let's unpack.
First off, adiós Mateo. Ya basic, and not in a good, Chidi sort of way. Okay, I've gotten that out of my system, so here's what went down: Penelope finally realizes that she'd rather play drunken inflatable unicorn ring toss with her ex's new fiancée (more on that in a bit) than answer her boyfriend's texts, so she goes to dump him — only for Mateo to announce he's getting back together with his ex-wife. It's the nicest breakup ever, nobody gets hurt, and I'm friggin' elated, so let's move on, because Penelope's gonna need her decks cleared for what's next.
"A Penny and a Nicole" marks the first season three appearance of Penelope's ex-husband, Victor (James Martinez), who has done a lot of work on himself since Elena confronted him with this impassioned speech last season. He's gotten sober, for real this time, with the help of Alcoholics Anonymous and not from an ambiguous "program" of his own design. He's making a concerted effort to repair his estranged relationship with his daughter following his devastating early exit from her quinceañera. And he's getting married again — to a woman who could be Penelope's long-lost twin. Or, more simply, as Alex observes, "Dang! Papi's got a type!"
Meet Nicole (ODAAT co-showrunner Gloria Calderón Kellett killing it with Justina Machado hair). She looks like Penelope, wears cute, floral camis like Penelope, belly laughs like Penelope, and is so unbelievably nice and respectful of things like preferred pronouns that there is absolutely nothing to hate about her. This, of course, sends Penelope straight to fuming mode, venting in group therapy over her aggravation that she pushed Victor to clean up his act — only for him to find happiness with someone else. Instead of following Pam's suggestion of quiet contemplation, Penelope takes her support-group pals to a bar to do shots, which just happens to be where Nicole is celebrating her bachelorette party.
As much as Penelope resists bonding with Nicole, it's of no use. There won't be any cattiness between these two, which feels like it goes against every unwritten rule of television, and I'm all for it. Soon enough, they're both wearing inflatable unicorn ring toss headgear (leveling the playing field in every way), and Nicole is profusely thanking Penelope for all the sacrifices she made so Victor would get help. Who would've thought that the one person capable of appreciating Penelope's marital trauma would be Victor's next wife? She even allows Penelope a little bit of schadenfreude by letting her know that Victor was miserable for a long time. Kindness and understanding of this caliber don't come along every day, so I hope Penelope seizes the friendship potential here.
While "Penny" is sorting through her feelings about Victor (and, eventually, Mateo) at Nicole's hen night, a tension-filled gathering is taking place at a local restaurant. It was originally supposed to be an intimate dinner between Victor and his kids, but since this is a sitcom that also needed to give Schneider, Lydia and Dr. Berkowitz something to do, we have the super-awkward "Dad-chelor" party."
Victor is deservedly put through the wringer in these scenes: Lydia and Dr. B try to prove he's fallen off the wagon (he hasn't), and Elena jumps at any opportunity to challenge her father on his intolerance of her sexuality. When Victor rejects Schneider's bachelor gift of a V.A.G. hat (it stands for "Victor Alvarez Guapisimo," not the other, more obvious definition), Elena wears it with pride. She also calls Victor out for being so accepting of Nicole's sister Mia, who is gay. ("Did you go to her quinces?") But a contrite Victor takes her hostility in stride, coming closer to atonement for his actions when he asks Elena to be his "Best Woman" (along with Alex as "Best Man") at the wedding — along with an insistence that she wear a tuxedo.
I think one of the reasons why I've been able to accept Victor's 180-degree turn in this episode is because his growth is due to the work of three strong, outspoken women who refused to give him an inch. (As sweet as she is, Nicole doesn't strike me as someone who would stand for Victor's previous machismo track record for one second.) It's something I never expected to happen, and while I do think his conduct at Elena's quinceañera was disgraceful, it's been a pleasure watching him repent in such constructive ways.
Which brings me to the episode's last important story arc: Schneider's sobriety. The previous episode saw the Alvarezes' landlord reeling from a disastrous visit with his callous father, and contemplating taking a drink from a tequila bottle. "A Penny and a Nicole" appears to be deliberately structured to keep the audience guessing as to whether or not Schneider has ended his eight-years-sober run. Thanks to a calculated performance by Todd Grinnell, nothing he does comes off as out of the ordinary — and that includes the V.A.G hat and coining the phrase "Dad-chelor party." But throughout the episode, there was a slight hyperactivity to Schneider that had me wondering, "Is he on something?"
We still don't know for certain, but Victor thinks he is, and it takes an addict to recognize it. "I know all the tricks," Victor tells Penelope, right after he says he doesn't want Elena and Alex being around Schneider anymore. At dinner, Victor noticed that his wannabe best man "went to the bathroom four times and he smelled like mouthwash." That's another thing that's so great about this episode: For the first time ever, I trust Victor more than I trust Schneider (that feels really weird). But that's because there is no ambiguity with him now, and there is with Schneider. The old Victor would never have offered to take a drunk Dr. Berkowitz to AA — or paid for his taxi home — the way he does in "A Penny and a Nicole." He also wouldn't have been so chill in the way he merely suggests that Penelope keep her eyes open regarding Schneider's behavior.
What I'm saying is, Victor has no reason to lie about this, and given the worried expression on Penelope's face, she knows he's probably right.
This Is The Rest!
• It doesn't matter how over an ex we are. Wanting that person to be miserable isn't selfish, it's human.
• Sorry, Jill, but I didn't think the "Penny and a Nicole" joke was funny either.
• Penelope to Mateo: "When I think about something bad happening to you, I don't get upset. In fact, I don't really care." Ouch, but fair.