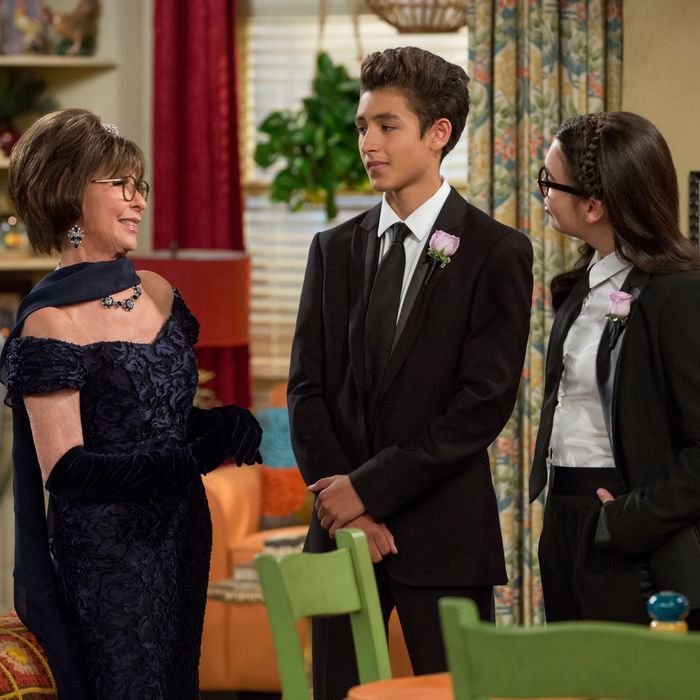 Photo: Ali Goldstein/Netflix
There are two things on my "Bouquet List" for 2020: (1) I need more spilled tea on Lydia and Dr. Berkowitz, and (2) I need Valerie Bertinelli to make a friggin' cameo on this show already.
This is my way of saying that I hope Netflix renews One Day at a Time for a fourth season.
All (semi-)kidding aside, I know that ODAAT's continued existence isn't guaranteed, despite its excellent third season. I also know that, in the year since Vulture last published its reasons why the show deserved a renewal, the mood of this country hasn't shifted to anything near what I would call "upbeat."
Which is precisely why we still need a series like ODAAT: It hasn't finished its job of entertaining viewers while offering an intelligent examination of the oftentimes controversial problems plaguing our society.
But since the sitcom has already ended its previous two seasons without assurance of renewal, it's gotten adept at wrapping things up to a point where it would be okay if the season finale became the series finale. This is why, with the exception of that final shot of Lydia and Dr. B in Cuba, "Ghosts" spared the audience of any major cliffhangers.
Written by co-showrunners Gloria Calderón Kellett and Mike Royce, the season-three finale is all about finding fulfillment. True, this is a series that does not skimp on the heady topics, but at the same time, it knows when to give happy endings to characters we've grown to love, especially if a fourth season is still pending.
No matter what happens, at least we can take comfort in the knowledge that most of the main players had their dreams come true in "Ghosts": Penelope becomes a nurse practitioner; Lydia returns to Cuba; Elena gets her father-daughter dance with Victor; Schneider reunites with Avery; and Dr. Berkowitz is no longer exiled to the friend zone with Lydia. (Alex is the only one who didn't get a "happy ending" per se, but he's no longer grounded, so he's good.)
The majority of the episode takes place at Victor and Nicole's wedding, and because it requires the full cast to be present, several lampshading lines of dialogue explain why Victor's ex-wife, ex-mother-in-law, "ex-wife's landlord," and "ex-mother-in-law's non-sexual platonic companion" have been invited.
"Ghosts" also establishes that one month has passed since the last episode, with Schneider marking 30 days of sobriety. He and Avery are still broken up, and he's miserable.
Penelope could be doing better, too: She's not thrilled that her ex-husband scheduled "the weirdest day of [her] life" a week before her nurse practitioner board exams, as represented by the contouring disaster on her cheekbones. In a nice throwback to the second-season finale, her dad, Berto (Tony Plana), makes several appearances throughout the episode, serving this time not as Lydia's afterlife greeter, but as Penelope's self-reflection guide.
The whole time she's at the wedding, Penelope is accosted by well-meaning (read: super-annoying) family members assuring her that she'll find love again soon. This, coupled with seeing her doppelgänger Nicole as a blushing bride, triggers a flood of visualizations as Penelope sorts through what constitutes a happy ending for her.
It's not an easy day for Elena, either, as she struggles with delivering a toast to Victor filled with positive thoughts, when she's still rightfully raw inside. At Alex's urging, she gives her real speech to an empty chapel as a form of release. In doing so, Isabella Gomez becomes the episode's MVP, sublimely moving through every emotion her character has endured since her father abandoned her at her quinceañera. I'm so glad that Elena was able to say those words out loud, even if her brother was the only person who heard them. Victor's recent open-mindedness doesn't change the fact that Elena showed up on his big day, yet he couldn't do the same for hers.
As it turns out, Victor didn't need to hear any of Elena's "real" speech. He continues on his path to redemption in "Ghosts" by announcing to all of his guests that he's been a terrible father to his daughter — before inviting her to dance with him to the same song from her quinceañera, "De Niña a Mujer." (Dr. B erroneously re-enacting the group embrace from the season-one finale was the perfect comedic button on that moment.)
What Dr. B doesn't get wrong in this episode was is attentiveness to Lydia's "Bouquet List," even after she turns down his offer to take her to Cuba to scatter Berto's ashes. (She explains it would be too agonizing to return to her place of birth, so they decide to go to Miami instead — and stay in separate rooms.) Whether it's procuring a podiatrist named "Andy Garcia" to give Lydia a kiss or doing the Chicken Dance with her, this is a man who has earned the right to travel on the same plane, dammit.
Lydia may be resisting Dr. B's dorky charms for now, but that's only because the romantic pairing she cares about is Schneider and Avery. When Avery surprises her dejected ex-boyfriend during the reception, she discloses that her presence is all Lydia's doing: "She said you should never give up on an Alvarez." Now, while I am happy to see this couple together again, I think it's totally okay that Schneider is more elated over Lydia referring to him as an Alvarez than Avery's return. To bring it back to the season premiere motto: "Familia para siempre."
Since there's already been one romantic rekindling this episode, ODAAT is too smart to go the excessive route. Still, the friendly reunion between Penelope and her season-two love Max (Ed Quinn) has a purpose other than making me mourn their breakup for a second time. Seeing Max helps Penelope realize that she's already happy without being in a relationship — thus, as she's done all season, crushing another of her family's old-world attitudes and setting an empowering example for her children.
Penelope proudly walking into the medical office that she now shares with Dr. B shortly after her graduation, as a white-lab-coat-wearing, certified nurse practitioner, could not be a more magnificent happy ending for this character. But, as awesome as Penelope is, she can't go too long without her mother stealing her thunder.
Lydia calls her daughter to announce that she and Dr. B bypassed Miami — and went straight to Cuba. The single shot we have of these two leaves much to the imagination, but the fact that Lydia's body didn't reject returning to her homeland — not to mention the synchronous cigar-smoking — heavily suggests that a shared hotel room will be involved.
Oh, the "Havana, 2019" stories they could tell in season four …
This Is the Rest!
• The real star of "Ghosts" is Calderón Kellett, who pulled triple duty: She co-wrote the episode, directed it, and appeared as Nicole. All hail.
• Penelope's brother Tito wasn't just paying lip service when he promised to be around more in "Hermanos." He's right there with the cheering Alvarez family at his sister's graduation ceremony.
• I did find it odd that Schneider and Dr. B garnered invitations to Victor and Nicole's wedding, yet Syd did not. I'm chalking this decision up to narrative logistics, because I know Elena would never have stood for her Syd-nificant Other's exclusion.