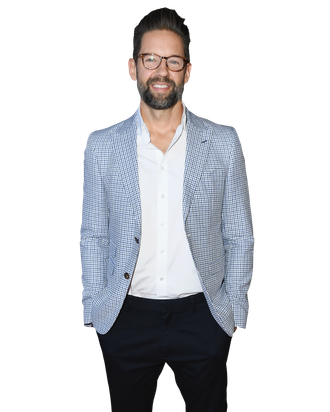 Todd Grinnell.
Photo: Jon Kopaloff/Getty Images
Actor Todd Grinnell walked into the One Day at a Time writers room last June, took a seat at the long conference table where the sitcom's rapt writers were waiting for him, and said, "I can tell you a bunch of sad stories."
"Tell us a funny story," suggested co-showrunner Mike Royce.
"Well, they're all funny now," replied Grinnell, who plays the affable if sometimes socially clueless Schneider. The actor, who has been sober 17 years, was invited to meet with the writers to share his experiences with addiction a week before production of ODAAT season three began at Sony Pictures Television Studios. Schneider has made references to his sobriety in past episodes, but this season, he relapses after his father pops back into his life and pressures him to convert his apartment building into condos. Grinnell's appearance in the writers room is not that unusual: Royce and co-showrunner Gloria Calderón Kellett have brought in other guests to speak to the writing staff, including military veterans, health-care workers, and Kellett's own parents, who shared their immigration story from Cuba.
"It's great to hear somebody else's perspective," Kellett told Vulture. "There's always things they say or the way in which they say it that informs something. It definitely makes its way in and then I think it has more of an impact when it's seen. Even though it's a comedy, we're doing a real moment and that's a real thing and people recognize it. It resonates a little bit more."
When Grinnell starts talking, stories spill out fast. He started drinking at 13, and he says he was a "better" drinker than all of his friends in that he could drink a lot more than they could before passing out. By 17, he was also doing cocaine. Once, when he was a senior in college, he got so drunk that he went looking for drugs with his friend and crashed his parents' new Volvo through a fence and into the porch of a home. When the police stopped him, he denied that the huge piece of wooden fence draped over the back of his car had anything to do with the accident. "This was five years before I sobered up," Grinnell said. "There were many moments in my life that I knew I should hang it up and then I wouldn't."
One day, at age 25, after he had moved to Los Angeles and had a three-day bender, he decided to get sober. There was no epiphany, just exhaustion. "The reason I drank was to be courageous and interesting," he told the writers. "By the end, I couldn't even speak. I was not the life of the party anymore. I was just a guy who drank by myself. I didn't want to be around other people. It became sad and less interesting to me."
The writers peppered him with questions for over an hour, and Grinnell shared several details that make it in the episode: how the Alvarez's trust in Schneider would break when they learn of his relapse and dishonesty; a common expression about the disease "doing push-ups" while an addict is sober; and how humiliating it is for an addict to attend a meeting after a relapse.
Although Grinnell suggests that Schneider also do drugs — and early drafts of the script for "Drinking and Driving" include that — the writers decided it's too much for one episode. Executive producer Dan Signer and producer Andy Roth, who co-wrote the episode, said Grinnell's visit opened up the story and gave them ideas for consequences they hadn't considered. "One of the things he said ended up almost verbatim in the script, about what a big deal it was for Penelope to ask him to take Alex to his baseball games," Roth said. "That's not something I would have even thought about had we not spoken to Todd about it. That idea that nobody would trust an addict to do that stuff."
Grinnell spoke with Vulture on set about inhabiting Pat Harrington's iconic Schneider role, why he wanted to share his personal stories with the writers, and what it felt like to pretend to break his sobriety.
As a fan of the original One Day at a Time, how did you approach playing Schneider? Your version is different but the producers kept the name, so there is homage being paid there. Was it scary?
It was daunting because I had to really forget what Pat [Harrington] did. I didn't want to try to imitate him in any way because it's obviously a totally different show. The characters are the same constructs and it's generally the same concept, but everything's different, so we talked about ways to view it through the lens of, How can we honor the spirit of the character? I think, deep down inside, these two guys are similar. They're both really lovely people who are very lonely and just love the two families so much.
I've been fortunate enough to talk to Pat's son and his daughter a little bit, who are really lovely. I was really sad that I didn't get a chance to meet him before he passed away 'cause it would have been just a huge honor of my life to talk to him about the role. He's an inspiration to me for sure. I keep a picture of him over my dressing room — there's a picture of him dressed as Schneider, doing the double fingers thing. I'm such a dork, but before every show, I give him a fist bump and I'm like, Let's do it man. I believe that everybody's watching. We've got some mementos of Bonnie Franklin's and Pat's on set and there's just a deep connection with the original series. It's so nice to honor that on a daily basis and remember.
The writers like to bring in experts to help with their research. What did you think when they asked you to speak about addiction?
It was the first time I'd done that. We all talk on a regular basis and we're very collaborative during the rehearsals and run-throughs, but I loved that they wanted me to come in. That aspect of the character is inspired by a part of my life. When I initially got the role, they were still trying to figure out what the character was. Gloria called me and asked if they could use that part of my life in the show. I think it's really an important thing to talk about on TV and I'm excited to have that conversation. So when they asked me to come in the room, it was more for me to share my experience so that we talk about this in the right way.
Was it hard to reveal all of that to your colleagues?
No, it wasn't. I've been sober for 17 years. At this point, those stories are from when I was a different person. When we got into the shooting of it, there were a couple things that I hadn't thought about in a while.
Like what?
In an earlier version of episode 12, there were actual hard drugs in addition to the alcohol. We were about to have some prop stuff brought in and I was like, Oh, wow, this is weird. I was gonna be handling some drugs and I haven't seen that in 17 years and I don't know how that feels. But then they cut that because they thought it was too much.
I don't have emotionally arduous episodes like that, usually. The season finale of season two was tough for that reason, too. The comedy of this character comes a little bit easier for me, so it was interesting to explore all that stuff within this character, which we don't normally do. I got to play a really different person because that's what happens when people use drugs and alcohol and have a problem with drugs and alcohol. You become a different person and you do things you wouldn't normally do and you get in trouble and life doesn't go so well. That's what happened in this episode for Schneider. And when I say it was challenging, it's because I don't even know what this person is like under the influence of alcohol. I'm not used to Schneider being manipulative and mean and yelling and saying not nice things. You have to rebuild the character or rebuild a parallel character to the character, which was interesting.
You've been friends with Gloria for a while and she directed that episode. Did that help?
It was amazing because I'm in the best hands I could be in. The whole cast and crew are very sensitive. Most people know that I'm a sober person, and so everybody was really sensitive and checking in with me and making sure that I wasn't getting triggered. [Laughs.]
Did your visit to the writers room help your performance? You knew the whole story ahead of time. Production hadn't even started yet.
For sure. Going into a season, we have a general idea about what's going to happen, but you don't know everything that's going to happen with our characters, although if you ask them they'll tell you. It helps because then you can think about your performance leading up to those episodes. You can make adjustments. It's a nice luxury to have as an actor.
Did it ever get too close to home when you were working on "Drinking and Driving?"
A little bit, yes. You bring whatever you can from your own life to these things. To get a really honest performance, it can affect you in a personal way. In a roundabout way, it brought up other stuff from my life. His relationship with his dad really pushed him over the edge. I don't have that kind of relationship with my dad — my dad's one of my best friends and we love each other. But in episode 12, there's a lot of him feeling like he's a piece of crap and that's why he drank. And whether you've had a stable family or good life, part of alcoholism is having some little voice inside of you that's telling you that you're a piece of crap, so that part was relatable. It's tough. It brought up some feelings that I had from when I was in my twenties of not feeling great about myself. It was weird to remember that 'cause you dredge it up and you go, Oh God, I remember I used to beat myself up a lot and have lower self-esteem and say awful things to myself in my head. That was uncomfortable to dive back into, but at the same time, it did feel very foreign so it also was a nice marker of Well, look how far we've come. Like you're a different person now.
You have all of that going on internally and then sometimes in the episode you also have to be funny. What was that like?
Justina [Machado] and I were joking because it was like we switched roles. In this episode, she had some of the goofier stuff than she normally does and I was playing the serious, emotional stuff. We flipped roles. We thought it was bizarre and hard. There were a couple of moments where she was playing a little bit dense and she said it was hard playing dumb. [Laughs.]
The eighth episode, "She Drives Me Crazy," is your directorial debut. What was it like directing yourself?
It was a lighter episode for me, but it was interesting. The way we do it, we have a stand-in and we block the scenes and rehearse with him so I'd be able to see all the shots. And then I'd jump in and perform. I was lucky that they gave me an opportunity to do it. Before we even got picked up for season three, I told Mike and Gloria that I'd love to direct and they enthusiastically and passionately said yes. Since our first episode, I'd shadow Pamela Fryman and she told me at one point that I should do this. Pam Fryman thinks I could do this, so I'm gonna do it! So, I spent the first two seasons shadowing Pam and Phil Lewis, who's one of our other big directors. I also shadowed a really good friend of mine, Richie Keen, who was working on Disjointed. It was terrifying the first day and just heaven by Friday. I had the time of my life, but it was a lot more work. You're on your feet a lot more and you don't get as many breaks.
What would you like to see for Schneider in season four, since Avery's back and he's in a serious relationship now?
I don't know how long he's going to be able to stay in a serious relationship. I think there'll be some conflict between how serious it gets between he and Avery and how much time he spends with the Alvarezs. There will be a tug-of-war.
I've been through that in my life. I was single for a long time, I used to hang out with my best friend and his wife, I was their third wheel for years. And then, I got a girlfriend and it became serious and it was like, Well, you can't continue to hang out all the time.
Lydia won't handle that well.
That's what I mean! Exactly. The stress. You just don't know. He could get his heart broken. Or if there are more seasons, maybe there's a baby!
There have to be more seasons.
Let's hope!