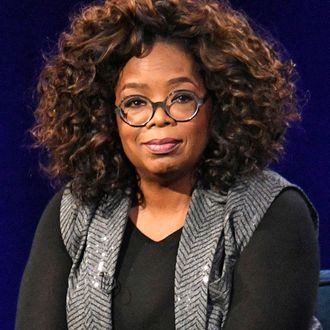 Photo: Bryan Bedder/Getty Images
Following the two-night broadcast of Dan Reed's HBO documentary Leaving Neverland, which explores allegations of sexual abuse by Michael Jackson, HBO and OWN will air a special hosted by Oprah Winfrey featuring the subjects of the film, accusers Wade Robson and James Safechuck. Variety reports that the special, Oprah Winfrey Presents: After Neverland, will be taped before an audience of sexual-abuse survivors and will feature a Q&A between Oprah, Safechuck, and Robson. Reed will also make an appearance.
This won't be the first time that Oprah has given a spotlight to stories of childhood sexual abuse. In 2010, The Oprah Show aired a two-part series on male sexual abuse, with an audience of 200 survivors, an interview with Tyler Perry, and information on recovery and support resources.
Members of the Jackson family, who admit that they have not seen the documentary, spoke with Gayle King on CBS This Morning on Wednesday and disputed the accusers' allegations of sexual abuse.
The special will air simultaneously on HBO and OWN on Monday, March 4, at 10 p.m. after the conclusion of the two-part Leaving Neverland documentary. It will also be available to stream same day across HBO's streaming services, WATCH OWN, and Oprah's SuperSoul Conversations podcast.