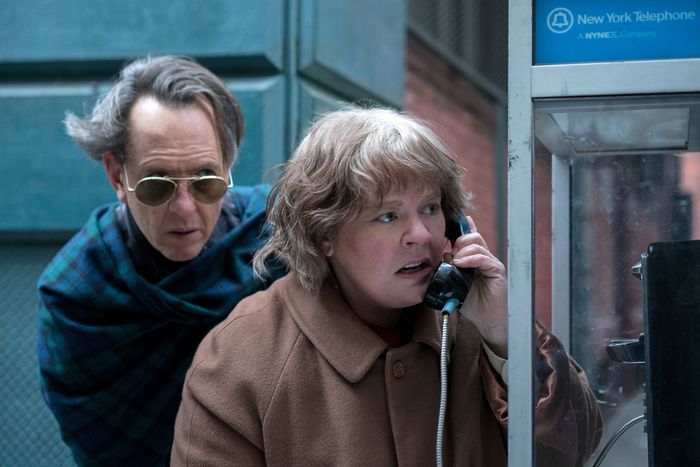 Can You Ever Forgive Me?
Photo: Mary Cybulski/Twentieth Century Fox
At times it feels like the only sure thing about this year's Oscars is that they are supposed to happen on February 24, and at this point, even that might change. First there was going to be a Popular Oscar, then there wasn't. Kevin Hart was supposed to host, then he wasn't. Four categories were going to be presented during commercial breaks, then they weren't. This uncertainty has extended to this year's race, where the ostensible frontrunner, A Star Is Born, has been essentially blanked by all the major precursors, and there's a very real chance its replacement is a black-and-white, Spanish-language Netflix film.
Guild season was supposed to clarify things. Hollywood's unions don't overlap with the Academy entirely, but most Oscar voters are members of one or more guilds, and with thousands of combined voters, they provide a large-scale sample of the industry as a whole. That, uh, didn't happen this year. With Sunday night's Writers Guild of America Awards seeing two upset wins for Eighth Grade and Can You Ever Forgive Me?, the industry voters who were supposed to narrow the field have instead decided to spread the trophies around. Black Panther got love from the actors, art directors, and casting directors; BlacKkKlansman from the casting directors; Bohemian Rhapsody from the editors and sound editors; The Favourite from art directors and editors; Green Book from the casting directors and producers; Roma from the directors; and Vice from the casting directors. Even A Star Is Born got on the board thanks to the hair and makeup artists.
Some of these wins are worth more than others. The Producers Guild is the only ceremony that uses the same kind of preferential ballot as the Oscars, and Green Book's win there was the first solid indication that the movie was much less polarizing at the ballot box than it has been on social media. The winner at the DGAs has gone on to win either Best Director or Best Picture (and often both) every year since 2001, which bodes well for Roma to take home one of the night's top prizes. And Black Panther's support from the acting branch — the Academy's largest — could be enough to make up for its lack of nominations in the other big categories. But it feels wrong to restrict the field to just those three. What if voters go crazy and decide to honor Bohemian Rhapsody, an international sensation whose credited director has been all but blackballed from Hollywood? I'm not saying it's going to happen, but it might!
When it comes to the WGAs, Sunday night's two big surprises kept one of the screenplay races open, while another seems slightly more settled. Neither of the WGA winners was nominated for Best Picture, and Eighth Grade couldn't even land an Original Screenplay nod. Its win Sunday is probably welcome news for The Favourite, the, well, favorite in that category. Deborah Davis and Tony McNamara's screenplay wasn't written under the guild's collective bargaining agreement, so it wasn't eligible Sunday night; that Green Book or Vice didn't pull out the win should have the Brits breathing easier about their chances Sunday night. And Can You Ever Forgive Me? was considered a distant third in the Adapted race, lagging behind BlacKkKlansman and If Beale Street Could Talk. But the story of a frustrated writer who turns to literary fraud clearly appealed to the WGA's membership, many of whom also spent their days trying to imitate a famous person's voice. The movie still faces an uphill battle when it comes to Oscar — Melissa McCarthy is a longshot in Best Actress, while Richard E. Grant's chances of pulling out a Supporting Actor win seem dim after his loss at the BAFTAs — but as the movie most concerned with words, you shouldn't write off its chances in Adapted Screenplay this weekend. Here's to many more surprises in this unpredictable season.
Check out Vulture's full, final Oscars 2019 predictions list.