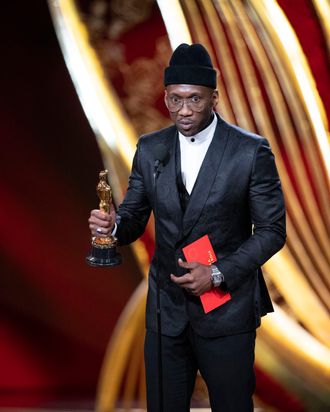 Mahershala Ali.
Photo: Craig Sjodin/ABC via Getty Images
No host, no problem: ABC's broadcast of the 91st annual Academy Awards notched a 16.5 household rating and drew 29.6 million viewers, improving on last year's numbers and reversing the show's recent ratings slide. Sunday's emcee-free ceremony grew roughly 10 percent from the Nielsen nadir reached by 2018's show, which averaged a 14.9 rating (percentage of U.S. TV homes) and collapsed to just 26.5 million viewers. The 2019 Oscars was likely boosted in part by its brief running time compared to other recent Academy Awards: Julia Roberts signed off at 11:17 p.m. EST and the credits were over by 11:23 p.m., representing a run time of approximately three hours and 23 minutes. That made it the shortest Oscars since 2012, when the show lasted around three hours and 15 minutes. (Last year's show wrapped up just shy of the 4-hour mark.) Among the demographic group most desirable to ABC's Oscar advertisers— adults under 50 — there was similar recovery: Sunday's telecast averaged a 7.7 rating, up 13 percent year-to-year.
For execs at Disney-owned ABC, which has been pressuring the Academy for years to tighten the telecast in order to boost ratings, the uptick will no doubt come as good news (and further support for their argument that shorter is better). Still, it's worth noting that despite cutting a half-hour or so off the show, viewership still came in below 30 million viewers — something which, until last year, had never happened before since Nielsen began measuring total viewers in the 1970s. Sunday's Oscarcast still came in about 15 percent behind 2017's show (34.4 million viewers) and drew about one-third the audience as the event brought in just five short years ago (43.7 million viewers in 2014.) Making sure the Oscars end at a reasonable hour on the east coast clearly makes a bit of a difference in the show's ratings, but it's also not a cure-all. ABC's best bet: Try for the best possible telecast and hope audiences respond.