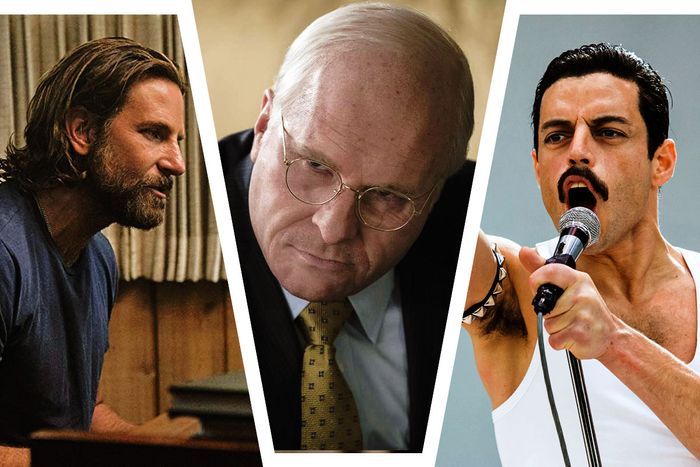 From now until February 24, Vulture is doing deep dives on the major Oscars categories. Today is Best Actor, where the other four nominees look to be caught in the Rami Malek landslide, no escape from reality. Open your eyes, look up to the skies, and read about the contenders, from the least to most likely to take home the gold.
The Long Shot: Willem Dafoe, At Eternity's Gate
Dafoe was last year's Supporting Actor bridesmaid, coming up shy of Sam Rockwell at every major ceremony. He kicked off this season strong, winning the Best Actor prize at Venice, but the little-seen, avant-garde Van Gogh biopic hasn't generated much awards heat Stateside. There may be a role out there that can earn this well-liked character actor his first Academy Award, but despite all the seeming advantages — biopic, famous artist, Oscar-nominated director — it probably won't be this one.
The Stumbling Contender: Viggo Mortensen, Green Book
The optics of campaigning Mortensen in lead while his co-star Mahershala Ali runs in supporting has ruffled some feathers, adding to the controversy that's swirled all season long around Green Book's racial politics. Voters didn't seem to hold the actor's N-word flap against him during the nomination period, but I think even the most loyal Green Book fans understand what it would look like to hand the Best Actor trophy to this very broad performance, especially when voting for Ali in the other category provides a much safer way of expressing support.
The Frustrated Auteur: Bradley Cooper, A Star Is Born
Cooper spent all season running as far as he could from the specter of Jackson Maine — out went the beard, the bronzer, and the denim, in came a clean-shaven face and suits that wouldn't be out of place on any other 44-year-old Georgetown graduate. He eschewed acting roundtables and meet and greets, and generally gave the impression that he was a Very Serious Filmmaker. Unfortunately, the directors' branch had a bunch of austere foreigners they liked better, so now Cooper's back here in Best Actor with a bunch of plebs who didn't helm a $200 million hit. Since missing out on that director nomination, Cooper's started giving the people what they want, growing out the stubble and popping up onstage to perform "Shallow" with Lady Gaga. It takes a lot to change a man. Hell, it takes a lot to try, but I think the transformation's coming a little too late.
The Dark Horse: Christian Bale, Vice
If you're trying to win an Oscar, strapping on pounds of makeup to play an iconic world-historical figure is usually the way to go. So why hasn't Bale been cruising to victory after victory the same way Gary Oldman did last year? That he's playing a loathsome character who doesn't get even a modicum of softening surely has something to do with it; his Dick Cheney would be the first outright villain to win Best Actor since Daniel Plainview. Vice, too, is not exactly beloved among this year's Best Picture crop. Judging by his Golden Globes speech, Bale might be the choice for those who want to see a little fire and brimstone at the podium, but in this race voters seem to be gravitating more toward warm hearts than sulfuric acid.
The Front-runner: Rami Malek, Bohemian Rhapsody
In a season marked by mudslinging, Malek has somehow been able to run a Teflon campaign. Fifty years ago, a dubbed singing voice was enough to deny Audrey Hepburn an Oscar nomination for My Fair Lady; now that same issue hasn't affected Malek one iota. And instead of the Bryan Singer scandal exploding his chances, it actually seems to have boosted him: Without ever quite taking credit for the director's firing, Malek has subtly positioned himself so that a vote for him feels like a vote against Singer. Similarly, the use of Freddie Mercury's actual vocals just seems to remind voters how much they miss the late singer. They come out of Star Is Born in mourning (or yawning), and they come out of Vice angry (at Cheney or Adam McKay) — but after that killer Live Aid sequence, they come out of Bohemian Rhapsody wanting to celebrate Mercury. That wave of goodwill has helped Malek surf past obstacles that would have sunk a lesser contender, and I suspect it'll take him all the way to the podium Sunday night.
Check out Vulture's full, final Oscars 2019 predictions list.