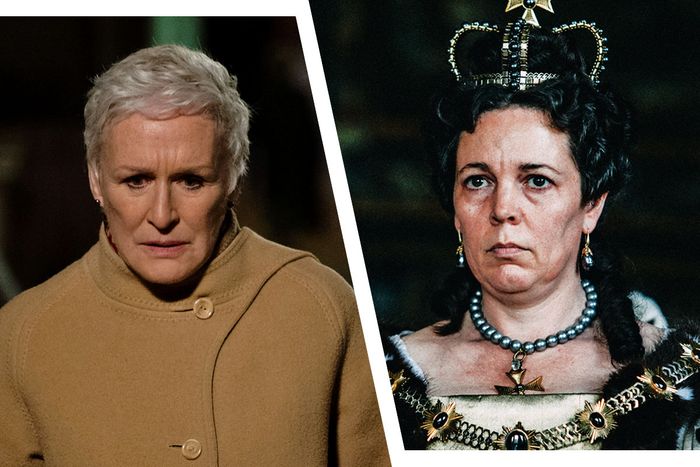 Glenn Close in
The Wife
and Olivia Colman in
The Favourite
.
Photo: Sony Pictures Classic and Fox Searchlight
From now until February 24, Vulture is doing deep dives on the major Oscars categories, starting today with Best Actress, where Glenn Close has pulled into what seems like a commanding lead. Can anyone overtake her by Oscar night? Let's run down the contenders, from the least to most likely to take home the gold.
The Long Shot: Melissa McCarthy, Can You Ever Forgive Me?
McCarthy earned great reviews out of Telluride for her transformative turn as early '90s literary fraud Lee Israel. But despite tons of critical love, this little movie has flown slightly under the radar this season, and most of its awards attention is going to the delightful Richard E. Grant, an Oscar buff who seems to be having the time of his life campaigning for a Best Supporting Actor trophy. For McCarthy, a comedian whose broader performances have been seeing diminishing returns, a second career nomination for her nuanced work here is probably its own prize.
The Nonprofessional: Yalitza Aparicio, Roma
Aparicio spent most of this season on the bubble, and the fact that she cracked the Oscars lineup was a welcome surprise for the first-time actress, who trained as a preschool teacher in Oaxaca before being cast in Roma. As with co-star Marina de Tavira in Supporting Actress, her inclusion here is being taken more as a sign that Alfonso Cuarón's film does indeed have enough support from the acting branch to go the distance in Best Picture, than an indication of her own strength. Aparicio has been a tireless campaigner, especially considering that she doesn't speak English (she's been attending every event with an interpreter), but while the industry veterans of the Academy clearly had no problem inviting a newcomer into the clubhouse for a night, I suspect voting for her over some powerhouse competition is another thing entirely.
The Ingénue: Lady Gaga, A Star Is Born
Gaga came into the season with what looked like the year's best narrative: Just as Jackson Maine stumbled upon Ally Campana at a drag bar and turned her into a tambourine-rocking, butt-loving pop star, so, too, did Bradley Cooper reveal the stripped-down, naturalistic performer hiding inside Gaga's avant-garde theatrics. In other words, there can be 100 people in a room … Still, I can't help but wonder how much that meme underlined an impression of Gaga as an Oscars arriviste who didn't quite know the way things were done on the awards circuit. And she may have had a higher bar to clear than other first-time contenders: Since "Shallow" is the overwhelming Best Original Song front-runner, voters may have wondered, Are we really gonna pass over Olivia Colman or Glenn Close so we can give Lady Gaga two trophies?
The Dark Horse: Olivia Colman, The Favourite
Colman has been busy shooting the new season of The Crown, where she'll play Queen Elizabeth II, the second cousin nine times removed of her character in The Favourite. That's great for her personal brand, but it's meant that she hasn't quite been able to do the same amount of campaigning as her fellow nominees. She's still managed to take home a Golden Globe and the BAFTA, and as pundit Matt Neglia pointed out last week, there is precedent for a Colman Oscar win. In 2008 Marion Cotillard took home the Comedy/Musical Golden Globe and the BAFTA before beating front-runner Julie Christie at the Oscars. However, I think there's a key difference: Cotillard's BAFTA win came over a British actress, which is always going to be a bigger momentum boost than a BAFTA win as a British actress. (Brits perform roughly twice as well at the BAFTAs as they do at the Oscars.) Working in Colman's favor is the fact that The Favourite is widely loved, and fans who feel the movie's Best Picture chances slipping may lead a late charge to recognize her revelatory performance.
The Front-runner: Glenn Close, The Wife
Close leaped ahead of the competition with a stirring speech at the Golden Globes, which gave everyone a preview of how great it would feel to finally give this seven-time nominee her first Oscar. Her front-runner status has brought back the old arguments about "make-up" awards, and she does carry the burden of repping a film that hasn't exactly lit the world on fire. (The Wife has steadily chugged along to $9 million domestic, one three-digit per-screen average at a time.) She's been campaigning hard for this trophy, flying out to L.A. between performances Off Broadway in Mother of the Maid, and while Oscar doesn't always love a try-hard, I think Close has enough stature and respect around the industry (and has been snubbed enough times) that the Academy isn't side-eyeing her efforts. Like her character, Glenn Close knows exactly what she wants, and I think voters will be inclined to give it to her.
Check out Vulture's full, final Oscars 2019 predictions list.