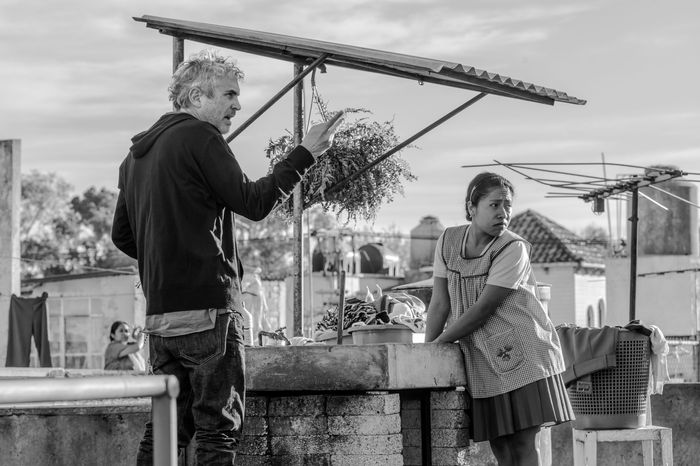 Alfonso Cuarón on the set of
Roma
.
Photo: Carlos Somonte
From now until February 24, Vulture is doing deep dives on the major Oscars categories. Today is Best Director, where Alfonso Cuarón has enjoyed a commanding lead since late August. Can anyone overtake the Mexican auteur? Read about the contenders, from the least to most likely to take home the gold.
The Long Shot: Adam McKay, Vice
McKay had a puncher's chance of taking home this trophy for The Big Short, but he was bested by The Revenant's Alejandro González Iñárritu. Vice is full of the same kind of whirlwind metafictional tricks that voters enjoyed three years ago, but the response has been even more polarizing this time around. McKay remains an inspiration to everyone in Hollywood who's dreamed of giving up hackwork and making films about what's really important, and he beat out every other American director save Spike Lee to get this nomination, but without broad-based support for Vice, I think this is as far as he goes.
The Passion Pick: Paweł Pawlikowski, Cold War
Voters who love Cold War tend to speak in rapt tones about the Iron Curtain romance. Though they couldn't quite power the film to a Best Picture nomination, still things could be much worse: The movie did manage three other nods. The Cold War Hive is probably too small for Pawlikowski to triumph here, but just getting in should be considered a victory for the Polish director, whose Ida won the Foreign Language trophy in 2015.
The Indie Darling: Yorgos Lanthimos, The Favourite
When it comes to independent filmmakers, the Academy has a two-tiered system: You've generally got to be content with screenplay nominations until you've proven yourself worthy enough to crack the directing category. Lanthimos made the leap this year by tweaking his characteristic deadpan and turning in a puckish revamp of that stodgiest type of Oscar bait, the royal costume drama. The Favourite does have the requisite visual pizazz that voters seem to enjoy in this category, but it may be too much — a director hasn't gotten this much use out of a fish-eye since the heyday of Puffy and Ma$e. While the film has its fans, I haven't felt the groundswell of the support the Greek director would need to triumph over the next two heavy hitters. Even without a win, he's a welcome addition to the club.
The Dark Horse: Spike Lee, BlacKkKlansman
Speaking of a two-tiered system, can you believe this is Spike Lee's first Director nomination? And that he's never won an Oscar in competition? (He got an honorary award a few years back.) Oscar voters love creating a moment, and Lee getting a long-awaited trophy for the most fiercely political film in the Best Picture field while also becoming the first black filmmaker to win Best Director would almost certainly result in one of the night's biggest viral clips. For that reason Lee's considered the strongest challenger to Cuarón, though giving him the Adapted Screenplay trophy could let voters have their Spike and Roma, too.
The Front-runner: Alfonso Cuarón, Roma
Pundits started predicting Cuarón to take home his second directing trophy after Roma won the Golden Lion at Venice, and his grip on this award has shown no signs of loosening in the months since. Like his Oscar-winning work on Gravity, it's a remarkable technical achievement married to an intensely personal vision, with Cuarón painstakingly re-creating the Mexico City of his childhood on a scale that manages to be epic and intimate at once. (He's even made a habit of taking reporters on walking tours of the capital, so they can experience the remnants of the movie's world for themselves.) And while he's already been rewarded for co-writing the screenplay and shooting the film himself with nominations in Original Screenplay and Cinematography, it would be hard for voters not to take into account his multifaceted efforts here, as well. Film is inherently a collaborative medium, but no other movie in this year's field is as specifically the work of one creative mind. And to top it off, handing Cuarón the Directing trophy would not trigger the same kind of Netflix anxieties that voting for Roma in Best Picture might. After this wild and unpredictable season I'm wary of using the word lock, but it would take balls bigger than Borras's to bet against him.
Check out Vulture's full, final Oscars 2019 predictions list.