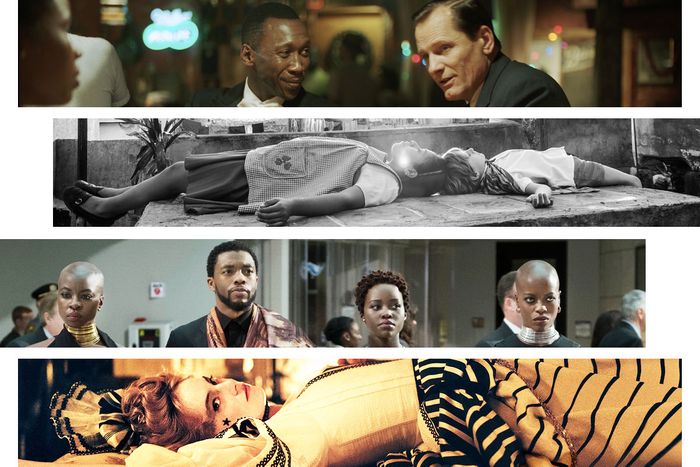 Green Book
,
Roma
,
Black Panther
, and
The Favourite
.
Photo: Vulture
What's the top movie of the year? How about … all of them? As this Oscar season reaches its climax, the industry seems to be going out of its way to spread the love, as every single movie in the Best Picture race has gotten a prize from one guild or another, and none of the major unions have repeated each other: Green Book won the PGA, Roma the DGA, Black Panther took SAG's Best Ensemble, ACE went for Bohemian Rhapsody and The Favourite, and the WGA capped it off this week by awarding two films that missed out on Best Picture nods, Eighth Grade and Can You Ever Forgive Me? The guilds' munificence may well be repeated at the Oscars. The various races seem to be shaping up so that we may see each of the eight Best Picture nominees go home with at least one trophy, a feat not repeated since 2015. (Since then, nominees Brooklyn, The Martian, Hell or High Water, Hidden Figures, Lion, Lady Bird, and The Post have all left the Dolby Theatre empty-handed.)
How could the night turn out with everyone clutching at least one statuette? Here's how I see it:
Roma
It's almost easier to list the Oscars Roma isn't up for than the ones it is. It got left off the editing lineup, and is a long shot in Best Actress, but otherwise, the whole ballot is its oyster. At the very least, Best Foreign Language Film, Best Director, and Best Cinematography seem likely. The movie's also got nominations in supporting actress, original screenplay, production design, and the two sound categories, and while wins there might ruin our vision of an equitable Oscars, they'd be an early signal that Roma will indeed pull through in Best Picture.
Bohemian Rhapsody
The Freddie Mercury biopic is Roma's opposite in terms of critical reception and reported box office, but its chances of taking home Oscar gold are nearly as assured. Rami Malek's immersive turn as the Queen front man has made him the front-runner in Best Actor, and the skillful blending of Malek's voice with those of the real Mercury and imitator Marc Martel could earn it Best Sound Editing or Best Sound Mixing, or even both. And don't look now, but the guild results indicate Best Editing is feasible as well.
A Star Is Born
Bradley Cooper's remake hasn't had the awards-season journey anyone expected after its rapturous early season premiere, but one thing hasn't changed: "Shallow" is almost certainly going to win Best Original Song.
Vice
Christian Bale remains a dark horse to steal Best Actor from Malek, but some people are likely going to get an Oscar for his transformation into Dick Cheney — Greg Cannom, Kate Biscoe, and Patricia Dehaney, the team nominated in Best Makeup and Hairstyling. Editing is one of the more difficult categories to predict this year, but Adam McKay's film could triumph there, as well.
Green Book
There seems to be a late surge for Richard E. Grant in Can You Ever Forgive Me?, but assuming he can withstand that, Mahershala Ali seems a strong bet to pick up his second Best Supporting Actor trophy in three years. Wins for Original Screenplay and Editing would also bode well for Green Book's chances in Best Picture.
BlacKkKlansman
Spike Lee has been getting buzz in Best Director, but there he's going against one of the night's most awesome contenders in Alfonso Cuarón. A safer bet is Best Adapted Screenplay, which would still be a milestone — Lee's first competitive Oscar. If Beale Street Could Talk and Can You Ever Forgive Me? have had good showings in that category in the precursors, but Best Picture nominees almost always have a leg up in the screenplay awards. And the movie's action-packed climax could spur it to an editing win.
Black Panther
Black Panther was a bona fide sensation a year ago, and voters seem to be saving a little space for it on their ballots. While the dream of a Best Picture win has been sparked again after the film's unexpected victory at the SAG Awards, its road to Oscar glory runs through the craft categories. Ruth E. Carter is a three-time nominee in Best Costume Design, and her innovative ensembles on Panther make a first trophy a distinct possibility, while Hannah Beachler and Jay Hart's Afrofuturist vision of Wakanda has a solid chance to be rewarded in Best Production Design.
The Favourite
The Favourite tied Roma with ten total nominations, but like Queen Anne herself, it may be destined to be overshadowed in the big categories. The film will be duking it out with Black Panther in Production Design and Costume Design, a battle that doesn't seem to have a clear champ at the moment. I'm more bullish on The Favourite's chances in Best Original Screenplay, as none of its rivals were able to pull out a win in its absence at the WGAs. (It was ineligible thanks to guild rules.) If voters make like George III and go mad for The Favourite, a win for Rachel Weisz in Best Supporting Actress could also be in the cards, as could (say it with me) Best Editing.
Check out Vulture's full, final Oscars 2019 predictions list.