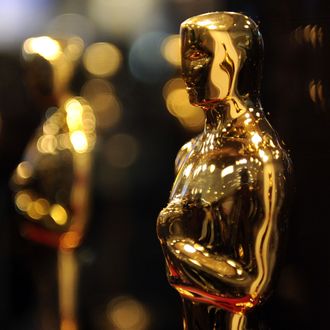 Photo: Andrew H. Walker/Getty Images
Word has been circulating for a while now that the Academy would be pushing several awards from the Oscars telecast into commercial breaks in the name of brevity. The Board of Governors approved the plan to slide some of the awards off air, and now we know that the statues for cinematography, film editing, live-action short, and makeup and hairstyling will be awarded during commercials. In an email obtained by The Hollywood Reporter, Academy president John Bailey told members today that in the coming years, "four to six different categories may be selected on a rotating basis, in collaboration with the show producers. The four categories that are getting the abbreviated treatment this year will be guaranteed a regular spot on the 2020 broadcast." So every year we will get to play the game of guessing which awards won't be televised.
ABC will also stream the ceremony on the Oscars website, and on a somewhat confusing note, Bailey adds that the commercial-time honors will still be played during the show. Just later on. "I want to reiterate however, that all 24 Academy Award-winning presentations will be included in the broadcast. We believe we have come up with a great way to do this, and keep the show to three hours," Bailey said in the e mail, which was published by the Wrap. "While still honoring the achievements of all 24 awards on the Oscars, four categories — Cinematography, Film Editing, Live Action Short, and Makeup and Hairstyling — will be presented during commercial breaks, with their winning speeches aired later in the broadcast." In other words, the attention-getting mystery of this year's Oscars persists!