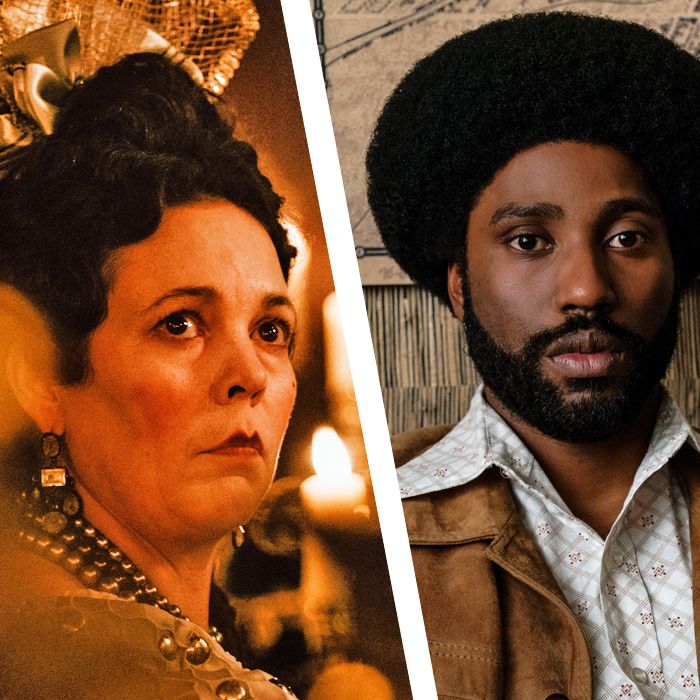 How many trophies will
The Favourite
,
BlacKkKlansman
, and
Roma
wind up with?
Photo: Vulture, Fox Searchlight Pictures, Focus Features and Netflix
The ballots have been cast, the meets have been greeted, and the mud has been slung. This year's Academy Award results are locked in stone, and now all we have to do is await the official unveiling on Sunday night. Need some last-minute help with your Oscar pool? Here are our predictions in every single category of the most unpredictable, snakebitten Oscars in years.
Best Picture
Black Panther
BlacKkKlansman
Bohemian Rhapsody
The Favourite
Green Book
Roma
A Star Is Born
Vice
What will win: When I ask industry people how many nominees could win Best Picture, they usually name three or four films: Green Book, Roma, and a wild card or two. So let's dispense with the others and consider the case of Green Book versus Roma. Each had solid pickups at the precursors, with Green Book triumphing at the Producers Guild, which uses the same kind of preferential ballot as the Oscars, and Roma winning the Directors Guild and BAFTA. Each had a big miss at the nominations, as Green Book's Peter Farrelly couldn't crack a directing category that leaned international, and Roma's languid long takes failed to score it an editing nod. And each has campaigned as the movie whose win would send a strong message against the forces of hate. In terms of content, Green Book looks like the giant, with Roma the underdog: One is old-school awards bait, a civil-rights road movie about the power of interracial friendship; the other is a black-and-white Netflix movie with no stars and lots of subtitles. But zoom out and their roles are reversed: One is a mid-budget studio film by a director who used to make dumb comedies, and that had little advance buzz before TIFF; the other is the dream project of an Oscar-anointed filmmaker, backed by Netflix's bottomless budget and the awards team that steered countless Miramax films to gold. Ultimately, I'm going Roma. The anxiety about what Netflix means for the industry is real, but for an Academy that's very aware of what their choices look like, Alfonso Cuarón's film feels like the pick that voters won't have to worry about holding up ten years from now.
What could steal: A certain segment of Academy voters were wounded by the #OscarsSoWhite controversy, and exhausted by the three years of backlash against La La Land, Three Billboards, and Green Book. Spite is a powerful motivator, and this kind of revanchism could wind up spurring a Green Book win. If both of the two front-runners prove too controversial to triumph in the preferential ballot, something like The Favourite or BlacKkKlansman could notch a surprise victory.
Best Director
Alfonso Cuarón, Roma
Yorgos Lanthimos, The Favourite
Spike Lee, BlacKkKlansman
Paweł Pawlikowski, Cold War
Adam McKay, Vice
Who will win: Cuarón is one of the the night's biggest presumed favorites, having won nearly every single Best Director prize the season offered. Great filmmakers can sometimes be chilly figures, but Cuarón's been a captivating character on the circuit, with one insider noting that he has the Clintonian gift of making everyone he speaks to feel like the only person in the room.
Who could steal: Not only has Spike Lee never won a Best Director trophy, he's never even been nominated in this category before BlacKkKlansman. A win for him here would also be the first-ever directing Oscar for a black filmmaker, and the chance to correct that historic injustice by handing a trophy to the extremely quotable Lee could be too enticing to pass up.
Best Actor
Christian Bale, Vice
Bradley Cooper, A Star Is Born
Willem Dafoe, At Eternity's Gate
Rami Malek, Bohemian Rhapsody
Viggo Mortensen, Green Book
Who will win: Despite the efforts of every film critic in America, voters like Bohemian Rhapsody, and they love Malek in it. He gets credit not just for transforming himself into Freddie Mercury, but also shepherding the movie through the Bryan Singer scandal.
Who could steal: The Star Is Born fan in me still harbors dreams of Cooper's directing snub powering a comeback win in Best Actor, but this is probably just fantasy.
Best Actress
Yalitza Aparicio, Roma
Glenn Close, The Wife
Olivia Colman, The Favourite
Lady Gaga, A Star Is Born
Melissa McCarthy, Can You Ever Forgive Me?
Who will win: Close has been nominated six previous times without a win, and she comes into the Oscars having won every major prize this season save the BAFTA. People aren't exactly doing jumping jacks over The Wife, but she's a respected figure who fought hard to get the film made, and she's made no secret of what this award would mean to her.
Who could steal: Colman was a revelation in The Favourite, and the film has a lot more fans than The Wife. A big night for the scabrous period piece could power her to an unexpected victory.
Best Supporting Actor
Mahershala Ali, Green Book
Adam Driver, BlacKkKlansman
Sam Elliott, A Star Is Born
Richard E. Grant, Can You Ever Forgive Me?
Sam Rockwell, Vice
Who will win: Ali has weathered a rocky season well, standing up for the film and his performance without making excuses for bad behavior. He's generally regarded as the best thing about the Green Book, and recognizing his tight, mannered performance provides an avenue for fans to reward the movie without everyone yelling at them.
Who could steal: Ali just won this award two years ago, and the Academy doesn't usually love handing someone another trophy so soon. I've been noticing a late surge of support for Grant, who's livened up this season with his refreshing glee on the circuit.
Best Supporting Actress
Amy Adams, Vice
Regina King, If Beale Street Could Talk
Emma Stone, The Favourite
Marina de Tavira, Roma
Rachel Weisz, The Favourite
Who will win: This is the hardest acting category to predict. King is the critics' pick who's repping a film Oscar didn't love, and has been surprisingly left out of some major precursors. De Tavira is the surprise nominee who some pundits think could go all the way. And Weisz is a past winner who effortlessly navigates her movie's peculiar tone. I've gone back and forth all year, but I think the desire to give The Favourite its due will put Weisz's puckish performance over the top.
Who could steal: King comes in with the most hardware so far, and she has the benefit of never having won before. And a win for de Tavira in one of the broadcast's first categories would be an early indicator of a big night for Roma.
Best Original Screenplay
Deborah Davis and Tony McNamara, The Favourite
Paul Schrader, First Reformed
Nick Vallelonga, Brian Currie and Peter Farrelly, Green Book
Alfonso Cuarón, Roma
Adam McKay, Vice
What will win: You should never bet on a non–Best Picture nominee in the screenplay categories, which means First Reformed is out. This category often figures as a runner-up prize for a contender that won't get Picture or Director, and that feels like The Favourite to me, a script that also has the benefit of some of the year's most memorable one-liners.
What could steal: A Roma or Green Book trophy could be a tip-off of which direction voters are leaning in Best Picture.
Best Adapted Screenplay
Joel Coen & Ethan Coen, The Ballad of Buster Scruggs
Charlie Wachtel & David Rabinowitz and Kevin Willmott & Spike Lee, BlacKkKlansman
Nicole Holofcener and Jeff Whitty, Can You Ever Forgive Me?
Barry Jenkins, If Beale Street Could Talk
Eric Roth, Bradley Cooper & Will Fetters, A Star Is Born
What will win: Can You Ever Forgive Me? is coming off a surprise win at the WGAs, but again, it's hard to go against a Best Picture nominee. A victory for BlacKkKlansman here lets the Oscars finally give Spike a competitive trophy while still handing Best Director to Cuarón.
What could steal: Can You Ever Forgive Me? and If Beale Street Could Talk, both of which beat BlacKkKlansman at least once in the precursors.
Best Animated Feature
Incredibles 2
Isle of Dogs
Mirai
Ralph Breaks the Internet
Spider-Man: Into the Spider-Verse
What will win: Spider-Verse fandom comes with the thrill of discovery: Who could have expected this superhero spinoff to be this good? Voters love evangelizing for the film, and that passion should pay off for Sony's first win in this category.
What could steal: Pixar's track record in Animated Feature is nearly unimpeachable, and decades of accumulated goodwill could wind up carrying Incredibles 2 to victory.
Best Foreign Language Film
Capernaum
Cold War
Never Look Away
Roma
Shoplifters
What will win: In the past 20 years, every time a foreign-language film has cracked Best Picture, it's taken home this award. Go for Roma.
What could steal: Roma not winning Foreign Film might actually be a good sign for its chances in the rest of the ceremony, as it could mean voters were treating this category as a second-place prize. In that event, the runner-up would probably be Cold War.
Best Documentary Feature
Free Solo
Hale County This Morning, This Evening
Minding the Gap
Of Fathers and Sons
RBG
What will win: In a big year for docs, the two biggest hits in this field were Free Solo and RBG. (The year's highest-grossing documentary, Won't You Be My Neighbor, was snubbed, possibly for political reasons — its director already won this trophy a few years back.) Free Solo is an epic that demands to be seen on the big screen, but I think this is a case where liberal Hollywood's love for Ruth Bader Ginsburg wins out, even if her movie is less technically impressive.
What could steal: At an Academy event celebrating this year's doc field, I didn't quite expect how effusive the reception would be for Minding the Gap director Bing Liu, whose story seems to be hitting voters in their hearts.
Best Film Editing
Barry Alexander Brown, BlacKkKlansman
John Ottman, Bohemian Rhapsody
Yorgos Mavropsaridis, The Favourite
Patrick J. Don Vito, Green Book
Hank Corwin, Vice
What could win: Typically, an editor is supposed to collaborate with their director to create the finished cut of a film. This wasn't possible on Bohemian Rhapsody, as Singer was fired weeks before shooting ended. The hyperactive cutting of BoRhap has come in for some mockery online, but I think Ottman takes this in recognition of his solo accomplishment.
What could steal: Vice jumps between what feels like dozens of different time periods and tones, and not everyone thinks it goes off the rails!
Best Visual Effects
Dan DeLeeuw, Kelly Port, Russell Earl and Dan Sudick, Avengers: Infinity War
Christopher Lawrence, Michael Eames, Theo Jones and Chris Corbould, Christopher Robin
Paul Lambert, Ian Hunter, Tristan Myles and J. D. Schwalm, First Man
Roger Guyett, Grady Cofer, Matthew E. Butler and David Shirked, Ready Player One
Rob Bredow, Patrick Tubach, Neal Scanlan and Dominic Tuohy, Solo: A Star Wars Story
What will win: Voters have been gravitating more toward expansive CGI than practical effects in this category, which seems to point to an Infinity War trophy.
What could steal: If the Academy does decide to fall back in love with in-camera effects, First Man is a more-than-worthy winner.
Best Cinematography
Łukasz Żal, Cold War
Robbie Ryan, The Favourite
Caleb Deschanel, Never Look Away
Alfonso Cuarón, Roma
Matthew Libatique, A Star Is Born
What will win: With Cuarón also shooting his film himself, this feels like another category that Roma has sewn up.
What could steal: If for some reason Roma crashes and burns, we just so happen to have handy another starkly beautiful black-and-white foreign film in Cold War.
Best Production Design
Hannah Beachler and Jay Hart, Black Panther
Fiona Crombie and Alice Felton, The Favourite
Nathan Crowley and Kathy Lucas, First Man
John Myhre and Gordon Sim, Mary Poppins Returns
Eugenio Caballero and Bárbara Enríquez, Roma
What could win: The next two categories feature a battle royal between Black Panther and The Favourite, two movies that wouldn't seem to have much to do with each other. There's a chance voters might consider Panther's vision of Wakanda to be more visual effects than production design, though as the film didn't crack the VFX lineup, that feels like a moot point. I'm wary of going against a period piece in this category, but Beachler's Afrofuturist designs feel more of-the-moment than another castle.
What could steal: Roma painstakingly re-created Alfonso Cuarón's childhood home, even going so far as to track down some of the original furniture. And did you know that long sidewalk tracking shot was actually filmed on a set?
Best Costume Design
Mary Zophres, The Ballad of Buster Scruggs
Ruth E. Carter, Black Panther
Sandy Powell, The Favourite
Sandy Powell, Mary Poppins Returns
Alexandra Burns, Mary Queen of Scots
What will win: With her 13th and 14th career nominations, Powell is the favo(u)rite here. But again, while The Favourite is far from a typical period piece, its ensembles ultimately don't feel as boundary-pushing as what Carter did on Black Panther.
What could steal: I do love Rachel Weisz's Favourite britches . And when you learn that the gowns and doublets in Mary Queen of Scots were made predominantly out of denim, well, that's a fact you don't soon forget.
Best Makeup and Hairstyling
Göran Lundström and Pamela Goldammer, Border
Jenny Shircore, Marc Pilcher and Jessica Brooks, Mary Queen of Scots
Greg Cannom, Kate Biscoe and Patricia Dehaney, Vice
What will win: With apologies to the Swedish troll-people of Border, this feels like Vice's to lose.
What could steal: Maybe the Academy really loves Swedish troll-people?
Best Original Score
Ludwig Göransson, Black Panther
Terence Blanchard, BlacKkKlansman
Nicholas Britell, If Beale Street Could Talk
Alexandre Desplat, Isle of Dogs
Marc Shaiman, Mary Poppins Returns
What will win: With Globe winner Justin Hurwitz of First Man missing out, this seems like the place to reward Beale Street and Britell, whose Moonlight score lost to Hurwitz's La La Land music two years ago.
What could steal: Göransson just won the Grammy for scoring a movie that I think slightly more people have seen than Beale Street.
Best Original Song
"All the Stars" from Black Panther by Mark Spears, Kendrick Lamar Duckworth, Anthony Tiffith, and Solána Rowe
"I'll Fight" from RBG by Diane Warren
"The Place Where Lost Things Go" from Mary Poppins Returns by Marc Shaiman and Scott Wittman
"Shallow" from A Star Is Born by Lady Gaga, Mark Ronson, Anthony Rossomando, and Andrew Wyatt
"When a Cowboy Trades His Spurs for Wings" from The Ballad of Buster Scruggs by David Rawlings and Gillian Welch
What will win: HAAA AH AH AH AH, AAAH AAAH, AH AH AH AH HAAA. (It's "Shallow.")
What could steal: Nuclear war has a greater chance of happening than "Shallow" losing this Oscar.
Best Sound Editing
Benjamin A. Burtt and Steve Boeddeker, Black Panther
John Warhurst and Nina Hartstone, Bohemian Rhapsody
Ai-Ling Lee and Mildred Iatrou Morgan, First Man
Ethan Van der Ryn and Erik Aadahl, A Quiet Place
Sergio Díaz and Skip Lievsay, Roma
What will win: Bohemian Rhapsody cleaned up at the sound guilds, so I'm inclined to back it in both categories.
What could steal: A Quiet Place is a movie all about sound, which could be enough for casual voters to tick it in this box. And if voters remember that First Man exists, they could go for those creepy spaceship noises. When you're an astronaut, the last thing you want to hear is that PLONK!
Best Sound Mixing
Steve Boeddeker, Brandon Proctor, and Peter J. Devlin, Black Panther
Paul Massey, Tim Cavagin, and John Casali, Bohemian Rhapsody
Jon Taylor, Frank A. Montaño, Ai-Ling Lee, and Mary H. Ellis, First Man
Skip Lievsay, Craig Henighan, and José Antonio Garcia, Roma
Tom Ozanich, Dean Zupancic, Jason Ruder, and Steve A. Morrow, A Star Is Born
What will win: The Bohemian Rhapsody guys had to blend Rami Malek's voice with old recordings of Freddie Mercury, and new ones by Mercury impersonator Marc Martel. They are the champions (of making the guy from Mr. Robot sound like a rock star).
What could steal: First Man's sound mixers were able to make the surface of the moon feel appropriately cold and inhuman, while Roma's team made life in middle-class Mexico City feel lush and relaxing.
Best Documentary Short
Black Sheep
Endgame
Lifeboat
A Night at the Garden
Period. End of Sentence.
What will win: Not only is the menstruation doc Period. End of Sentence. one of the few relatively uplifting shorts in this year's field, it was also executive-produced by a group of well-connected L.A. high schoolers.
What could steal: Black Sheep's heavy reliance on reenactments is not for everyone, but subject Cornelius Walker is a captivating speaker whose tale lingers in your mind.
Best Live-Action Short
Detainment
Fauve
Marguerite
Mother
Skin
What will win: So, what'll it be — the one where two kids murder a toddler, the one where a kid can't prevent his best friend from drowning in quicksand, the one where a kid shoots his racist dad, or the one where a mom has to listen over the phone while her kid is abducted by a stranger? I'll go with Marguerite, the only live-action short not to center on children in peril.
What could steal: Skin already got turned into a feature, which is being distributed by A24. That's more name recognition than the average short enjoys.
Best Animated Short
Animal Behavior
Bao
Late Afternoon
One Small Step
Weekends
What will win: Pixar hasn't dominated animated short the way they have animated feature, but I suspect that the dumpling in Bao is just too adorable for voters to pass up.
What could steal: Late Afternoon, an Irish short about a woman with dementia, had me doing some incredibly ugly crying.