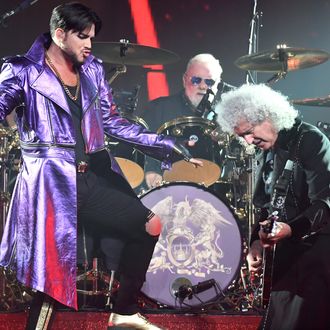 Queen with Adam Lambert.
Photo: Ethan Miller/Getty Images
Perhaps hoping we'll forget about that pesky exclude-four-categories-for-the-sake-of-saving-time snafu, the Academy has begun rolling out a slate of performers who will take the stage at the Oscars and unite the country through the power of song! The organization confirmed today that Queen and Adam Lambert — who has been touring with the band for many years in Freddie Mercury's role — will perform at the ceremony, despite Bohemian Rhapsody not being nominated in the "Best Original Song" category. The specific song hasn't been confirmed, although the Academy's tweet and accompanying video alludes to a mash-up of "We Will Rock You" and "Bohemian Rhapsody."
In terms of the nominated original songs, Bette Midler is confirmed to perform "The Place Where Lost Things Go" from Mary Poppins Returns, as is Lady Gaga and Bradley Cooper for A Star Is Born's "Shallow." Jennifer Hudson will also lend her vocals to "I'll Fight" from the documentary RBG, while Gillian Welch and David Rawlings will be crooning "When a Cowboy Trades His Spurs for Wings" from The Ballad of Buster Scruggs. The final song, "All the Stars" from Black Panther, has yet to have a confirmed performer. Kendrick Lamar and SZA collaborated on the original recording.