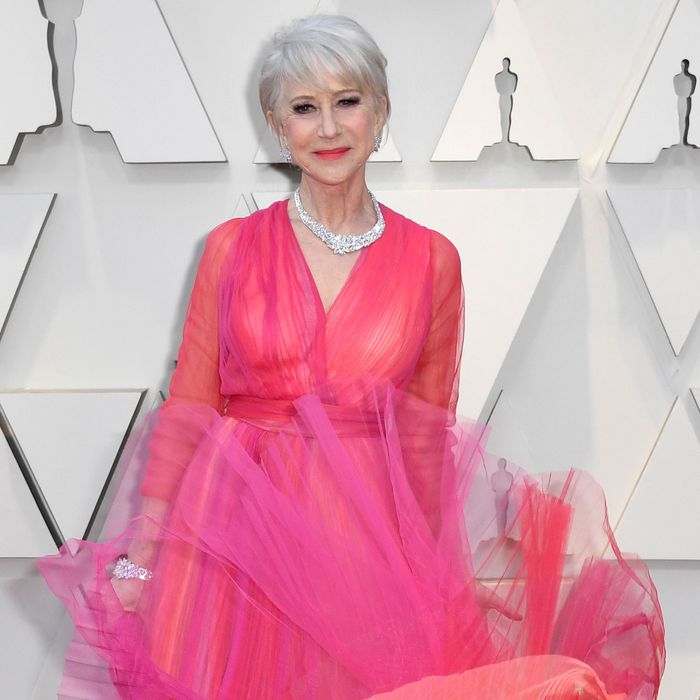 Helen Mirren.
Photo: Frazer Harrison/Getty Images
The 91st Academy Awards have come and gone at Los Angeles's Dolby Theatre. The second hostless Oscars in history definitely went better than the first hostless ceremony, and everything was mostly predictable with a few big, fun wins (Spike Lee! Regina King! Olivia Colman!).
On the red carpet, Rachel Weisz brought out her best red latex and Twitter lost it. Lady Gaga wore black but still managed to gleam brighter than one hundred Ally billboards. Charlize Theron rocked newly brown hair. Glenn Close wore a literal Oscar of an outfit that weighed 42 pounds, and sized up Billy Porter's suit-gown (she approves). Irina Shayk was there to remind us that she is, in fact, Bradley Cooper's partner and also that she does, in fact, exist, even when live performances of "Shallow" tend to let audiences forget.
The night's big prizes in acting went to an ever-regal Regina King, a stoically-beanied Mahershala Ali, a predictably joyous Rami Malek, and a gleefully blindsided Olivia Colman, who gave what is likely to go down as one of the best Best Actress acceptance speeches of all time.
But before all that, the final red carpet of this year's wacky awards season brought us some memorable gems. Spike Lee in royal purple and Elsie Fisher in a tux are not looks to miss. See all the photos below.