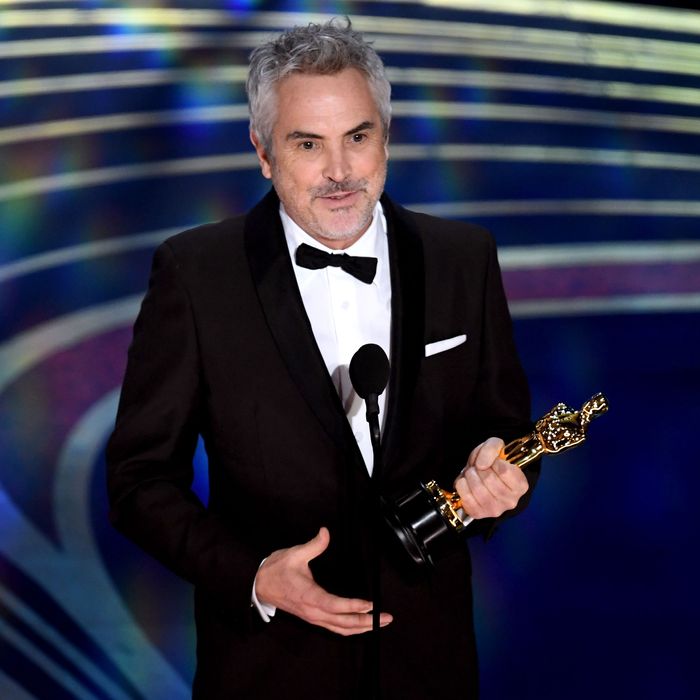 Alfonso Cuarón.
Photo: ABC/Getty Images
It was around his second trip up to the stage at the 91st Academy Awards that I started to wonder if the Alfonso Cuarón Victory Tour of 2019 would have a bittersweet ending. The award was for Best Foreign Language Film — a stacked category this year with more than a couple films that could have given Roma a run for its money. The Netflix film took the prize, and Cuarón made the second of what would be three acceptance speeches in total for the film — great for him, but foreshadowing the limits of what the biggest night in Hollywood was willing to give his film.
Which raises the question — was Roma, long considered a front-runner this Oscar season, ever really an actual front-runner? Or was it just Cuarón's campaign all along? The significant wins for the film — the Golden Globes for Director and Foreign Language Film, the Director's Guild Award, and, last night, the Cinematography, Directing, and Foreign Language Oscars, are a bounty, and yet belie a certain hesitance on the part of these award-giving bodies to acknowledge the film itself, or to consider the achievements of any its other major collaborators. Star Yalitza Aparicio has been making the rounds and landing some very fancy covers, and her wistful face stares down from countless For Your Consideration billboards in Los Angeles. But to award her for her performance, would, like a Best Picture Oscar, acknowledge the entirety of what Roma is, beyond, "Yeah, wow, Cuarón, sure did a lot of jobs, lot of passion on that guy." Some of that could be chalked up to the Netflix bias — a Best Picture win would be a win for Netflix, whereas Cuarón's other wins are for him and him alone.
But Cuarón is also a known quantity — if anyone could bring a starless, black-and-white Spanish-language epic to awards season, Netflix or not, and be lauded for it, it would be him. The series of mini-sweeps he had at a few major ceremonies gave the impression of Roma being a powerhouse contender, but the line, at least from the segment of the voting body that gave Best Picture to Green Book apparently out of spite, is that Roma was respectable but boring, and that everyone is just pretending to like it, and you have to go along if you don't want to look racist. There might be a sense of obligation to support safe, Academy-vetted Cuarón (he won Best Director in 2013 for Gravity) that there isn't to support his more adventurous film. We can nitpick over the general air of bad faith and mental gymnastics that has pervaded this Oscar season (who directed Bohemian Rhapsody again? Has he been permanently struck from the record?) But so went the reverse-reverse-reverse logic that has characterized the last couple months in Awardsland. In a strange way, Cuarón became the inverse of Bryan Singer: Everyone was happy to celebrate him, but Roma — and its nominated cast and technical departments — had to be content with conciliatory smiles.
Roma had no problem sweeping multiple Foreign Language Film awards throughout this season, but the relegation to the "foreign" zone is telling. In a year permeated by talk of borders and walls, the greatest symbolic gesture a Hollywood desperate to be on the right side of history could make would be to embrace the Mexican epic as its movie of the year, no qualifiers necessary. (The amount of exuberant Spanish-language introductions at this year's telecast seemed to only reinforce the idea that it hardly feels like a foreign language; certainly not in Hollywood.) But in the end, it felt like Roma was being penalized — not for being too esoteric or monochromatic or Mexican — but for the wrecking power of the company behind it. In a similar way, Black Panther, another contender that would have been a crowd-pleasing Best Picture winner, felt like it was struggling under a glass ceiling — that the zillion-dollar franchise that had propelled it to countless adoring eyeballs was also preventing awards voters from appreciating the scope of its achievement.
But beyond the Netflix question, will Roma itself endure? I'm still of the opinion that the film was an unparalleled achievement this year — the kind I'm used to seeing be disregarded by the Academy altogether, only to live on righteously and in good company as having been "too good for the Oscars." (The film that probably takes that title this year is Lee Chang-dong's engrossing Burning, which one could argue had its slot in the Foreign Language category taken by Roma.) Some voters may have convinced themselves that Green Book's victory was an underdog's win against PC culture and the manipulative powers of Netflix's ruthless, Weinstein-vetted awards team. The problem with that argument is … it still won. Cuarón is now solidly in the pantheon of respected directors who have been recognized by the Academy without ever having won the big prize. Meanwhile, I look forward to seeing Green Book take its place on the columns that line the staircase to the Kodak Theatre — right next to Argo, King's Speech, and Crash.