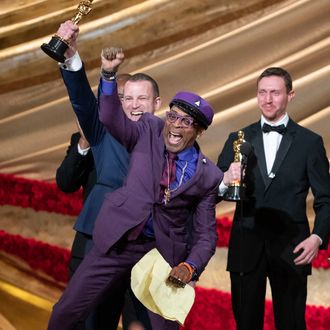 Photo: Craig Sjodin/ABC via Getty Images
After two nominations and an honorary award in 2015, Spike Lee finally won an Oscar Sunday night. Nearly as important, though, were Spike Lee's reactions to absolutely everything going on during the 91st Academy Awards. Awkwafina made a joke that surprised him? He frowned. Barbra Streisand shouted out BlacKkKlansman and their mutual home borough, Brooklyn? He grinned from ear to ear. And when his screenplay won an Oscar? The director leaped into the arms of Samuel L. Jackson.
The night of Spike Lee began on the red carpet, when Ryan Seacrest asked the nominee what his Best Director nod meant to him. "Want me to be honest?" Lee began. "It should've happened before." When Seacrest followed up, asking if it the previous snub was now water under the bridge, Lee grinned. "Let's not go too far!"
When Awkwafina, presenting the night's awards for short films alongside John Mulaney, joked that she was starstruck by Spike Lee, there was this look:
When Samuel L. Jackson delivered the news that after 18 consecutive losses, Lee's beloved Knicks beat the San Antonio Spurs for a victory:
When Babs — who was, importantly, not there to support A Star Is Born — shouted out Brooklyn:
When Babs said, "We're both from Brooklyn and we love hats!"
And then, of course, Spike Lee's big win!
And then, unfortunately for all of us with two eyes and a modicum of taste, Spike Lee's big loss:
Inside the post-show press room, the maestro sipped his champagne:
When a pair of BBC reporters asked Lee what he really thought of Green Book, he had the perfect reply:
Every Academy Awards ceremony gets the Spike Lee frown it deserves!