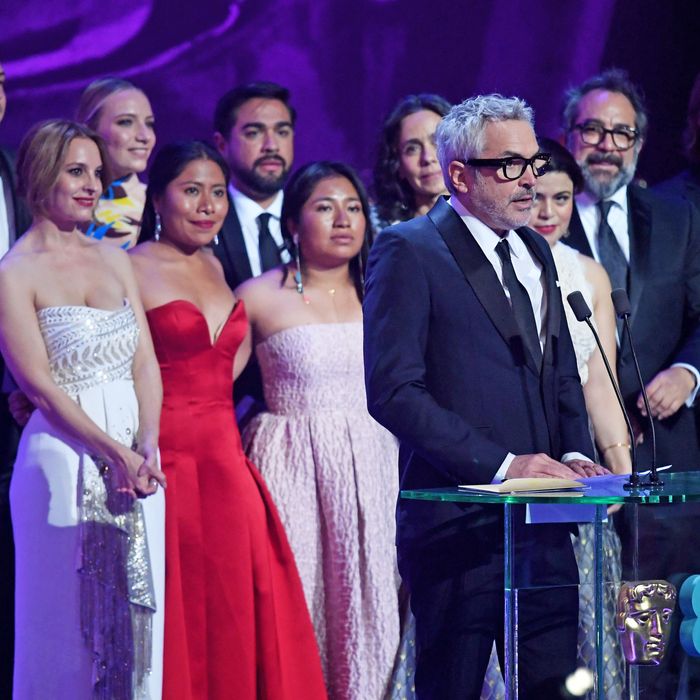 Alfonso Cuarón accepts
Roma
's win for Best Film at the BAFTAs.
Photo: James Veysey/REX/Shutterstock
With Oscars voting set to open Tuesday, the BAFTAs are the last major ceremony to weigh in before the Academy starts making its own picks. If you were too busy watching the Grammys to tune in to BBC America, Sunday night's ceremony saw key wins for Roma, which nabbed both Best Film and Best Film Not in the English Language on top of Best Director, and the hometown Favourite, which led the night in trophies, including Outstanding British Film and both actress prizes. Since the BAFTAs and Oscars share a lot of members, and similar tastes, they tend to be fairly predictive as far as precursors go; certainly more so than the Globes, but maybe slightly less than the Guilds. With the penultimate awards show of the season in the books, how are things looking as we enter Oscar's home stretch?
When it comes to the Best Picture race, I don't think Roma could have asked for a better night, especially considering the movie has basically no connection to Britain. Alfonso Cuarón's film was already the Best Picture front-runner before its big BAFTA wins, and it enters the Oscars voting period with all the momentum in the world. Curiously, BAFTA's Best Film hasn't matched the Academy's pick in recent years, with the Brits choosing Three Billboards, La La Land, The Revenant, and Boyhood, but before that came a six-year run where they overlapped every time. Can Roma get the U.S. and U.K. back in alignment?
The Favourite's team was likely hoping for a strong showing at the BAFTAs to vault the film into the top tier of Best Picture contenders, and while seven wins is nothing to cry at, I think missing Best Film is probably a slight disappointment. On the bright side, its wins in Original Screenplay and three craft categories seem like strong possibilities to be repeated come Oscar night.
How about the film's two queens, both of whom won Sunday night? As I wrote last week, the Oscar hopes for British actors who triumph at the BAFTAs vary depending on what kind of race they win. In an open race like Supporting Actress, Rachel Weisz's win probably boosts her to second place behind Regina King, with a shot at the win. Olivia Colman's chances of overtaking Glenn Close in Best Actress seem longer: No British BAFTA winner who's ever beat a front-runner like Close has repeated the feat at the Oscars. Still, Colman did give the night's most charming speech, which at the very least probably earned her a second look from some voters.
In the male acting categories, the BAFTAs continued Mahershala Ali's win streak in Supporting Actor, and likely sealed that category up for him come Oscars night. And in Best Actor, the choice of Rami Malek (an American in a British film) over Christian Bale (a Brit in an American film) seems to prove that, however much you might not want to believe it, Malek is indeed our Best Actor front-runner. Looks like Bradley Cooper started regrowing that beard a few weeks too late.
Speaking of A Star Is Born, it went one-for-seven at the BAFTAs, which may end up being a preview of its fate at the Oscars, where its chances of winning anything outside Best Original Song seem slim. Another Best Picture nominee, Vice, wound up taking its only BAFTA in Best Editing, which adds another wrinkle to what's been one of the season's hardest categories to predict. Could we be looking at a year where every single Best Picture nominee takes home a trophy?
Check out Vulture's full, final Oscars 2019 predictions list.