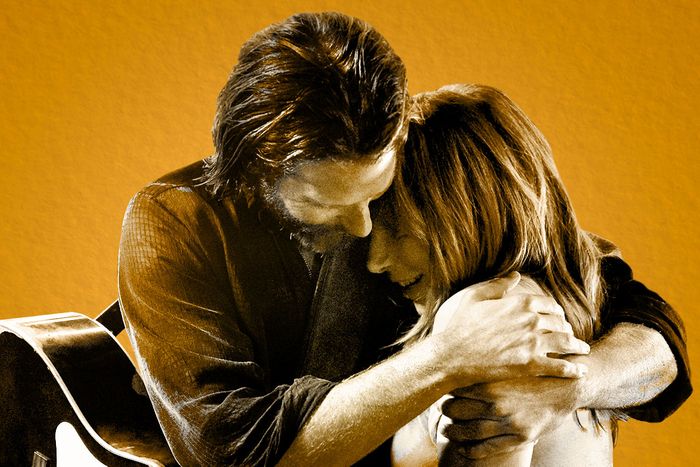 I don't wanna be just a memory, baby!
Photo-Illustration: Maya Robinson/Vulture and Photo by Warner Bros
When I left the Toronto Film Festival last September, I was sure of two things: (1) Widows was the greatest movie ever made, and (2) the year's biggest Oscar contenders were going to be Roma, First Man, and A Star Is Born. I still stand by that first one, but that second proved a little misguided. Roma is doing fine, but First Man couldn't escape its box office, and when it comes to A Star Is Born, I've been baffled: Why has this critically acclaimed, popular hit been treated like a dog this awards season? (And not the kind of dog that gets a nice juicy steak for dinner.) At some point in the last few months, the narrative on A Star Is Born shifted, and now it's not expected to win any Oscars besides Best Original Song. All over the internet, pundits have been trying to figure out what went wrong, and just as Bradley Cooper did, it's time for me to try my own hand at this story. But like Jackson Maine once said: Don't ask too many questions you don't want answers to.
1. The Remake Factor
Anecdotally, I've noticed that many of the film's most fervent fans were younger viewers who were less familiar with the earlier versions. While none of the other Stars scored big with Oscar, either, for older audiences the mere presence of three predecessors may have made some second-guessing inevitable. Was Lady Gaga really in the same ballpark as Judy Garland? Wasn't Bradley Cooper less hot than Kris Kristofferson? (The latter comes courtesy of my mother, who is not an Academy member, but I suspect her thinking might be representative.) When you know exactly where the movie's going to end up, you may enjoy the ride of the first half a little less. And speaking of …
2. The Ending
Most of this year's strongest contenders nail their third acts. Roma sends viewers out after two emotionally draining long takes. Bohemian Rhapsody has that whopper of a Live Aid reenactment. Even Green Book hits you with an unexpected, perfect punch line. But, like The Favourite, Star loses a bit of steam toward the end, and the big showstopping closer, "I'll Never Love Again," isn't quite the emotional slam dunk that "Shallow" is. A weak ending isn't fatal for a Best Picture contender — see: Return of the King — but if you're positioning yourself as one of the best movies of the year, it helps to send audiences out on a high.
3. The Early Peak
Mario Kart veterans know you don't want to be leading a race by too much too early, lest you be hit with the dreaded blue shell. A similar effect may have happened here. After First Man crashed, A Star Is Born had the Best Picture conversation to itself for the first two months of the season. That initially seemed like a blessing, but it's also a lot of time for people who didn't love the film to be confronted with headlines calling it the biggest, bestest, most Oscar-y movie of the year. This wasn't exactly in the movie's control, but Champagne problems are problems, too.
4. The Campaign
Warner Bros. has a long reputation of being a filmmaker-friendly studio, and by many accounts Bradley Cooper was in the driver's seat of Star's campaign. Recently the precise angle and tenor of that campaign was the subject of industrywide ex post facto discussion. The movie's team has been pushing back hard on the idea that Cooper didn't get out there enough — his people told IndieWire that his press schedule was 17 pages long, and while he didn't do the parade of meet and greets that helped Peter Farrelly and Alfonso Cuarón win over voters, Cooper himself pointed out that he sat for plenty of Q&As. Still, it does seem clear that Cooper's eye was on the Best Director prize, not Best Actor. The focus was on the film and the process, rather than a personality-driven acting campaign. (He also took pains to distance his own image from that of Jackson Maine.) Due to the increasingly international bent of the Academy's directing branch, this appears in retrospect to have been the wrong play, and there are those in Hollywood who believe that the season's Best Actor trophies could have been his with a different kind of campaign. The campaign he did run was not helped along by an early New York Times profile that painted Cooper as a serious artist who had little patience for the kind of politicking the season demanded. (I heard at the time that the actor's camp was very unhappy with the piece, and months later Cooper pronounced himself "baffled" by the "disappointing" story.) It all added up to an inescapable narrative, that Team Star were Oscar parvenues who, out of pride or ignorance, weren't playing the game the right way — underlined by the Lady Gaga "100 people in the room" quote, which went viral because of how perfectly it lined up with these preexisting notions.
5. The Politics
A Star Is Born aims for a kind of classical Hollywood timelessness, a throwback to the days when films were carried by big stars and big emotions. The campaign honed in on this point: "There are movies we admire, but there is just one we feel." In a field where Roma, Black Panther, and BlacKkKlansman were all positioning themselves as breakthroughs in representation, and even crowd-pleasers like Green Book and Bohemian Rhapsody could claim that they were addressing intolerance, it made a certain amount of sense for Star to claim the apolitical lane all to itself. But as wins for Moonlight and Shape of Water have shown, voters like to feel like they're sending a message with their Best Picture choice, and — recent attempts to claim that the movie was actually about mental health notwithstanding — Star Is Born never made that sale.
6. The Globes
The first sign that Star's journey would not be an endless parade of wins came at the Golden Globes, where the heavily favored film came away with only a single trophy, in Best Song. (Pundits had pegged the Globes' lack of love for the movie after it got snubbed in Screenplay and Supporting Actor.) And the movie's team had definitely acted like front-runners; recall Lady Gaga letting Mark Ronson accept the Song award, saving her real speech for a second trip to the podium that never came. One insider characterized this to me as the moment the dam broke: Once they discovered that the HFPA weren't huge fans either, A Star Is Born skeptics learned that there were more of them than they had realized. The awards game is all about perception — voters want to vote for winners, and when the smell of success dissipates, those on the fence are quick to jump ship.
And finally, the reason for optimism …
The precursors have never been less predictive.
Marina de Tavira of Roma got a Supporting Actress nomination after never cracking the lineup all season. If she doesn't win, the trophy may go to Beale Street's Regina King, who failed to get nominated by either SAG or BAFTA. With the Academy adding nearly a thousand new members last year, many of whom are younger and more diverse than the voters at the guilds and the Globes, the most predictive precursor for the Oscar results is the Oscar nominations, where Star pulled in the second-highest number of nods. Sure, Cooper didn't get nominated in Best Director, but only two Americans did; Star didn't get an editing nom, but hey, neither did Roma. Dare we speak of the preferential ballot, where anything could happen? And the movie's team is happy to talk to you about their loads of guild nominations, the most of any film this year, with recognition in everything but visual effects. Until all of the envelopes have been opened, they're not diggin' their graves.
Check out Vulture's full, final Oscars 2019 predictions list.