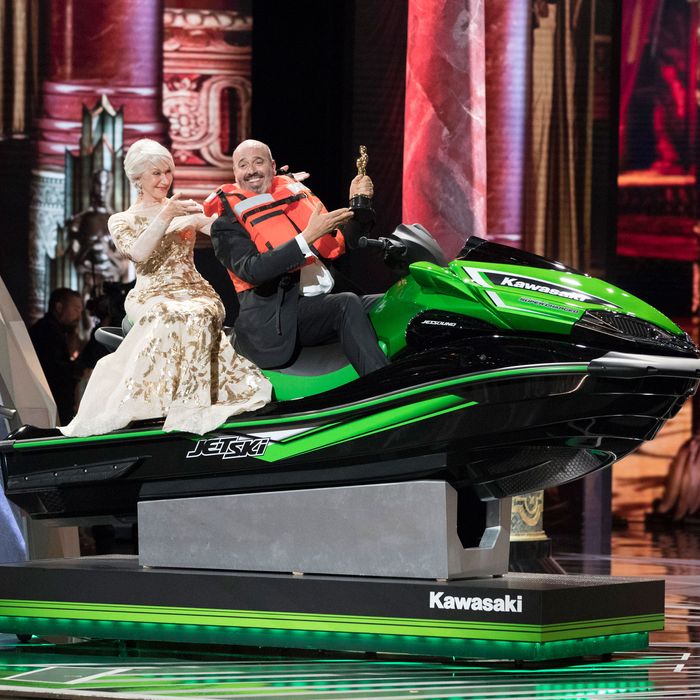 Photo: Craig Sjodin/ABC via Getty Images
For the love of Jackson Maine! Hollywood's most glamorous evening of the year, the Academy Awards, will finally descend upon us on Sunday, February 24, in all of its controversial glory. Unluckily for a lot of us, ABC still hasn't given in to a "free livestream for everyone" policy. However, if you happen to be well-versed in the art of getting what you want, here are some options on how to make the most out of your Oscars evening.
For starters, watching the perpetually hostless ceremony is easy as pie if you actually have a cable subscription. The Oscars will be airing live at 8 p.m. ET, and can be viewed on live television, on abc.com, or on the ABC app. Prior to the ceremony, ABC is offering a free preshow on its website called The Oscars: All Access, which, if you don't have a cable subscription, is being touted as the only "official" way to watch interviews with the nominees, presenters, and performers. Of course, red-carpet coverage will abound if you have cable, as well — ABC will begin its live fashion musings at 5 p.m. ET, and E! will also kick things off at 5 p.m. ET with its traditional Live From the Red Carpet special. E! is also doing a pre-red-carpet show, also from the red carpet, which will begin at 1 p.m. ET. That's a lot of carpets!
Cable aside, subscription-based services — including YouTube TV, Sling TV, DirecTV, and PlayStation Vue — will let you livestream the Oscars through ABC. Most of these platforms have a free-trial period that everyone can take advantage of, thus making sure your viewing party costs zero dollars. (Just remember to cancel the trial before your credit card gets hit. Nothing worst than getting charged for another month, eh?) Or, if you have the patience to wait about 12 hours until watching, Hulu will have the entire ceremony available to stream on Monday morning, if you have an active Hulu subscription. Now, go forth and predict the very up-in-the-air winners!