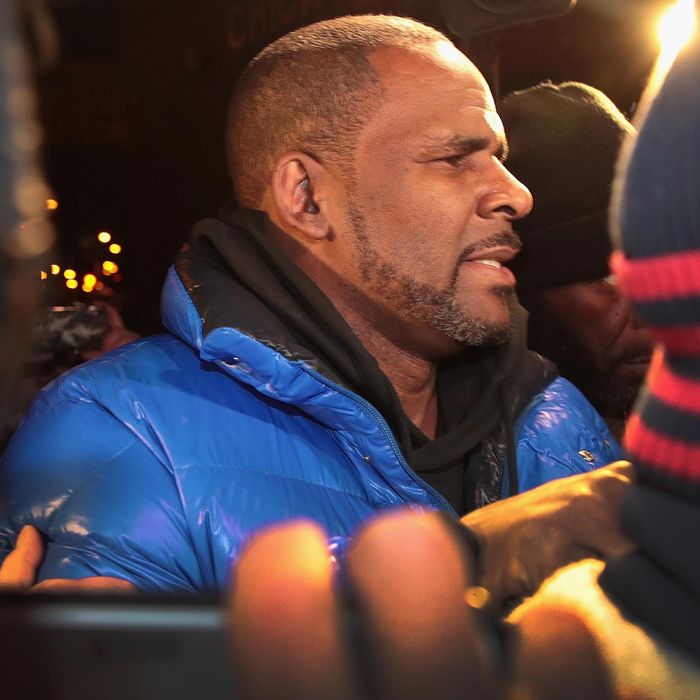 R. Kelly.
Photo: Scott Olson/Getty Images
More than a decade after he was acquitted on child pornography charges, a stoic-looking R. Kelly was back in a packed courtroom Saturday where a judge set the R&B star's total bond at $1 million — $250,000 for each of the four sex abuse cases against him. Additionally, Kelly was ordered to surrender his passport and not contact anyone younger than 18 nor of the witnesses personally, on social media or via third parties.
Clad in a black hoodie and jeans, Kelly mostly stood motionless and frowning before Judge John Lyke Jr. after surrendering into police custody late Friday, following a grand jury's indictment of the singer on ten counts of criminal sexual abuse against three minors and one adult.
Cook County Assistant State's Attorney Jennifer Gonzalez presented a disturbing string of incidents that spanned from 1998 to 2010 in which Kelly allegedly sexually abused his hairdresser, whom he tried to force into oral sex; a girl he met at a restaurant while she was celebrating her 16th birthday with her family; a 16-year-old fan who asked for Kelly's autograph at his 2008 trial; and a 14-year-old who appears in a sexually explicit video with Kelly.
On occasion, Kelly looked down or shook his head as details of the charges against him were read aloud. Four men and one woman stood in the gallery in an apparent show of support with Kelly, while at least one of Kelly's alleged victims and her family sat in the gallery as well. Two of the adult women who are living with Kelly and whose parents insist are being controlled by Kelly appeared at the courthouse but did not speak to anyone.
Steve Greenberg, Kelly's attorney, argued before Judge Lyke that the singer's bail be lessened because at 52, Kelly had no prior convictions and was a "lifelong resident of the Chicago area." Greenberg insisted Kelly was not a flight risk, noting that while he has a passport, it's empty. "Contrary to the song, Mr. Kelly doesn't like to fly," Greenberg said. "He's not a flight risk because where is he going to go? He's a recognizable person."
In petitioning for a reasonable bond amount, Greenberg acknowledged it was well known that Kelly is facing a child support case, a judgment against his Chicago recording studio, and that his record company recently dropped him. "His finances are a mess," Greenberg said.
With a combined $1 million bail amount, Kelly will have to post $100,000 to secure his freedom. Speaking to reporters after the hearing, Greenberg said he expected Kelly to be out on bond sometime Saturday, or maybe over the weekend, before he's due back in court on Monday.
Although Kelly's team said they thought the bond amount was reasonable, Greenberg acknowledged Kelly's finances are bad enough to a point where Kelly didn't have the cash immediately on hand, despite years of successful hits. "[R. Kelly] doesn't have $100,000 sitting in the bank, in a shoebox, anywhere," Greenberg said. He blamed mismanagement on Kelly's current money woes, adding he doesn't even think Kelly owns the rights to one of his most recognizable hits, "I Believe I Can Fly."
In their respective press briefings, Greenberg and lawyer Michael Avenatti, who says he's representing at least one of the victims in the grand jury indictment, traded attacks on one another's clients and credibility.
Following Friday's indictments, Avenatti held his own press conference detailing a sexually explicit video of Kelly and a girl who is allegedly repeatedly identified as 14 years old, which he obtained from a "whistle-blower" in Kelly's circle. Avenatti subsequently turned over to Cook County State's Attorney Kim Foxx. The situations Avenatti described in the video are similar to the video that was as the heart of Kelly's 2008 trial.
At the courthouse on Saturday, curious onlookers tried to catch a glimpse of Kelly, who never emerged.
Cheryl "Cookie" Cook, a longtime Chicago courtroom sketch artist, observed fewer fans and members of Kelly's entourage showing up in support of the singer this time around. Cook, who sketched the duration of Kelly's 2008 pornography trial, recalled dozens of Kelly fans standing in support of the singer outside the courthouse daily.
"And it was unwavering," Cook said. "They were practically groveling at his feet. His entourage would have to flank him so he could get to the SUV."