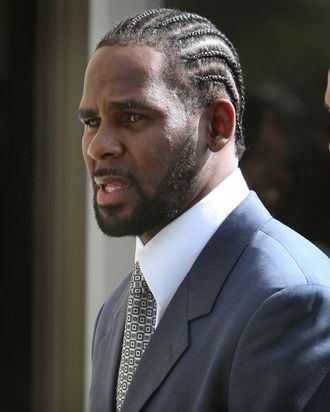 R. Kelly.
Photo: Scott Olson/Getty Images
Hours after R&B superstar R. Kelly was indicted in Chicago on ten counts of criminal sexual abuse involving four victims, three of whom were underage, an attorney representing one of the victims shared disturbing details of a video that depicts one of the alleged incidents.
Celebrity lawyer Michael Avenatti told reporters Friday that the video in question is  a "break" in the case that Kelly's victims have been waiting for. Avenatti has previously teased existence of the video when he announced earlier this month that he had turned the evidence over to Cook County States Attorney Kim Foxx.
"This tape leaves no question as to whether R. Kelly is guilty of multiple, sexual, illegal acts against a 14-year-old girl," Avenatti said.
Avenatti said the video, which he obtained through an undisclosed source earlier this month, shows Kelly sexually abusing a girl who identifies herself multiple times as being 14 years old. Avenatti declined to say if the specific girl in the tape was his client, but said he does represent one of the four victims (who are only identified by their initials in the grand jury indictments).
Avenatti's descriptions of the video echo several of the previous accusations against Kelly — including his alleged proclivity to force women and girls to view pornography of him during sex acts and call him "daddy."
The roughly 40-minute video has clear picture and sound and was filmed in approximately 1999 at one of Kelly's homes at the time, according to Avenatti.
"Repeatedly on video, both the victim and Kelly refer to the victim being 14," Avenatti said. "It's also clear form other things depicted on the video that this was in no way role-playing during a sexual act."
Avenatti said that throughout the video, Kelly stops his assault to move the video camera, change the angle and change the direction of the shot.
"There's no question [Kelly] knew exactly what he was doing."
Avenatti said one scene clearly shows Kelly having the victim watch "another piece of pornogrpahy that appears to be him having sex with yet another young girl on a big screen video." The abuse depicted includes various forms of penetration, Kelly performing and receiving oral sex and urinating on the victim.
Avenatti hinted at the existence of additional tapes and said at least two of the victims described in the grand jury indictments — the 14-year-old in the video Avenatti has already obtained, and a second victim — are depicted in those videos.
Kelly, through his attorney, denied the charges against him Friday. "He is extraordinarily disappointed and depressed. He is shell-shocked by this," Kelly's attorney, Steve Greenberg told The Associated Press. Greenberg said Kelly would surrender himself to police custody on Friday night ahead of his Saturday bond court appearance.
Despite accusations of sexual assault and misconduct against Kelly, on top of the persistent rumors about his proclivity for underage girls that have dogged him for years — in 1994, he illegally married the 15-year-old R&B singer Aaliyah using forged documents — he has so far evaded prosecution.
Most notably, Kelly was acquitted by a jury in his 2008 pornography trial in Chicago despite the existence of a similarly lurid tape as the one Avenatti described Friday.
Reporter Jim DeRogatis, who first broke the allegations of sexual misconduct against Kelly for the Chicago Sun-Times, was among those in attendance for Avenatti's conference and aggressively pressed Avenatti to clarify some of his more confusing explanations — including which victim Avenatti represented and why he was refusing to say.
After the press conference, DeRogatis expressed frustration and worry that neither Chicago police nor Cook County sheriff's deputies were making stronger efforts to ensure the women still residing with Kelly were safe.
"I think the fact that six blocks away at Trump Tower … there are young women in peril right now," DeRogatis told Vulture.
"The Savages and Clarys want CPD to ring the bell every hour on the hour," DeRogatis said, referring to the families of two young women who are living with Kelly and fear are being controlled by the singer. "The parents are contacting me scared shitless."
In addition to the indictment in Illinois, Kelly is currently under investigation in at least two other states, including Georgia and New York. Federal prosecutors are reportedly weighing charges against Kelly, as well.
Update Friday evening: According to the Sun-Times, R. Kelly has turned himself in to the Chicago Police Department's Central District.
This post has been updated throughout.