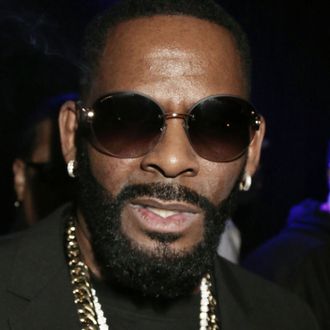 R. Kelly.
Photo: Mediapunch/REX/Shutterstock
R. Kelly appeared in court again on Monday where his lawyers pleaded not guilty on his behalf to ten charges of aggravated criminal sexual assault against four women, including three minors, that were filed against him on Friday. Kelly turned himself in on Friday night and remains in jail after failing to post bond over the weekend. On Monday, attorney Michael Avenatti, who is representing one of the three underage victims in the case, said he submitted to prosecutors a second video tape allegedly showing more evidence of Kelly sexually assaulting an underage girl in 1999 or 2000. He previously gave prosecutors a video of Kelly allegedly sexually assaulting a 14-year-old girl; the alleged victim in the second tape is also said to be 14, though Avenatti did not confirm if it is the same girl from the first tape. Avenatti said he also has knowledge that a third tape exists, but did not provide further details.
Kelly is also facing a new lawsuit from a woman who claims he sexually assaulted her when she was a minor. TMZ reports that a woman named Heather Williams filed the lawsuit on Monday in Cook County, accusing Kelly of sexually abusing her for years beginning in 1996 when she was 16 years old. She says the two met when she was walking down the street and Kelly pulled over in his car to speak to her, and later sent his associates to meet her and her family under the pretenses of Williams appearing in one of Kelly's music videos.
According to the Associated Press, Kelly's associates are attempting to come up with the $100,000 minimum to post Kelly's bond after Kelly's lawyer previously described the singer's finances as a "mess." Kelly's next court date is scheduled for March 22.
Update, 5:30 p.m. ET: According to R. Kelly's attorney and the sheriff's office, he has posted bond and will be released from the Cook County jail where he's been held since Friday night within the hour.