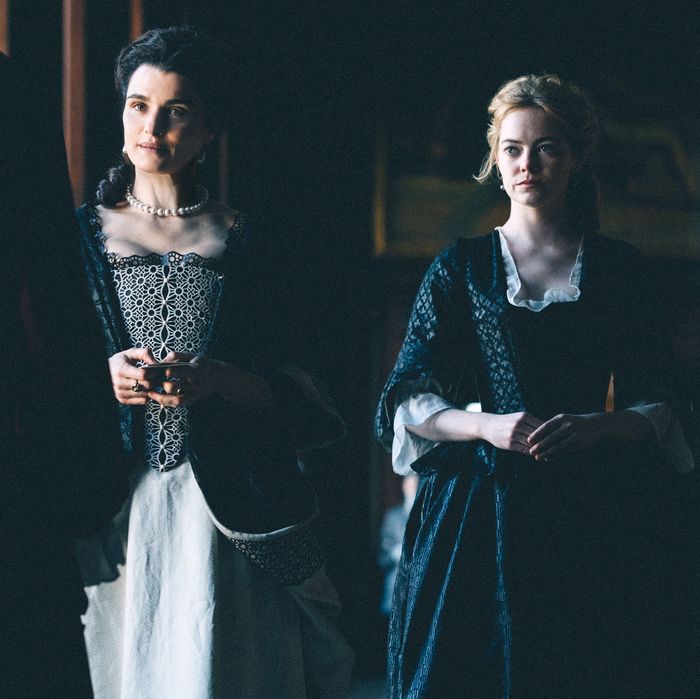 Rachel Weisz (left) and Emma Stone in
The Favourite
.
Photo: Atsushi Nishijima/Twentieth Century Fox
The fifth of six high-profile awards-season crash-course collisions took place on Sunday when Rachel Weisz walked off with the BAFTA Award for Best Supporting Actress for her turn as the acid-tongued, power-hungry duchess of Marlborough in The Favourite. To claim that honor, the British actress effectively edged out her co-star Emma Stone — who portrays a scullery maid turned courtier in the Yorgos Lanthimos–directed pitch-black period dramedy — also nominated in the Best Supporting Actress slot, and against whom Weisz has been vying for accolades in an escalating race since early December.
Although The Favourite technically features three co-leads with roughly equal screen time and could fairly be classified as a "three-hander" — Hollywood jargon for a motion picture with a trio of stars — Olivia Colman has been put forward in the Best Actress category while Weisz and Stone have duked it out in Supporting. At the Golden Globes, they both lost to If Beale Street Could Talk co-star Regina King. At the Screen Actors Guild Awards, where the onscreen frenemies got the nod in the Outstanding Performance by a Female Actor in a Supporting Role slot, A Quiet Place's Emily Blunt emerged victorious. And King trumped Stone and Weisz again at the Critics' Choice Awards. Now, with no clear front-runner, they sally forth into the Academy Awards, also facing off against Vice's Amy Adams, Roma's Marina de Tavira, and King for Best Supporting Actress.
So what's a little friendly competition between co-stars? By all appearances, Weisz and Stone are leading charm offensives, dutifully attending the required movie premieres, awards shows, red-carpet events, and Champagne receptions on two continents over the last six months in a bid to corral enough Academy votes to put themselves onstage at the Hollywood and Highland complex, statuette in hand. According to sources close to The Favourite, the actresses — who have each already claimed Academy gold, Stone for lead actress for La La Land and Weisz for supporting in 2005's The Constant Gardener — "adore" each other. And they have certainly spread out promo duties for the film, pinch-hitting for one another when one or more of the co-stars were unavailable to attend a certain event.
When Stone and Colman couldn't make the Gotham Awards in November, Weisz showed up clutching paper masks of her co-stars' faces; when Weisz and Stone were both nominated for Best Supporting Actress at the British Independent Film Awards but couldn't come, Colman pulled out a paper mask of Weisz (who won); just before Thanksgiving, both Stone and Weisz attended the Governors Awards in matching black gowns in Hollywood; and images of all three co-leads attending the BAFTA Tea Party in early January went viral because it was the first time the stars had been photographed in the same place at the same time.
In Hollywood, a world of fleeting fame and eggshell-delicate egos, where Oscar benediction can have lasting career consequences while the bald-faced pursuit of top honors presents no obvious professional liabilities, are Academy voters and the film-going public to understand that the actresses are simply "honored to be nominated" as the old cliché goes?
"People appear to be very civil. But it's a campaign," says David Unger, chief executive of the talent management and content production company Artist International Group. "And people call it a campaign for a reason. They're out every night. They're kissing babies and shaking hands. They're doing everything they can to garner favor. Because there's a financial benefit to winning. It can garner you a bigger salary. It can get you more prestige. But it can also separate you from the pack, which is always a good agenda."
He continues: "The question is, in this campaign, how do you separate one [actress] from the other so they don't look the same? In this circumstance, tonality matters. I think the real measure of accomplishment here is, 'Has so-and-so done something that we've never seen her do before? Who has deviated from what she usually does?'"
Toward that end, some gurus of gold have pointed out that Weisz dominates the first half of The Favourite, undergoes a dramatic physical transformation over the course of the film, and arguably has its most dominant role. Moreover, anecdotal evidence suggests that Stone may be campaigning slightly less fervidly than Weisz; the La La Land star began filming Zombieland 2 in Atlanta in late January and sat out perfunctory awards pit stops such as The Hollywood Reporter's Actress Roundtable, which Weisz attended.
It may be tempting to assume that having more than one actor from the same film competing for the same prize will end up splitting the vote — essentially cannibalizing one another's chances at the Oscar. But according to Tom O'Neill, the editor, president, and founder of Gold Derby, which tracks and predicts awards races, multiple actors from a single movie facing off can at times provide a distinct advantage. "In the last two instances of this, one of the co-stars won," says O'Neill, pointing toward Melissa Leo's triumph over her The Fighter co-star Amy Adams in 2011 and Octavia Spencer's victory over Jessica Chastain when both were nominated for The Help a year later. "Prognosticators believe that if co-stars are nominated against each other it's a plus. A voter looks at the ballot and says, 'Oh, The Help is special here; it's nominated twice.' So it gets their attention. If there is one dominant role of the two, that person benefits."
While the odds of even a lone performer in a movie being singled out for Academy distinction remain incredibly slim, over the years multiple actors from the same film have been nominated in the same category dozens of times. Among them: Maximilian Schell and Spencer Tracy facing off after appearing together in 1961's Judgement at Nuremberg (Schell won); Katharine Hepburn and Elizabeth Taylor competing on the strength of their turns in Suddenly, Last Summer; Midnight Cowboy co-stars Jon Voight and Dustin Hoffman facing off in 1970's Best Actor race; Kate Hudson and Frances McDormand battling for Best Supporting Actress for 2001's Almost Famous; and James Caan, Al Pacino and Robert Duvall's 1973 battle royal for Best Supporting Actor for their roles in The Godfather.
The apogee for this sort of thing unquestionably came in 1984 when both Debra Winger and Shirley MacLaine were nominated for Best Actress in a Leading Role for Terms of Endearment and Jack Nicholson and John Lithgow were nominated for Best Supporting Actor for the same film; MacLaine and Nicholson took home the awards.
When it comes to the awards-season designations for The Favourite's co-leads, however, several Oscar voters contacted by Vulture expressed misgivings about the campaign strategy of framing Colman as Best Actress while relinquishing the others to the lower-wattage frame. "As an Academy member, I don't like to see this ridiculous, artificial dynamic of 'I'm going to put this one in lead and these two in supporting — even though they're all leads!'" says one voter, who notes a similar dynamic is playing out with the Oscar campaign for Green Book's Viggo Mortensen (as Best Actor) and Mahershala Ali (up for Best Supporting) even though their characters carry equal importance in the film. "I can see you have to do what you have to do to get what you want, right? As long as you're not breaking any laws or any Academy rules, fine. But as an observer, I think it's absurd. It's kind of a flaw in the system."
Promotional materials from Fox Searchlight, The Favourite's studio distributor, have so far emphasized the film's ensemble quality rather than single out the virtues of any actress on her own. In victory at the BAFTAs, Weisz echoed that refrain from the awards podium. "I had the greatest luck in that I played opposite two of the most glorious women," Weisz said. "Olivia Colman and Emma Stone. I salute you! Didn't we have an extraordinary time? Hats off, ladies."
Representatives for Fox declined to publicly comment about Weisz and Stone's competing nominations. But according to Unger — who, as an agent, helped Mickey Rourke land an Oscar nomination for The Wrestler and received a personal shout-out during the actor's 2009 Golden Globe win — a certain studio favoritism in these sort of situations generally abides. "Studios definitely put their finger on the scale," says Unger. "They tip the scale for which movie gets the most attention and also which actor in which category. You can see the marketing spends. Who does the studio think has a better shot? And what does it say for the movie? Look at it this way: If they sell the right thing, they get more awards. And more money."