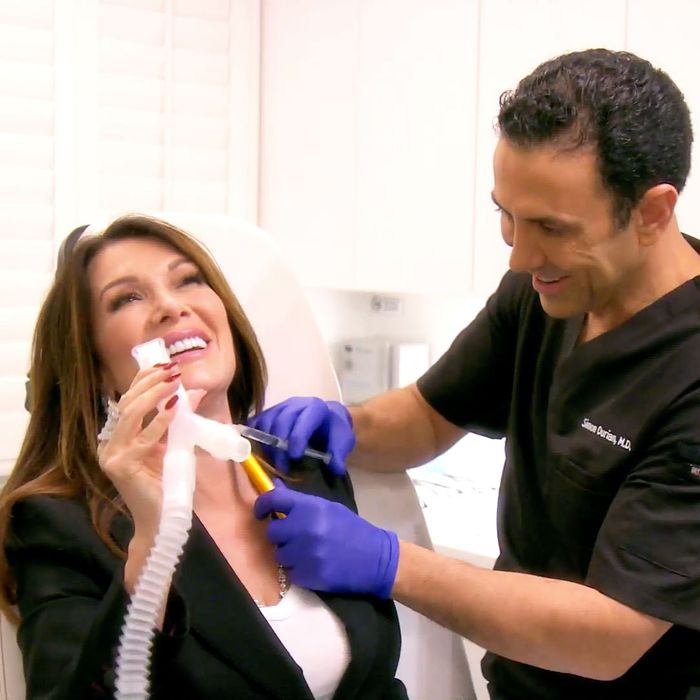 Vanderpump Rules fans recently got to see Lisa Vanderpump three sheets to the wind at the opening of Tom Tom. This week we got to see her getting silly on laughing gas while going to get some face work done with Kyle. There is nothing as fun as watching Lisa Vanderpump, who is stiffer than a gluten-free snack chip, get messed up and live a little bit. Here she's taking huge hits of gas like the caterpillar on a hookah in an Alice in Wonderland cartoon and then giggling like a member of Jackass when someone else farts. (Jackass does Alice in Wonderland is a movie I would definitely watch.)
But I worry about Lisa on that much gas at the doctor's office. First of all, she's suggesting Kyle do some medically approved whippets with her, which, let's be honest, could get this doctor's license revoked if people are just handing out hits all willy-nilly. Secondly, she's laughing and squirming around in her seat while the dermatologist injects wasp bites of filler into her neck so it's not as wrinkly and saggy. Does she really want to be sliding in her seat with a syringe that close to her major arteries?
A wasted Lisa is really the most exciting thing to happen on this episode. While last week started off with a bang, this week we're back to an episode of Rich Women Doing Things. Tonight, the rich women avoid rattlesnakes while on a walk through a canyon, they forget just how many houses they have, and they talk about how their alopecia-ridden Pomeranians needed to get pacemakers. It's not that big of a week for the rich women.
To start with the first of those events, Lisar and Teddi go for a hike and Teddi tells Lisar about a recent acting job she did. Since she doesn't mention the name of the show or film that her role was in, we can only assume that it is Cookies for Christmas II, a Hallmark holiday movie sequel that your Aunt Martha will be raving about sometime in August, which is when Hallmark starts Christmas. She also tells Lisar that she came to L.A. to be an actress but that her manager told her she needed to lose weight so she gave up acting and took up being "best friends with food."
Lisar later tells this story to her daughter. No, not Amelia, the Other One, because she has been open about her struggles with anorexia. Eating disorders are awful, insidious diseases, and I give the Other One credit for being public about her struggle and trying to help other girls going through it. However, she posts this all on Instagram with pictures of her looking dangerously skinny in a bikini. Isn't this kind of sending mixed messages? Girls with anorexia are going to see those pictures as "thinspo," not as a wake-up call that they should get help. What I'm saying is I love the message, but the medium, maybe not so much.
I know I'm biased, but Erika Jayne is her lovely, hilarious self this episode in a way we haven't seen in quite some time. I know some people will find it annoying that she doesn't know whether or not she and Tom own a house in Lake Tahoe, but I just think that's hilarious. They have houses she hasn't even been to. This may sound like something a flighty rich woman would say, but she can't be a gold digger if she doesn't even know where all of the gold is.
She has several moments this episode. I also loved that at Lisar's cooking class — where they don't really cook anything, they just put a bunch of dessert inside a giant chocolate heart for their loved ones — Erika gives us a whole lesson on why it's best to just eat dessert all the damn time. This is the counterpoint to anorexia I really wanted. Cake every once in a while isn't going to kill you. Erika Jayne told me so I know it to be true.
Really what I was living for, though, was Erika's Linda Evangelista by way of dynasty look for her sit-down interviews. She has a lovely short wig that sort of hovers around her head like a ghost in a graveyard. It's very '90s-supermodel, a look that is just emphasized by her leopard-print dress with enormous shoulder pads. If it's not an original Mugler it sure looks like one. I don't know which of you kids out there is responsible for making Real Housewives GIFs, but can we get one of Erika in this ensemble drinking champagne and then saying, "Superb"? I would like to get that tattooed upside down on my belly so that I can stare at it every morning in the shower.
Not much else happens this weekend. Kyle Richards freaks out because one of her eyes is blinking slower than the other. Do we think she got a little bit too much Botox in one eye? Does she have a duct infection? Should she stop borrowing her 10-year-old daughter's sunglasses when she leaves the house? That is a definite yes.
I really felt for Kyle when she goes to visit Mauricio at The Agency. (The only thing better than a The Agency T-shirt and hat combination is a stop by the actual The Agency.) Kyle gets a little teary because her daughter Sophia (who is a full foot taller than her mother) is about to leave the house to go to college. Mauricio is all, "You've done it twice before and they always come back. Quit it with your crying."
The only thing worse than getting upset about a child leaving is someone telling you not to be upset about it. Kyle is feeling her feelings and her feelings are valid. Like she says, no matter how many times she goes through it, it's always going to be hard. It's not something you can practice, like yoga or shooting your husband in the eye with an arrow when he tells you that you shouldn't feel your feelings. He should just tell her that it sucks, that she's a good mother, and no matter what happens he'll always be there for her. Let her be sad. Let a woman cry, goddamnit. That is the real sign of a mature, secure man, one who is not threatened by being overwhelmed by his wife's feelings.
Finally, at Lisar's non-baking baking party, Dorit invites everyone to fly on a branded private jet to Baha Mar in the Bahamas, which has definitely not received any promotional consideration in exchange for all the suites these women will be sullying with their wardrobes for the next three days. Also, at the same party, we find out that both Denise Richards's hot piece Aaron, and Harry Hamlin, were married to Nicollette Sheridan. What do we call the current wives of Eskimo brothers? Inuit high priestesses? Just regular Hollywood wives?
This then segues into a conversation about how much sex all of the women have with their husbands. Teddi is doing it twice a week with Edwin, even though he is growing back a ponytail, something that should be illegal in all blue states. Denise is doing it every single day with Aaron — they even do it on FaceTime if they have to. What is wrong with these women? I'm lucky if my man will do it with me once a week. Mostly I'm just tired. Mostly I just want to curl up on the couch and let him play with my toes while we watch reruns of Summer House. I mean, sex is great and all, but have you ever watched an old episode of a second-tier Bravo reality show with your lover? There is nothing more intimate than that.