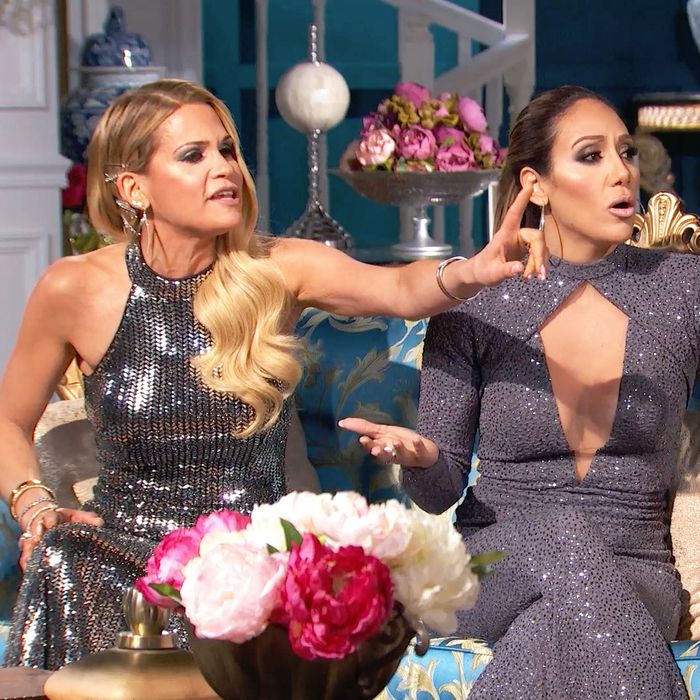 With nary an inch of fabric failing to glitter under the hot lights, tonight's reunion lewks must have triggered a catastrophic shortage in the tristate sequin economy. Melissa's cleavage is such an uncannily perfect still-life in her cut-out jumpsuit that I feel like I'm staring at a novelty boob apron. Teresa has been inflicted with a millennial-pink I Dream of Jeannie pony. In a hairstyling version of the Bird Box Challenge, someone has blindly jammed a series of bedazzled bobby pins into Jackie's hair, but honestly, I don't hate it. Jennifer's glam, meanwhile, puts me in mind of The Bride of Frankenstein, particularly the extreme blush. God, grant me the serenity to accept the things I cannot contour, the courage to contour the things I can, and the wisdom to know the difference.
We spend approximately ten seconds on a topic we've tiptoed around all season: Joe Giudice's imminent deportation. ("It's hard" and "it's tough," reveals Teresa, digging deep.) We'll have to wade further into the reunion for more.
Tired of looking like a "little baby porkchop" on the high-definition TVs of America, Margaret finally got her facelift. Mazel tov! She looks great. At Andy's (figurative, not literal) prodding, Dolores shares that she had butt injections; Jackie had a post–two-sets-of-twins tummy tuck. I personally believe that every Housewife's surgical history should be available, Pokédex style, on bravotv.com.
Margaret confirms that, yes, her house was (is?) in foreclosure as a result of a lawsuit from Vineyard Vines, but that everything's since been "resolved." I don't know, I'm not a lawyer — unlike Jackie, who apparently practiced from 2001 to 2008. Jackie and her sister (who will, indefinitely, remain nameless) are doing better, and seeing each other regularly now.
Dolores has not, in fact, moved out. She and Dr. David have gotten closer, though, and Frank is even building him a house — one in which she refuses to live unless her boyfriend proposes. Andy asks Dolores if she likes Melissa, a.k.a. "Little Miss Perfect." After an 18-million–second pause — there is definitely some editing tomfoolery afoot here, but still — she answers, "I do. I do … Mhmm." In other, far more important news, little Frankie and his jawline are single. Also, did we know Dolores used to work as a corrections officer in the Passaic County Jail?
Margaret is affronted to hear Jennifer call her friend's Oklahoma property "a farmland."
"It's not a farmland, first of all, it's a ranch," Marge explains. "Farms grow vegetables, FYI." This is but the first of two Margaret Josephs educational segments (funding provided by the Helena Rubinstein Foundation) that will enrich our young minds this evening. "When monkeys are showing off, they bend over and show their assholes and they get very puffed up," Big M will later explain, gesticulating helpfully like a dirty Mrs. Frizzle.
Of Jennifer's notorious 16 bathrooms, Margaret observes, "I don't even have that many assholes in my house." Jennifer snaps back, mystifyingly, "You got enough assholes on you, sweetheart." I have genuinely no idea what this sentence means, even if I'm pretty sure it would make a great premise for a David Cronenberg movie.
Sunsets have inspired a lot of poetry throughout history, including on this episode. Jennifer defends talking up her Paramus vista thusly: "Honey, I wasn't saying, 'Whose dick was bigger?' I was saying, 'You like big dicks? I got one, too.'"
Jennifer asks Margaret just how long she and Joe were together before she got divorced. "A little bit of a time," she says. Well, how long is that? "More than a year." Jennifer makes the exact expression Elsa Lanchester's face contorts into when the monster takes her hand. Marge will make this same face herself when Jennifer calls Marge Sr. a "home-wrecker." There's also a brief debate as to whether Margaret needs to apologize for her mail-order bride joke, but really the primary takeaway is that Teresa did not know what a mail-order bride is.
Time for the marquee bout: Goldschneider vs. Giudice. After some miscellaneous sniping at one another, Teresa argues that Jackie is a "stalker" who wants to be her, who has been "following" her for a decade. As evidence of the All About Eve–style scheming that's apparently unfolding behind the scenes, Teresa produces an old photo of Jackie and two of her kids posing with her at a book signing.
Jackie's version of the story, unsurprisingly, is very different. For one thing, this isn't some dark secret: She posted the photo on her own social media and showed it to Teresa when they first started filming. As Jackie tells it, she happened to pass by Teresa's signing at a shoe store with "four people on line" and decided to go in and take a picture.
Jackie astutely points out that, in Teresa's open contempt for the kind of lowlife who would stoop so low as to appear at one of her book signings, she's effectively shitting on her fans. "So listen, America, don't come to her appearances anymore, because she thinks you're stupid if you come, clearly," Jackie says.
Outside of Jackie making a weak homage to Kelly Bensimon with a, "You're down here, I'm up here" gesture, she's otherwise in excellent form tonight. She might very well be the perfect foil to Teresa, an elementary schooler with a rage problem encountering for the first time a seen-some-shit teacher impervious to her particular charms.
"Anybody that goes against me, do you see them in this room anymore?" Teresa blusters. "No, they're not here anymore."
"So if I make it back another season, that means I win?" Jackie asks. Again, point Jackie.
"You're a lawyer, but you're a blogger," Teresa sneers.
"And maybe if you learned to read, you'd like some of them," Jackie responds.
"I think she knows how to read," Dolores defends her old friend, a sentence that I prefer to interpret as "I think she knows how to read."
Teresa makes the unforced error of asking Jackie if she's "hungry," either an extremely misguided blow at Jackie's past eating disorder, a botched attempt to call her "thirsty," or perhaps both.
"She has no compassionate," Tre explains, sic, of Jackie's why-would-your-husband-be-in-jail analogy. "She was trying to stick a dick to me." I think it's safe to say that, anatomically, this has been extremely confusing season of RHONJ.
[INTERMISSION: A side-fight breaks out between Melissa and Teresa, who take turns yelling half-sentences about how they're not talking to each other while Andy tries and fails to read the next question.]
Teresa calls Jackie a "fucking cold-hearted bitch," which explains why she doesn't even talk to her own sister — an insult that is (a) a little outdated, given that she talks to her sister again, and (b) comes directly from the undisputed queen of feuding with siblings (to say nothing of siblings-in-law).
"I'm not on The Teresa Show right now," says Jackie, a characterization that Teresa disputes. She is a New York Times bestselling author; Jackie is, again, a mere blogger.
But Teresa didn't even write her book, Jackie says — she even met the ghostwriter at Milania's listening party. (Please, please, please let the ghostwriter also be Milania's dance coach.)
Teresa is so enraged she snatches Andy's question cards, for some reason. Tune in next week to find out how much bodily harm she's capable of doing with those.