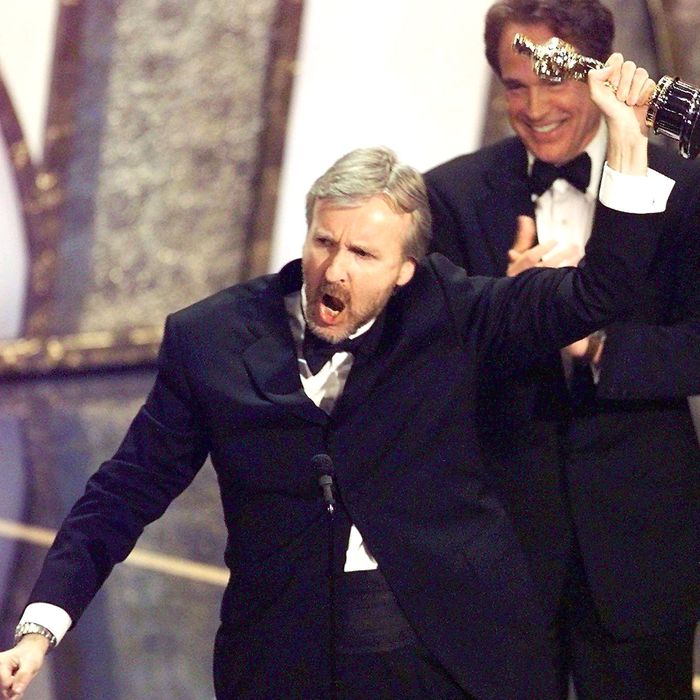 Photo: Timothy A. Clary/AFP/Getty Images
Barring any last-minute surprises, Sunday night's 91st annual Academy Awards won't have a host — the first time in 30 years the ceremony has gone without an emcee. But while there won't be a comic to deliver a snappy monologue or dive into a big song-and-dance number, this year's Oscarcast nonetheless promises to deliver more drama than usual. For starters, the lack of an emcee has by itself created a sense of mystery over how producers will build a narrative to the night without a central figure to guide things along. In addition, a number of the key categories remain wide open this year, with awards experts genuinely uncertain about how things will play out. Then there's the fact that the road to this year's Oscars has been filled with public-relation potholes: Kevin Hart's messy withdrawal as host; controversies surrounding Best Picture nominees Green Book and Bohemian Rhapsody; and aborted plans to reduce the show's running time by cutting back on the Best Original Song performances and pretaping acceptance speeches in four categories. All of this might not be a recipe for a great Oscars, but it should at least produce a memorable one.
But beyond whether Sunday's broadcast is any good, the question keeping execs at ABC and the Academy up at night is whether or not the 2019 Oscars will be able to reverse the show's disastrous ratings trend. The show's audience has gone down each of the past five years, declining from nearly 44 million viewers in 2014 to a record-low 26.5 million last year. ABC's solution to the ratings collapse has been to push the Academy to limit the show to three hours, since audience levels have historically fallen off once the show goes past 11 p.m. on the East Coast. While there's a bit of logic to that, recent history suggests run time alone rarely predicts how the show does in the ratings. Vulture decided to dust off our Oscar history books to see what lessons could be learned from four of the most (and least) successful shows of the past three decades — as well as one particularly impressive four-year stretch of broadcasts.
1989: The Weirdest
Host: None
Producer: Allan Carr
The big winners: Rain Man (Best Picture); Dustin Hoffman (Best Actor); Jodie Foster (Best Actress)
Run time: 3 hours, 21 minutes
The ratings: Rob Lowe danced with Snow White and … America loved it? The final Oscars of the 1980s was seen in 29.8 percent of U.S. television homes (or 43 million viewers), up a tick from the previous year's event (hosted by Chevy Chase) and the best ratings for the show since 1984. While there was no host to kick things off with a monologue, the show began with an 11-minute production number so jaw-droppingly bizarre (just watch it), it's possible viewers at the time simply couldn't turn away, like rubberneckers slowing for a car wreck. More likely, the show's ratings were boosted by a relatively brief run time and the dominance of Rain Man — the top-grossing film of 1988. (Of course, box office only matters so much: Rain Man was an exponentially bigger hit than 1988's dominant Oscar film, The Last Emperor, and yet ratings only inched up one percent year to year.)
The backstory: The ratings may not have suffered for Snow White and her shenanigans, but almost immediately afterward, that opening number became a punch line that Oscar would live with forever. It also marked the end of an '80s era and the beginning of a new one, with Billy Crystal hosting his first gig the next year. (More on that later.) Not everybody remembers that Crystal's signature practice of performing a musical medley dedicated to the Best Picture nominees began as a light jab at the musical disaster of the previous year. If the 1989 Oscars weren't such an embarrassment would that have even become a tradition?
The lesson: While the host-free Oscars did fine with viewers, Carr's insistence on shaking things up led to a disastrous telecast, one remembered by history less for some amazing winners but for all the craziness squeezed into three hours. (Carr also nixed performances of the Best Song nominees, so the world was denied a chance to hear Carly Simon belt out winning song "Let the River Run" or Phil Collins croon his peppy hit "Two Hearts.") It's impossible to know whether a more conventional telecast, and one with a marquee star as host, might have been able to take advantage of such populist nominees. But it might have resulted in a much more fondly remembered show.
1998: The Most Watched
Host: Billy Crystal
Producer: Gil Cates
The big winners: Titanic (Best Picture and 11 awards overall); Helen Hunt (Best Actress); Jack Nicholson (Best Actor)
Run time: 3 hours, 47 minutes
The ratings: Given the title of the film that dominated the 70th Academy Awards, it's almost a bit too on the nose that its Nielsen numbers were, you know … very large. An impressive-for-any-era 34.9 percent of American TV homes watched the nearly four-hour tribute to James Cameron's epic love story, translating to 55.2 million viewers. While everything on TV was higher-rated 20 years ago, this number was big even then: The 1998 Academy Awards jumped 30 percent (roughly 15 million viewers) from the previous telecast, and will almost surely go down as the most-watched Oscarcast since Nielsen began tallying viewership numbers in the early 1970s. (It's not the top-rated ceremony, however: The 1983 show reached 38 percent of TV homes, while several Oscars from the 1950s and '60s scored ratings in the 40s.) It's not hard to figure out why the 1998 event did so well with viewers: Titanic was just crazy popular at the time, so much so that when the Oscars aired, the movie was about to enter its fourth month as the nation's No. 1 film at the box office, passing $500 million in gross revenue. Throw in a still-beloved Billy Crystal as host, and, yeah, folks showed up.
The backstory: "If only every Oscar telecast could be as widely watched as the Titanic year" is the "Why don't they just make the whole plane out of the black box?" of Oscars debate. Titanic is a unicorn, man! Even Avatar, which ended up making even more money in 2009 and was up for most of the same awards, couldn't drum up the kind of attention that Titanic's Oscar run did. Plus, don't forget that this was also the year Good Will Hunting was a Best Picture nominee. Ben Affleck and Matt Damon's best-friends-made-good story provided an irresistible narrative, and after watching them hop around like a couple of starstruck teenagers at the Globes that year, Oscar audiences couldn't wait to see them do it again. Similarly, Jack Nicholson — who would win Best Actor for the Best Picture–nominated As Good As It Gets — was such a bright, shining presence at the Globes (he talked out of his butt to impress Jim Carrey!) that a whole new generation embraced the image of Jack the Front-Row Oscar Scamp. Neither one of those stories could draw a huge audience on its own, but in triptych with Titanic, it made for a hugely beloved Oscar ceremony.
The lesson: If you want big ratings, nominate more blockbusters! (Just don't expect numbers like 1998 ever again.)
2002: The Longest
Host: Whoopi Goldberg
Producer: Laura Ziskin
The big winners: A Beautiful Mind (Best Picture); Halle Berry (Best Actress); Denzel Washington (Best Actor)
Run time: 4 hours, 21 minutes
The ratings: About 25.4 percent of all U.S. TV homes watched the 74th annual Oscars, which at the time represented the lowest ratings ever for the show. There's no doubt the long running time contributed to the show achieving this ratings milestone: While viewership peaked at the start of hour three — surging to around 45 million — the audience size fell to just over 38 million as hour four began at 12:30 a.m. on the East Coast. Still, despite the marathon length, the overall average audience for the telecast (41.8 million viewers) was down a mere 3 percent from 2001 (42.9 million), when the Steve Martin–hosted Oscars wrapped up nearly an hour earlier (overall run time: three hours, 23 minutes). What's more, even though producers kept the following year's telecast much tighter — a brisk three-and-a-half hours — there was zero Nielsen upside. Just the opposite, actually: Ratings for 2003's 75th annual Academy Awards collapsed, dropping by more than 20 percent to a 20.4 rating and 33 million viewers.
The backstory: The 2002 Oscar ceremony is among the best remembered, but not for its lengthy running time. Between Berry's indelible, hyperventilating speech to Washington's Best Actor win and tribute to Sidney Poitier (and especially the way all three of those stories dovetailed), it was a cultural event that really delivered. And that's not even getting into the fact that this was the first Oscars after 9/11, an event commemorated several times, starting with a sober-yet-hopeful Tom Cruise monologue about what going to the movies has always meant to the culture. While that four-hour-21-minute time frame has been used in years since as proof of Oscarcast bloat, at the time, it felt like communal time well-spent.
The lesson: Oversize Oscarcasts don't help the ratings, but they don't necessarily spell Nielsen doom. People need to get to work, so any show that runs well past midnight is going to lose viewers. But if a show has a good host and popular nominees — particularly with the potential to make history, as Berry did when she became the first African-American to win Best Actress — audiences will still show up.
2008: The Ratings Tide Turns
Host: Jon Stewart
Producer: Gil Cates
The big winners: No Country for Old Men (Best Picture); Daniel Day-Lewis (Best Actor); Marion Cotillard (Best Actress)
Run time: 3 hours, 21 minutes
The ratings: Just 18.7 percent of all U.S. TV households (about 32 million viewers) tuned in for Stewart's second go-round as host, a sharp 21 percent decline from the year before and, at the time, the lowest-rated ceremony ever. More ominously for Oscar, this was the first time the show failed to reach at least 20 percent of the country's TV homes. How disastrous were the numbers? More people (33.5 million) caught that year's season premiere of American Idol, almost unheard of for what traditionally ranks as the top-rated non-sports TV broadcast of the year. A combination of factors likely contributed to the Nielsen collapse, including lack of excitement over Stewart's second hosting appearance and a crop of Best Picture nominees notable for dark themes and middling box-office performance. It also didn't help that a writers' strike earlier in the season had contributed to huge ratings losses for all the broadcast networks: By the time the season wrapped a few months later, the Big Four would collectively be down about 7 percent versus the 2006–07 season, a huge year-to-year decline. This was also around the time DVRs started taking off in popularity, along with iTunes downloads of TV shows, kicking off an extended period of Nielsen losses for linear networks. While Oscar ratings would bounce back from this low-water mark over the next few years, the 2008 Oscar swan dive nonetheless foreshadowed the show's current ratings struggle.
The backstory: A decade after the Titanic Oscars brought the mainstream audience together with the film buffs (even if those film buffs were cheering on L.A. Confidential), this year's Oscars were a stark contrast. To the cinephiles in the crowd, the 2008 show was a watershed: Paul Thomas Anderson nominated in the Best Picture and Best Director categories at long last and the Coen brothers actually winning? No Country for Old Men was dark, challenging, auteurist cinema, miles away from the pejorative "Oscar-bait" movies the Academy had become known for honoring in the '80s and '90s. Of course, "dark, challenging, and auteurist" translates to "moody, depressing, and slow" for much of the audience, many of whom stayed away. It's also worth noting that this was the year the aforementioned writers' strike turned the Golden Globes into an awkward press conference instead of a show. One might wonder if, despite all the AMPAS/ABC bitching about the glut o' awards shows taking away the suspense of Oscar night, the Globes actually do a decent job of whetting the public's appetite for the Oscars to come? 
The lesson: Despite ABC and the Academy's annual obsession over tweaking (and shortening) the Oscars to get better ratings, factors outside the control of producers are always going to play an outsize role in determining how many folks show up (and stay tuned in). Stewart kept the 2008 show running briskly and did a fine job hosting, but public interest in the show was largely determined the morning the nominees were announced. In an age of endless viewing alternatives and declining interest in linear TV networks, it's pure folly to think ratings for the Oscars will magically rebound anytime soon. Just make a good broadcast and hope viewers show up.
1990–1993: The Early Billy Crystal Years
Billy Crystal has hosted the Academy Awards nine times, but his first four-year run as emcee is what put him on the Mount Rushmore of Oscar emcees. His initial hiring was likely a reaction to the Rob Lowe/Snow White disaster of 1989: More than anything, what the show needed after that rudderless mess was to just put a host — any host — in place. Crystal, who was coming off an Emmy-winning three-year (1987–1989) stint hosting the Grammys, was an obvious choice for the Oscars gig. And from that very first appearance in 1990, the comic was able to put his stamp on the ceremony in a way a host hadn't in more than a decade — not since Johnny Carson, or before him, Bob Hope.
Crystal and his production team innovated by working music into the opening monologue, spoofing the Best Picture nominees through song and (a little) dance. He would later evolve things further by introducing filmed parodies, those little mini-movies in which Crystal, and sometimes other actors, would be inserted into key scenes from that year's movies. Already a major box-office draw himself, Crystal brought a populist approach to hosting that paid off handsomely in the ratings: Each one of his first four shows performed better than the last, with the overall audience jumping from 40.4 million when Crystal took over in 1990 to 45.7 million by 1993. It probably helped that the Academy was also in a mood back then to highlight blockbusters, handing out Best Picture trophies to Driving Miss Daisy, Dances With Wolves, The Silence of the Lambs, and Unforgiven. All four of those films grossed more than $100 million, and all ranked among the top 15 biggest moneymakers the year of their release.
In a very real way, the Academy Awards throughout the '90s were defined by Crystal, both by his presence and his absence. (You could make a very real case that David Letterman's poorly received 1995 gig might've gone over better if he hadn't been deviating so far from Crystal's template.) After his first four-year run, Crystal would return five more times (in 1997, 1998, 2000, 2004, and 2012), putting him behind only Hope in terms of hosting frequency. While critics didn't always love his performances, there's no question that he helped redefine the Oscar host as a position of prestige and a performance in and of itself. And, perhaps more importantly, he proved to be a draw for audiences who didn't care all that much about who won and lost — but very much enjoyed what sort of shtick Crystal would bring to the proceedings. (Fun fact: Save for 1997, when the decidedly non-populist The English Patient dominated the proceedings, Oscar ratings went up from the previous year every time Crystal hosted.) If the Academy is looking to stop the Oscars from bleeding viewers, perhaps it should consider finding a new host to anchor the show year after year.