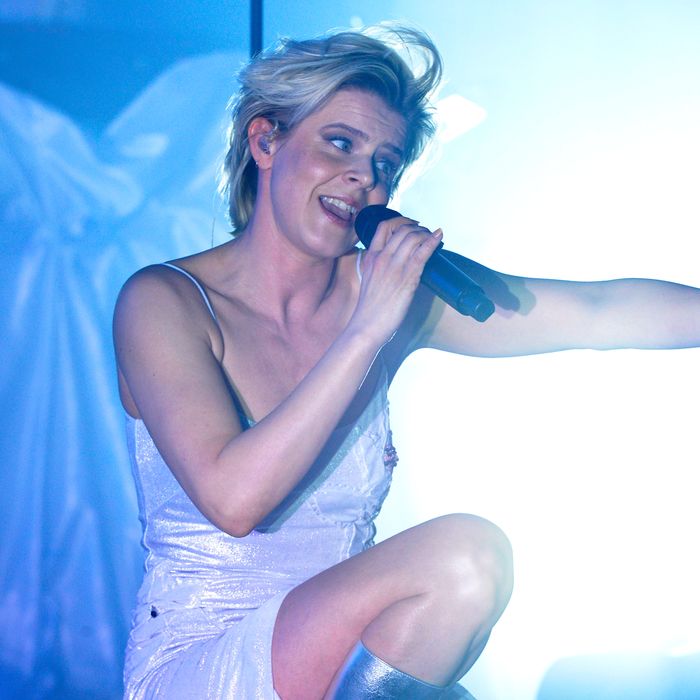 Photo: Michael Tullberg/Getty Images for Robyn
Pop stars cannot afford to go away, but Swedish artist Robyn has never been like any other pop star. Honey — her eighth album, released last year — was her first in eight years. In that time her fan base grew: Flocks of her most devoted acolytes would throw club nights of back-to-back Robyn songs, ceremoniously worshipping a still-alive but absent treasure. It was at a long-standing New York soiree last May that Robyn resurfaced. Her fans greeted her like a long-lost astronaut returning from a lonely space station.
Robyn, unlike Madonna, who she's often now compared to as she approaches her 40th birthday this year (grimly, there are still few female artists in pop who have such longevity), is not a household name. Your parents wouldn't look at a photograph of Robyn and recognize her signature snaggletooth. But her music from the last 20 years is as influential as her superstar peers who existed when she first entered the framework of mainstream pop. You hear Robyn both in the current Billboard 100 (take Ariana Grande's or Halsey's callous beats) and among pop's biggest outliers (Charli XCX). Following a slew of commercial hits, Robyn's initial reluctance to sign a deal with Jive Records in the late '90s was what prompted the Goliath label to snag a more submissive and American wannabe star two years her junior — Britney Spears.
It's interesting to draw a momentary comparison there when considering Robyn's relentless grip on her own agency in an industry that survives upon stripping women's autonomy. Her decision to begin her own imprint in 2005 and free herself from battling with majors allowed her to present her body and her mind with invaluable honesty. She could grow into herself with grace and self-conviction. Spears's brand of sex appeal is designed for straight men by straight men. Robyn's self-mastery as a business woman bleeds into her creations, connoting a far more liberated persona. She is a pop star who finds the extraordinary in our everyday reality, therefore she rejects the fantasy. She also dismisses the doled-out tropes about pop's god-given powers. "Music doesn't change the world," she told NPR last year. "But I think music gives people a break, where they can recharge and then maybe change themselves."
On Friday night, Robyn opened her U.S. tour at the Palladium in LA. An urge just shy of hysteria wafted in the corridors before the show. The lines for the men's rooms far outgrew the women's. Opening act and collaborator Kindness played '90s British rave tunes, including Baby D's "Let Me Be Your Fantasy" and Underworld's "Born Slippy," as the dance floor filled. "We're all coming home tonight," said one fan to another before the lights finally went down. She played eight of the nine tracks off Honey. It wasn't the album her fans had expected last year. It was smarter, more fluid, and warmly suntanned; the album they never realized they wanted. Honey forewent the precise constructs of the iconic and razor-sharp pop songs she would play later on in the evening ("With Every Heartbeat," "Call Your Girlfriend," and "Be Mine!"). Instead, Honey opted for the freedom of club music.
Before Honey, Robyn's records were renowned for their bite; shards of Motorik beats met with her glacial confessions about life's greatest struggles with love and human connection. ("You never were and you never will be mine!" she celebrates on "Be Mine!" — making a virtue of unrequited affection because what else to do?) Honey, however, was concerned with transitions, with the act of breathing in and out, of contracting and extending. It was made for the dance floors upon which her fans kept her safe while she was gone. Robyn's had a beautiful call-and-response career arc, one that makes for a uniquely intensified community. Her current live set writes a new love story about evergreen desire.
Her entry starts softly with the tease of "Send to Robin Immediately," a dense, pulsing track that interpolates Lil Louis's 1989 house classic "French Kiss." "If you've got something to say, say it immediately," she sings so breathily that you can feel her voice in the air. Her seduction isn't about flashing skin, but building a carnal house-music tempo. A set of purple beaded nipples are pasted onto her skintight silver dress, as if to give a subtle nod to her mutual levels of anticipation for this performance. The stage is dressed like a cloud, tall and bright. Until the beat speeds up for the first transition into "Honey," and a flourish of peach spills across the backdrop. Robyn's voice tickles the bass line, baiting the crowd to "come get your honey." By the arrival of "Indestructible," they're ready to fall in, as she promises, "I'm gonna love you like I'm indestructible." The Robyn of yore performed like a kickboxer sparring with her punch bag. This Robyn doesn't. She's pliable. And in that softness, she hits much harder.
It's difficult to explain the emotional catharsis that comes with this show. For the packed house, so many cannot see the tiny figure they so desperately want one glimpse of. Women lift each other up — physically — for that cherished split second. Most gaggles of friends form dance circles, and invite strangers in, which turns the Palladium into Ibiza's Café del Mar on "Beach 2k20," a bump-and-grind party on "Between the Lines," and an underground rave on "Love Is Free," her collaboration with the late Christian Falk, who died of pancreatic cancer in 2014. "I'm so confused. I feel like I'm at a club and a gig at the same time," offers one audience member, overwhelmed by Robyn's more European laissez-faire approach to performance. Club music requires a different ear. These numbers don't anticipate their chorus's climactic refrain. They're about being present with yourself, being okay with the idea of right now.
The crowd's elation at the kick of every song has ensured smiles through each one's individual devastation. On "Missing U," however, there's a palatable sorrow that's never alleviated. It's the track on Honey that seems to most clearly address the death of Falk, one of Robyn's prized musical partners. The rejoicing turns to a cruel reminder that there's always someone who isn't there, as she sings:
This part of you …
This clock that stopped.
This residue / It's all I've got.
(I miss you)
In that residue of big beats and melody, her broken heart isn't mended, but it is echoed around the room, never more so than when the synth of "Dancing on My Own" kicks in. Robyn cuts the music out before the first chorus, allowing the crowd to squall it together with glorious imperfection (the line "I'm giving it my all, but I'm not the guy you're taking home" is for the most inebriated only). Ending the encore on "With Every Heartbeat," thousands join in its bullish refrain: "Still I'm dying with every step I take, but I don't look back." Robyn's trajectory may always be riddled with hurdles, but her quiet struggles these past few years have led her to an imperial phase. Such are the fruits of extraordinary patience.